As Manuel said, Phillies are missing Howard, Utley, Halladay -- and swagger
Charlie Manuel was stating the obvious when he said after the Phillies' latest loss: "We don't scare nobody." But that it was obvious doesn't make it unimportant. Can the Phillies get their swagger back, along with injured stars Chase Utley, Ryan Howard and Roy Halladay? If they're going to win, they'd better.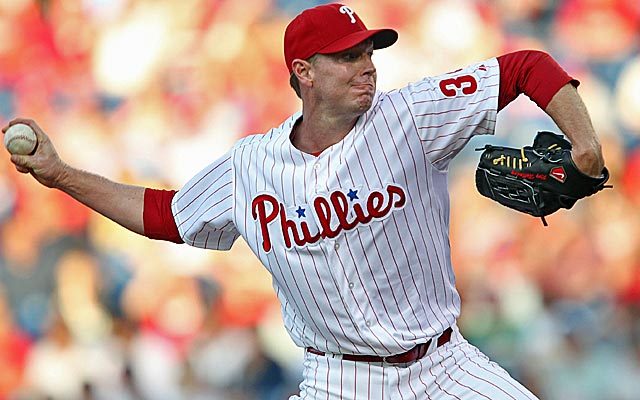 The Phillies are anxiously awaiting the return of Roy Halladay.
(Getty Images)
PHILADELPHIA -- Swagger, fear and intimidation fall under that "you know it when you see it" category.
You can't quantify them. You can't really describe them.
You know it when you see it. You know it when it's gone.
The
Phillies
had it. Now they don't.
You don't really need Charlie Manuel to tell you that, but the Phillies manager said it better than you could. He certainly said it better than I could.
"We don't scare nobody," he said after Thursday's sweep-ending 8-3 loss to the
Dodgers
. "We used to have a swagger. Teams used to fear us. I don't see that fear.
More on MLB
Related links
"Nobody backs down from us. As a matter of fact, they come right at us."
Tough words, but he has a defense. He's right.
Anyone who has watched the Phillies knows it. Anyone who saw Thursday's game can't deny it.
This was
Cole Hamels
vs.
Aaron Harang
, with Matt Kemp on the disabled list and
Andre Ethier
getting a day off. This was
Jerry Hairston
Jr. batting cleanup for just the second time in his career. This was the Dodgers kicking the ball around enough to hand Hamels and the Phillies a 3-0 lead.
This was a game the Dodgers basically begged the Phillies to win.
The Phillies not only refused, but they did it as timidly as they possibly could. The closest they came to showing life was when Hamels was running the bases in the three-run third.
It was easy to watch this one and declare the Phillies done, but that's the wrong reaction.
They're in danger of being done, but they're not done, not on June 7, not with 103 games left and just 4 1/2 games to make up on the wild-card leaders. Not with Roy Halladay and Ryan Howard and Chase Utley all due back at some point.
No, the point to take from this, and the point to take from Manuel's blunt assessment, is that the Phillies are missing more than just arguably their three most important players.
They need more than to just get Halladay and Howard and Utley back. They need to get back to being the Phillies.
Yes, it's all related. It's hard to intimidate anyone when your lineup is filled mostly with guys who have never won, here or elsewhere. It's hard to create fear when everyone knows the middle of your bullpen is vulnerable, and the Big Four starters of last year are down to a Sort-of Big Two.
But when I asked ex-Phillies coach Davey Lopes Thursday morning what the Phillies need most, he didn't say Utley or Howard or Halladay. He spoke about someone who isn't hurt.
"The key to that ballclub has always been Jimmy [Rollins], as far as I'm concerned," said Lopes, who left two years ago to work for the Dodgers. "When Jimmy rolls, they roll."
Lopes followed that up by expressing confidence that Rollins will start playing the way he once did, and that by the end of the year his numbers will be closer to what the Phillies have come to expect.
"He typically gets off to a slow start," Lopes said. "I never worry about him."
The problem with this Rollins slow start is that he's one of the few players in the lineup capable of bringing that swagger back. In fact, with
Carlos Ruiz
getting the day off Thursday, Rollins and
Shane Victorino
were the only guys in the Phillies lineup who were part of this team when it won.
"It's not the same team anymore," Lopes said.
It's not even the same team that won 102 games last year.
The problem with writing the Phillies off now is that they still could be that team again.
What if they stay close enough in a strong but jumbled National League East to make an August-September run? What if by that time Utley and Howard are in the middle of the lineup, and Halladay is back leading the rotation?
What if Lopes is right, and the slow-starting Rollins turns back into the swaggering J-Roll?
The Phillies know as well as anyone that the best team often doesn't win the World Series. General manager Ruben Amaro admitted this spring that the Phillies weren't the best team in 2008, when they won. They may have been the best team the last two years, when they didn't.
A Phillies team with Utley and Howard and swagger, with a rotation of Halladay, Hamels and
Cliff Lee
, could well be in position to win in October.
"What Charlie's doing now is trying to stay close," Lopes said Thursday morning.
By Thursday afternoon, what Charlie was doing was trying to stay cool.
Asked after the game if he was getting frustrated, he said, "I just feel how hot my face gets."
And how hot was it?
"Pretty damn hot," he said.
Hot enough to state the obvious, as bluntly as he could.
If you've watched the Phillies, you knew he was right.
The Angels' Ohtani faced Milwaukee in Cactus League action on Saturday

New Mexico broke the school and WAC single-game run record with a 39-0 victory over Mississippi...

It's the first Saturday slate of spring training games, and Ohtani will be taking the mound...
The Tigers are very early in their rebuild and they're counting on Miguel Cabrera to rebound...

The Grapefruit League and Cactus League seasons started on Friday

Data will be collected and then used to determine whether humidors are necessary in 2019