Beard gone, unbridled (and stitched) Bryce Harper plays on
Back in the Nationals lineup three days after hitting the Dodger Stadium fence, Bryce Harper promises he won't reel in his game. And that's great news for the Nationals and for baseball.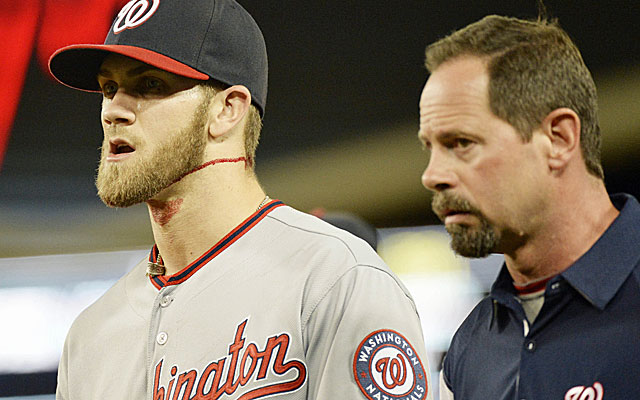 SAN DIEGO – As Vin Scully so eloquently said the other night, Bryce Harper went back … and the Dodger Stadium right-field wall hit him.
That's right. That's how it went down. So before you further develop any crazy ideas that Harper should slow down, wise up, throttle back and move forward more cautiously … just stop.
No, he shouldn't.
"You can't have a switch … and then a switch of a switch," Nationals reliever Drew Storen says. "You don't have a dimmer."
Don't blame Harper that he nearly knocked himself cold on that wall. It moved on him. You want to argue with Scully? The line to fight you on that starts right over there, where the whiskers from what once was Harper's beloved beard are scattered on the floor.
"I don't know how you change the way you play the game without having to constantly be thinking of that change," Nats first baseman Adam LaRoche says. "It's in your DNA. Whether you're born with it or you watch somebody at a young age and learn from that.
"That's him."
Pete Rose was derisively tabbed "Charlie Hustle" … until it became a compliment somewhere along the way to becoming baseball's all-time hits leader.
"I'd walk through hell in a gasoline suit to play baseball," Rose famously said, and you watch this kid Harper, and you think, yeah. That's Harper.
And it's great.
Still sore and carrying 11 stitches in his chin, he was back in the lineup for Thursday's series opener here after sitting out of the lineup Tuesday and Wednedsay (he got a pinch-hit appearance Wednesday). His left side still aches. It probably will for awhile, he says.
But when manager Davey Johnson walked into Petco Park early Thursday afternoon and checked in with Harper, guess who wanted to play.
"He's a tough kid," Johnson says.
Oh, the stories that Dodger Stadium wall could tell.
Yes, it's easy to sit back with the benefit of a zillion replays that look like something out of a Saturday morning cartoon, the way Harper was flattened, and say this kid is going to kill himself if he doesn't play with more control.
But dial down the gas knob on the fire within, next thing you know, the pilot light starts flickering. And Bryce Harper no longer is Bryce Harper.
So go ahead, dial up the heat on this debate. As usual, Harper comes out looking like the intelligent one … even though he's still all of 20.
"I'm not going to change the way I play at all," vows Harper, who was hitting .300 with 10 homers and 21 RBI into Thursday. "I'm going to play this way forever.
"I respect this game."
If you've never seen him before – I know, I know, but maybe you live in the woods in Idaho with no satellite TV and dial-up Internet – it takes all of about 10 seconds when you first lay eyes on him to figure out how deeply Harper respects this game.
"There's a point where, the longer you play, you get a little wiser and don't take a risk," LaRoche said.
Harper is learning that as he sails along, like most of the older players around him once did. Nationals veterans quietly lob words of wisdom his way when they see something. Did it last year, and are doing it again this year.
Score and situation, is mostly what that is about. If down by two runs and you're leading off the ninth inning, it's no benefit to try stretching that single into a double, they tell him. Or, maybe this isn't the time to take a ball off the wall and wing it all the way home attempting to nail a runner.
The fifth inning when your team is trailing 6-1 and A.J. Ellis rockets a blast over your head and you're galloping like a Preakness entrant trying to keep your team in the game?
Debate that if you wish, but there is one group of folks absolutely in his corner. They pitch for the Nats.
"He's not doing it for the wrong reasons," Storen says. "He's trying to win a game. He's got the pitchers' backs. We love that."
Thing is, there are times – and they come with experience, and maybe a few hard knocks along the way – when it is smart to pick a spot and reel it back a bit.
But pick too many of those spots, and now you're thinking instead of playing and what you'll be thinking about next is the player you used to be.
"I haven't talked to him about throttling down, nor will I," Nats general manager Mike Rizzo says. "I don't want him to throttle it down.
"That's who he is."
Last May, when he was rocking the power of Babe Ruth, Hank Aaron and Willie Mays combined for a stretch, Josh Hamilton went flying down the first-base line on a ground ball to shortstop in a game the Rangers were leading big and dove into first base attempting to beat it out. It was the eighth inning.
At the time, the Rangers would have done better without oxygen than without Hamilton, so hot was he.
Ron Washington just shook his head during a conversation the next afternoon.
When Hamilton smells a hit, the manager said, something just kicks in. And that's the way it is.
Washington noted that he had spoken to Hamilton numerous times about it earlier in his career. He even tried benching Hamilton a few times when the outfielder was especially reckless.
Didn't matter. Hamilton didn't change.
Neither will he, says Harper.
In fact, Harper can think of only one thing he's toned down since landing in the majors.
Runner on first base and less than two out, he says, he doesn't run as hard to first base as he once did on an infield pop-up.
Because if something crazy happens, he's worried about overrunning the man on first and being called out.
This is who the great ones are, their drive simmering right at the line that separates a dangerous brushfire from an out-of-control wildfire.
"That's what makes him Bryce Harper," Storen says. "Max talent, and max effort every day. That's who he is.
"You can't tell a guy to tone it down so he barely wins the race. It's what makes you tick."
There is no cruise control button. And those who come equipped with one generally are on their way out of the game right about the time they push it.
"I want to win a World Series," he says. "Every time I go to the field, that's what I'm thinking about."
So go ahead, you tell him to tone down.
Me, I'm siding with Scully, and taking it even a step further. Not only did the wall hit Harper, but I say it was a dirty play by the wall.
Sheffield has the numbers to make it to Cooperstown, but he has received very little suppo...

Granderson heads north of the border for his age-37 season

What did the Pirates get in return for their franchise player?
Rivero could remain in Pittsburgh for some time to come

The White Sox, Angels, Athletics, Orioles and Marlins are the holdouts after Blue Jays fol...

The Pirates have several attractive trade chips if they decide to go into a full rebuild