Brandon Backe testifies police brutality ended MLB career
Former Astros pitcher Brandon Backe is suing the Galveston Police Department over his arrest at a wedding in 2008.
More MLB: Scoreboard | Standings | Probable Pitchers | Sortable Stats | Odds
Brandon Backe, who pitched eight seasons for the Devil Rays and Astros, is suing the Galveston (Texas) Police Department, alleging that excessive force during a 2008 arrest at a wedding essentially ended his major-league career. The trial is presently ongoing in federal court.
Harvey Rice of the Houston Chronicle writes:
The former pitcher lost his composure in a federal courtroom Tuesday while describing how he can no longer use his right arm for simple tasks like tucking in his shirt or fastening a seat belt.

"You want to be able to hang it up yourself, not let someone else hang it up for you," he said about ending his baseball career. Several times Backe had to wait until he could regain his composure to answer questions by plaintiff's attorney Christopher Porter.

Backe and 11 others say they were brutally beaten when more than 30 Galveston police officers burst into a wedding party at the H2O outdoor bar. Police say the accusations are exaggerated and any force used was justified. Backe is asking a jury of six men and six women to award him between $12 million and $15 million for lost income.
Here's Backe's Galveston PD booking photo from that night, which appears to show facial injuries (though that's of course not proof, in and of itself, of excessive force):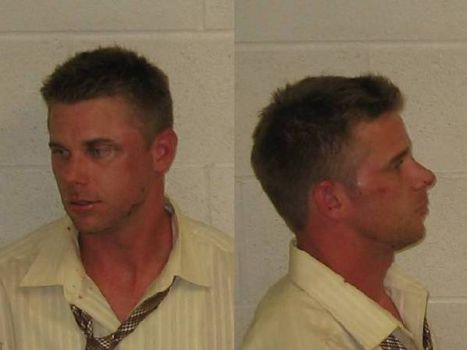 (Image: Houston Chronicle)
For further details of Backe's allegations, you'll want to click through to the Chronicle story. As CNN noted in 2009, nine of the officers involved were suspended and four received written reprimands. Here's more from a Houston Press story from 2010:
According to the lawsuit, filed in Galveston federal court, it all began when a security guard stopped a partier who was walking through the bar to get to his room. Police have said the man was heading into the pool area with an open container of alcohol. Nevertheless, the confrontation attracted a crowd, and before anyone knew it, officers were raising their batons and tensions were skyrocketing.

At some point, an officer called for backup, and dozens of cops showed up at the resort. The lawsuit is full of accusations and descriptions of alleged police brutality. The lawsuit states that the officers abused wedding and hotel guests by beating, kicking and pepper-spraying them. Some of the plaintiffs claim they were Tasered, some say they were handcuffed and hit, and one man claims that an officer slammed his pregnant wife to the ground. When the man asked why, he says the cop punched him.
As for the Galveston PD, here's how they characterized the events in question in a 2009 statement: 
"This comprehensive review has revealed that this incident, and the resulting arrests, was instigated by the actions of a single individual. This individual exercised extremely poor judgment and, if he had been properly supervised by his parents and not allowed to violate the law, this incident likely could have been avoided in its entirety."
(HT: Astros County)
Ohtani is arguably the best hitter and pitcher in Japan

The O's need rotation help, and Cobb is available for hire

The Red Sox and Cardinals are expected to make trade offers next
The free agent first baseman may be a fit in St. Louis

The front office changes in Atlanta continue

The Marlins are more likely than you think on our list