D-Backs GM Towers won't take less for Upton after nixed Mariners deal
Diamondbacks general manager Kevin Towers said he isn't lowering his trade request for star outfielder Justin Upton in the wake of the monster Mariners deal that didn't go through.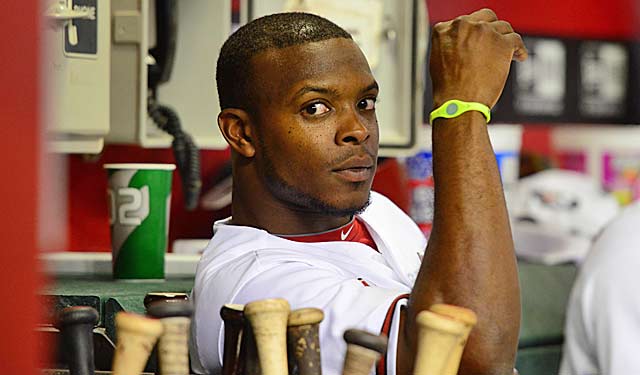 Justin Upton isn't going anywhere until D-Backs GM Kevin Towers gets his price. (US Presswire)
LOS ANGELES -- Diamondbacks general manager Kevin Towers said he isn't lowering his trade request for star outfielder Justin Upton in the wake of the monster Marinersdeal that didn't go through.
"I'm not taking less," Towers said here in a brief interview at the Scouts Foundation dinner. "I'm in no hurry."
Upton has been on the block a few times over the past two-plus years, the Diamondbacks have an excess of very good outfielders after signing free agent Cody Ross, and while folks on other teams wonder now whether Arizona likes Upton as much as other teams do, Towers pointed out that was the only trade he agreed to involving the former No. 1 pick in all this time.
Towers also said owner Ken Kendrick is "fine" with them keeping all their outfielders. Kendrick expressed a strong affinity for Upton in this space a couple months ago, though he's obviously leaving the call up to Towers.
There's a possibility they could trade Jason Kubel instead, but his trade value is a small fraction of Upton's. Upton's value has risen this winter, especially after outfielders Shane Victorino signed for $38 million over three years and Nick Swishersigned for $56 million over four seasons. Upton, 25, has $38 million over three years left on his deal.
The multitalented Upton rejected the agreed-upon trade that would have sent him to Seattle for top pitching prospect Taijuan Walker, fine-hitting shortstop prospect Nick Franklin and two more prospects, believed to be young pitchers Stephen Pryor, a right-hander, and Charlie Furbush, a lefthander. The package was notable in that several competing executives expressed surprise at how much Towers got for Upton. Walker is considered one of baseball's very best pitching prospects and Franklin is an exceptional hitter, though it isn't certain whether he will stay at shortstop.
Towers suggested the Seattle deal, which got a lot of attention around baseball as a rather large package, should be looked at as the baseline for another deal, not the ceiling.
One National League executive called that package "a major overpay." An AL exec summarized it as "steep."
Others understand Seattle's strong desire for a middle-of-the-order presence like Upton. The Mariners have been at the bottom of baseball offensively the past two years.
The Rangers and Rayswere said to be among the other top suitors, but Texas and Arizona are said to have agreed to "move on" from the Upton talk about the time the Diamondbacks made their agreement with the Mariners. Officials from other teams still wonder whether Texas could become involved again, though that's no certainty.
The Braves also are interested in Upton, though while Atlanta is looking for another outfielder, its more obvious fit would be for a leadoff-hitting outfielder. Folks around the game logically suspect Upton wouldn't mind a deal to Texas or especially Atlanta, where his brother B.J. just signed a $75.2 million free-agent contract. The Mets and Orioles are among other teams that have interest.
Upton has four teams on his no-trade list -- Blue Jays, Cubs, Mariners and Red Sox -- but it's clear the Mariners were not included to leverage more money (usually the reason teams are included), as he simply declined the trade to Seattle.


Then again, three trades in four days might be behind Jerry Dipoto's usual pace

Ohtani is arguably the best hitter and pitcher in Japan

The O's need rotation help, and Cobb is available for hire
The Red Sox and Cardinals are expected to make trade offers next

The free agent first baseman may be a fit in St. Louis

The front office changes in Atlanta continue