David Ortiz says he is 'done with' the Home Run Derby
Former Home Run Derby winner and five-time participant David Ortiz says he's 'done' with the event.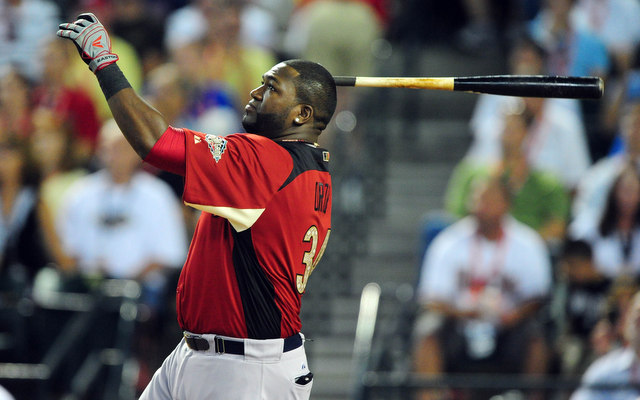 More MLB: Scoreboard | Standings | Probable Pitchers | Sortable Stats | Odds
Even at age 37, Red Sox DH David Ortiz remains one of baseball's most prolific sluggers. He's hitting .309/.394/.608 (164 OPS+) with 13 home runs in 48 games this year after missing the first few weeks with heel problems. Since posting a 102 OPS+ and looking close to done in 2009, Big Papi has rebounded to produce a 153 OPS+ over the last four seasons. He's a hitting marvel.
Despite his status as one of the game's premier hitters, Ortiz told Rob Bradford of WEEI.com that he won't be part of the Home Run Derby this summer if he's asked to participate. Robinson Cano will captain the AL team and select three players to join him in the event.
"If [Cano] asks me to do it? I wouldn't do it. I'm done with that," Ortiz told WEEI.com prior to the Red Sox' Wednesday night win over the Rays. "I can't do it no more. I can't even do it in batting practice. Watch me in batting practice, I might lose a couple of balls but that's it. I can't do it. It wears me out. Wears me out. And you know the Home Run Derby can be taken lightly. You have to be young with a lot of energy."
The Derby is harder than I think a lot of people realize. The participants always talk about fatigue in the later rounds, and of course there is always the concern that swinging for the fences can screw up a swing for the second half. That part is more theoretical than anything.
Ortiz won the event in 2010 and he's participated four other times: 2004, 2005, 2006 and 2011. 
The lefty starter is coming off a terrible season

After acquiring Ian Kinsler and Zack Cozart in recent days, the Angels are trending upward

Cozart's coming off a big season as the Reds' shortstop
The veteran slugger spent the last eight seasons with Cleveland

The Padres may be poised for an active winter

Yes, Bryce Harper is going to make a lot of money next winter