Derek Jeter, now 38 years old, could make shortstop history
Tuesday is Derek Jeter's 38th birthday, which makes this a good time to mention that no full-time shortstop 38 or older has batted .300 for a season since Luke Appling did it three times in the late 1940s. Only one team with a shortstop as old as Jeter has ever made the postseason -- Larry Bowa's 1984 Cubs, who lost to the Padres in the playoffs.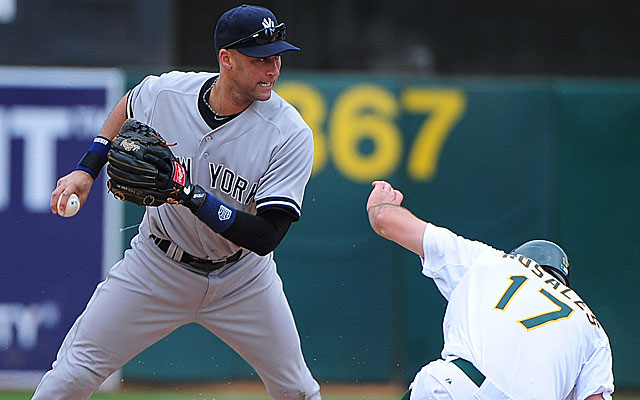 Derek Jeter is trying to join Luke Appling and Honus Wagner as the only shortstops 38 or older to hit .300.
(Getty Images)
Derek Jeter reached his 38th birthday with a .300 batting average.

If he keeps it to the end of the season, he'll make history.

Only two full-time shortstops ever have batted .300 in a season where they were 38 or older, and none have done it since Luke Appling hit .301 at age 42 for the 1949 White Sox.

Appling was a .300 hitter three times after turning 38. Honus Wagner did it twice, for the 1912-13 Pirates.

There's obviously no guarantee that Jeter will finish the year over .300. He last hit .300 in 2009, and while he was at .304 on Tuesday, as he turned 38, his average over the last 45 games is just .245.

It's not all that unusual for someone to keep playing shortstop regularly at Jeter's age. Omar Vizquel played there regularly for three seasons with the Giants, all after turning 38.

Barry Larkin, Ozzie Smith, Larry Bowa, Luis Aparicio and Maury Wills all played 100 games or more at short in seasons after turning 38.

But here's a little more history: The only team to make it to the playoffs with a regular shortstop as old as Jeter was Bowa's 1984 Cubs.

They lost to the Padres in the playoffs.



Marcell Ozuna figures to be the next Marlins star on the move

Several relievers have signed in the last two days

Several teams are interested in the switch-hitting first baseman
Neshek and the Phillies are closing on a two-year contract

And the team that first drafted Cole is interested

This scout was SUPER into Jeter