Free agent roundtable: How big a contract does Brian McCann get?
What kind of offer would you be willing to make a player like McCann? He's a seven-time All-Star, but he's a catcher who will be 30 years old next year.
by

Eye on Baseball staff

• 3 min read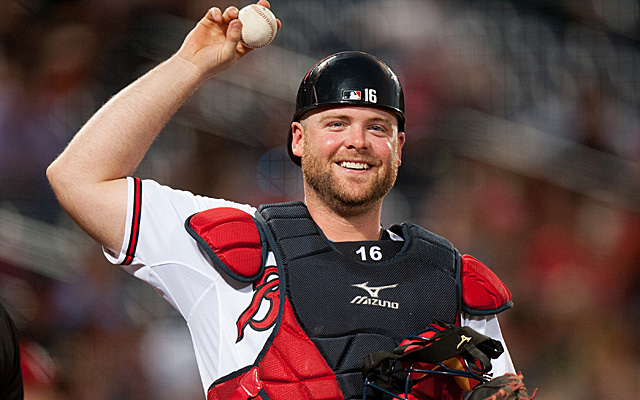 Free-agent roundtables: Yanks/Cano | Cruz, Peralta/Biogenesis | Reclamation projects | Ellsbury-Epstein reunion? | What next for Angels?
Brian McCann is one of the top available free agents this offseason. He's coming off a strong season for a playoff team. He provides middle-of-the-order offense while manning a key defensive position. That said, he has had injury concerns in the past, and the perception is that catchers don't tend to age well. Given all those considerations, if you're a contender in need of help behind the plate, what kind of offer would you be willing to make a player like McCann?
Dayn Perry: There's no disputing the body of work, as McCann is a seven-time All-Star with a career OPS+ of 117. What I like in the here and now is that he bounced back from both a disappointing 2012 and major shoulder surgery to put up a 2013 OPS of .796. He also stayed generally healthy after making his season debut in early May. What I don't like is that McCann has worked almost 9,000 innings behind the plate and will turn 30 not long after pitchers and catchers report.
I'm probably not ponying up for McCann at the going rates if I'm an NL GM, but if I run an AL team and thus have the DH as a place to rest him or move him to permanently at some point, then I'm more willing to consider making a serious offer. I have to have a clear need at the position, and I have to be squarely in contending mode. If I met those qualifications, then I'd probably set my upper bound at four years, $60 million for McCann.
That's in the vicinity of Miguel Montero's contract extension with a year lopped off to reflect the fact that McCann is older than Montero was at the time he signed. I'm also discounting it a bit to reflect the fact that the Braves made McCann a qualifying offer, which means signing McCann will cost me a high draft pick. I tend to think my offer wouldn't quite get it done, but that's about as much as I'm willing to pay for a catcher soon to be in his 30s. I could possibly be pressed into offering a fifth option year, but I don't want to.
Mike Axisa: I think Yadier Molina's five-year, $75 million contract with the Cardinals is the benchmark for McCann this winter. The team that takes the plunge and offers that sixth year might be the one who lands him. McCann is not as good as Molina, but he's an elite (or very near elite) catcher, and those guys never hit free agency. The last ones were Ivan Rodriguez and Javy Lopez during the 2003-04 offseason. Molina also signed his deal as an extension whereas McCann can create a bidding war between big market clubs like the Rangers, Yankees and Red Sox.
McCann turns 30 in February and I think if you give him a five-year deal, you could reasonably expect two full years at catcher, a year or two split between catcher and first base, then the rest split between first base and DH. Obviously he makes more sense for an AL team who can offer the DH position later in his career. I really wouldn't be surprised if he became the third $100+ million catcher behind Joe Mauer and Buster Posey given all the cash teams have to spend these days. The fact that McCann bounced back so well from the surgery is a big positive.
Matt Snyder: I believe he's going to sign a contract that many will immediately say is bad -- along the thinking with Mr. Perry above. Jon Heyman's estimations peg McCann's deal at five years and somewhere from $75M-$80M. Given how much money MLB teams are making right now, that's actually not a bad deal at all in my opinion.
Along the lines of what Axisa mentioned, we'd see McCann morph into a Victor Martinez/Mike Napoli type former catcher in the last two years of the deal, assuming an AL team signs him -- and that's an easy assumption from where I sit.
I do think the aforementioned trio of large-market teams -- Yankees, Red Sox, Rangers -- go hard after McCann and he'll have his pick. And while five years and $80 million seems like way too much, I think we need to realize what kind of profit most teams are turning. He's going to be worth this deal.
Gallardo spent the first eight years of his career in Milwaukee

MLB revenues are at a record high right now, but teams aren't spending it on players

Chicago added Tyler Chatwood earlier this offseason but might not be done adding to the ro...
The Dodgers and Braves pulled off a whopper on Saturday

Sabathia will reportedly spend a 10th season in the Bronx

Fowler suffered a knee injury at Chicago's Guaranteed Rate Field