Game 6 at Fenway: Not always great, but always memorable
Wednesday's Game 6 will be the fourth played at Fenway Park. The 1975 game was legendary, but the games in 1918 and 1967 were interesting, too.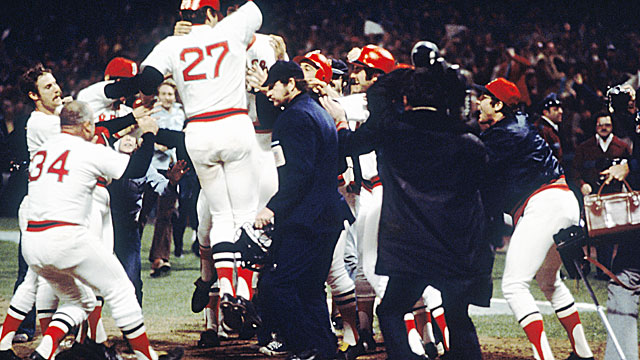 Mark Frost called his book Game Six, as if there were only one.
Actually, there have been three. Three Game 6s at Fenway Park, with a fourth scheduled for Wednesday night.
Other ballparks have hosted more. The Polo Grounds hosted five of them, and it was torn down 50 years ago. The original Yankee Stadium hosted 10.
Fenway has three, soon to be four. But Fenway has some of the best.
You know about 1975, the Game 6 of Frost's 2009 book (which is well worth a read). But 1918 and 1967 were memorable in their own right.
A look back at all three:
The best part of Game 6 in 1918 was not obvious at the time. How could anyone know then how fascinating it would be to us now that Babe Ruth appeared in that game only as a late-inning defensive replacement?
He was still more of a pitcher than a hitter then, even though he did lead the American League in home runs that year (with 11). His only two starts in the World Series were on the mound, and he only played in Game 6 because George Whiteman (described by the New York Times as "the Rip Van Winkel of baseball") landed on the top of his head while catching a fly ball.
"[Ruth] went out to left field, and spent a perfectly miserable afternoon, for he did not get a chance to bat, and had one fly to catch," the Times reported.
The Red Sox won that game, 2-1, on two unearned runs, clinching their third title in four years. The Times described it as an "uneventful struggle," and summed it up as "close, but not exciting."
In fact, a Red Sox championship was so unexciting and so common then that the Times reported, "Boston is the luckiest baseball spot on earth, because it has never lost a world's series."
The Red Sox, of course, wouldn't win again for 86 years, and somewhere in that time, Boston would stop feeling lucky.
Fenway's second Game 6 was 49 years later, in 1967. And if it wasn't completely lucky for the Red Sox (they won Game 6, 8-4, but lost 7-2 to Bob Gibson to lose the Series the following day), it's still a season fondly remembered as the Impossible Dream year.
The game itself did not inspire books. Both teams used rookie starters (Gary Waslewski for the Red Sox; Dick Hughes for the Cardinals), and the story going in was that neither team was hitting, with the Red Sox at .206 for the Series and the Cardinals at .210 (sound familiar?).
Rain threatened to postpone the game (sound familiar?), but the skies broke and it was played.
"What a wonderful day," Stan Musial (then a Cardinals executive) said, according to the Times. "It has to be another of those Red Sox miracles. I hope they have run out of them."
And then there was 1975, the Game 6 of legend.
It was pushed back to Oct. 21, because of three days of rain. You probably know that Carlton Fisk won it with a home run in the 12th, four innings after Bernie Carbo tied it with a pinch-hit three-run home run in the eighth. You may know that Luis Tiant started it for the Red Sox, or that Dwight Evans made an outstanding catch to keep it going .
According to Frost's book, more than 76 million people were watching when the game went to extra innings. That's just a few more than the 16 million that Major League Baseball said watched Game 4 of this World Series.
In the 38 years since, millions more have seen the Fisk home run, millions of times. You can bet that Fox will show it again before, during and maybe even after this Game 6 on Wednesday night.
In the 38 years since, that game has lived on as Game Six.
Wednesday night, finally, Fenway hosts another one.