GIF: R.A. Dickey throws a side-arm knuckleball
Because a knuckleball isn't hard enough to hit, R.A. Dickey added the element of surprise by dropping down to side-arm on Tuesday night.
More MLB: Scoreboard | Standings | Probable Pitchers | Sortable Stats | Odds
At 38 years old, I guess Blue Jays righty R.A. Dickey qualifies as a crafty veteran by default. You know what I mean by crafty veteran, those old guys without big time stuff who seeming to invent pitches and arm angles to remain effective. Bronson Arroyo, Andy Pettitte, guys like that.
On Tuesday night, Dickey took the craftiness to another level by throwing a side-arm knuckleball to Alex Rodriguez for a called strike three. Here, look: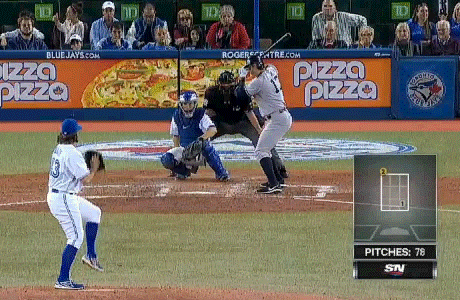 Look at that pitch. It's unhittable. You could tell hitters it's coming and there's still nothing they would be able to do.
Knuckleballs are hard enough to hit, but a side-arm knuckleball? That's crafty, R.A. Very crafty. And sneaky.
Seager missed the NLCS with a back injury

The Cubs foundation is still strong, but Theo Epstein and company have work to do

Turner and Taylor are the third set of co-MVPs in LCS history
Stylistically, the Dodgers seem to match up better against the Yankees and here is why

The Dodgers advance to the World Series for the first time since 1988

Hernandez also set a new LCS record with 7 RBI