GIFs: Stephen Strasburg's new slider
Nationals ace Stephen Strasburg is working on a new slider this spring. Here is the pitch in all its glory.
MORE: Spring Training | Scoreboard | FA tracker: hitters | FA tracker: pitchers
Earlier this spring, we heard Nationals ace Stephen Strasburg is working on adding a slider to his arsenal in camp. He debuted the pitch in his start last Tuesday, but that game was not broadcast on television anywhere, so we have to take his word for it.
Thankfully, Strasburg broke out the pitch again during Sunday afternoon's start against the Cardinals. Here's the new slider, first at normal speed: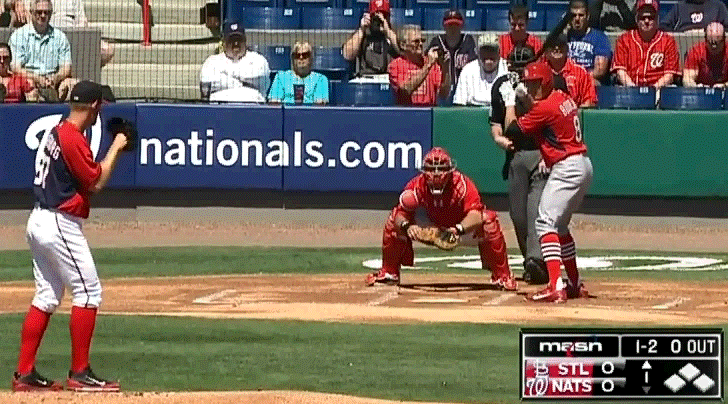 Now the obligatory slow-mo: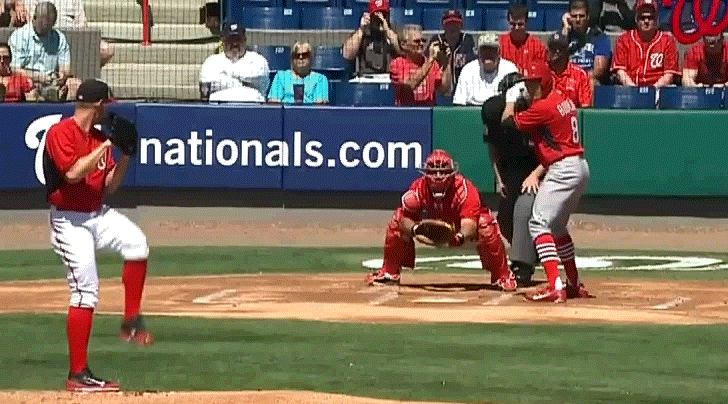 Yep, it sure looks like a slider. Upper-80s according to the television gun too, so that's a real hard slider. That one to Peter Bourjos was well off the plate and, frankly, we weren't going to learn much about its usefulness from one look anyway. There it is though, Strasburg indeed has a slider.
Of course, adding a slider is pretty much just showing off at this point. Strasburg already has some of the nastiest stuff in the league thanks to his high-octane fastball, hammer curveball and fading changeup. He has 504 strikeouts in 434 1/3 big league innings and that is no fluke.
Strasburg, 25, went 8-9 with a 3.00 ERA (126 ERA+) in 183 innings last season. It's expected the Nationals will finally allow him to throw 200+ innings in 2014 after handling him carefully earlier in his career.
The club made the announcement on Friday

Plus the Tigers will make a change in the dugout and all of Friday's action

The Rockies are clinging to the second NL wild card spot at the moment
Plus Matt Olson and Kevin Kiermaier heroics, a look at Zack Greinke's dominance and more

Plus the Indians are now 27-1 in their last 28 games. Here is everything you need to know from...

The soon-to-be 43-year-old Dickey said he wants to spend more time with his family