Jake Arrieta should be great, but instead he's back in Triple-A
Jake Arrieta still has 'electric' stuff. He also has the highest career ERA of anyone who has pitched at least 300 innings for the Baltimore Orioles. He's back in Triple-A, for the second straight year, as he and the Orioles try to turn electric stuff into electric results.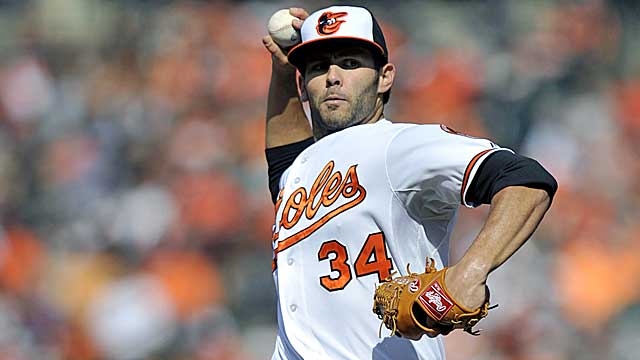 Jake Arrieta would be just another guy who bounces back and forth from Triple-A to the big leagues, except for one thing.
He should be great.
Listen to scouts and coaches talk about Arrieta, and you think they're talking about one of the top prospects -- or one of the top pitchers -- in the game.
"Electric stuff," one scout said this week ... just after the Orioles sent Arrieta back to Triple-A.
The stuff is still electric. If you don't believe it, go back and watch the first two innings of Arrieta's Sunday afternoon start against the Dodgers -- the start that eventually helped get him sent to the minor leagues for the second straight year.
He was the opening day starter last year for a team that ended up in the playoffs. But he's also 27 years old and has yet to pitch even 120 innings in a major-league season.
His career ERA is 5.40, the highest ever for someone who has thrown at least 300 innings for the Orioles.
He keeps getting chances because when he's good, he looks great. He keeps getting sent down because when he's not good, he doesn't look like he belongs on a big-league mound.
When things go bad, he falls apart. His delivery changes. His stuff isn't the same. He goes from a guy who can throw strike after strike to a guy who starts walking batters on four pitches.
He's a living example of how hard it is to develop starting pitchers, particularly in the American League East (although the Rays seem to manage it), particularly when your home games are at pitcher-unfriendly Camden Yards (although Pedro Martinez had a 1.74 ERA in 11 games there).
Now Arrieta is headed back to Triple-A Norfolk, a victim of his poor performance, but also of the rainout and subsequent doubleheader that left the Orioles' bullpen in need of reinforcement. He could be there for a while, and it wouldn't be a surprise if the Orioles try to get him with a sports psychologist, because some people who watch see signs of anxiety when things go bad.
At some point, he'll be back. He has to be back, because he's too talented for the Orioles to give up on him yet. He has to be back, because this isn't an issue that is going to be completely solved in Norfolk.
"The only place he's really going to figure it out is here," Orioles pitching coach Rick Adair agreed on Tuesday.
The Orioles still think he can. They're not ready to give up on him, even though they have great young pitching prospects like Kevin Gausman and Dylan Bundy coming up behind him (although Bundy has begun this year on the disabled list).
Gausman and Bundy, as you may have heard, have "electric stuff."
So does Jake Arrieta.
Ferrell somehow avoided going to the ground

Plus, we saw a possible AL Wild Card Game preview in the Bronx and lots more from around M...

The Pirates disappointed in 2017. Will 2018 be any different?
Let's see how SportsLine forecasts the race for MLB's 10 playoff spots

This has only previously happened twice in history in non-strike seasons

Plus the AL West champ has been crowned and more