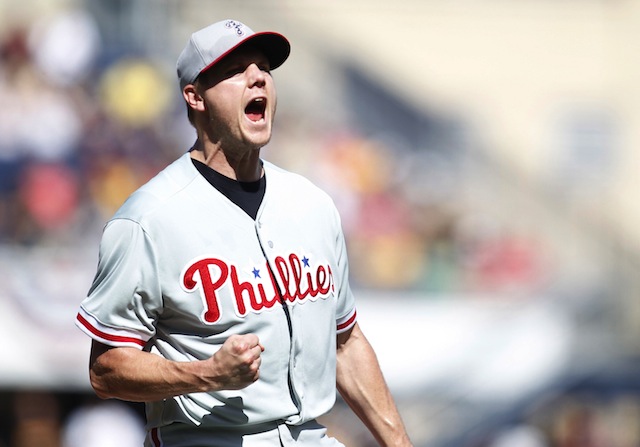 More MLB: Scoreboard | Standings | Probable Pitchers | Sortable Stats | Odds
Phillies closer Jonathan Papelbon is generally accustomed to winning, what with his having spent all those years with the Red Sox. At present, though, Pap's Phillies have dropped eight in a row, find themselves 9½ games out of playoff position (just like the Cubs!) and have, according to CoolStandings.com, a measly 0.9 percent chance of making the postseason.
Given those facts, it's understandable that Papelbon might be a little miffed by what's going on right now in Philly. As it turns out, he's exactly that. Regard these comments of Papelbon's, as reported by MLB.com's Todd Zolecki:
"I definitely didn't come here for this."

...

" ... I would like to stay here. But if I'm going to have to put up with this year after year, then no, I don't want to be here. Why would you? Why would anybody?"
Phillies GM Ruben Amaro certainly appears to be in at least "soft sell" mode, so it's possible that Papelbon, who's still capable of pitching at an elite level, will find himself on a relevant team before Wednesday's non-waiver deadline.
However, when Papelbon signed with the Phillies in November 2011, he should've known he was joining an aging roster and an organization light on high-ceiling reinforcements in the minors -- i.e., a team whose window was closing. Indeed, in his very first season in town, the Phillies sloughed off 21 wins from their 2011 total. Papelbon may not have come to Philly for that, but he did come to Philly because they were one of the last organizations that thinks it's a good idea to give $50 million to a guy who pitches, oh, 60 to 70 innings a season.
Papelbon clearly doesn't like losing, and that's always commendable. But he shouldn't be surprised that the 2013 Phillies have turned out to be the 2013 Phillies.