Mets up their offer to R.A. Dickey, but is it fair?
The Mets have upped their offer to Cy Young winner R.A. Dickey, but they're still only willing to pay him as much as the Royals are paying Jeremy Guthrie.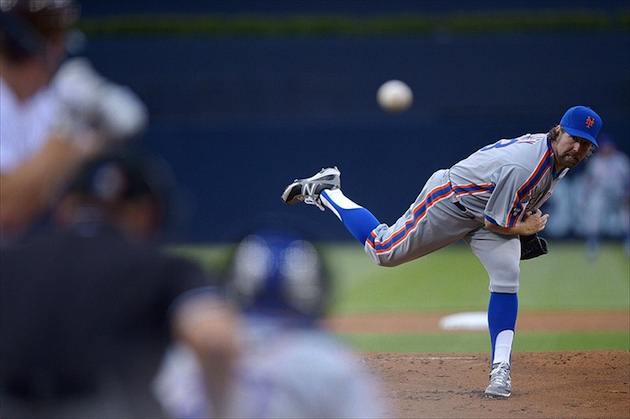 The Mets' three-year offer to R.A. Dickey is less than they'll pay Johan Santana in 2013. (US Presswire)
Let's start here -- R.A. Dickey isn't going to starve. His family is going to be fine, he's going to be fine and anyone offered $25 million isn't being insulted. But that doesn't mean he's being offered a fair deal.
CBSSports.com's Jon Heyman confirms the report of the New York Daily News' Andy Martino that the Mets have upped their extension offer to two years and $20 million, which added to the $5 million he will be paid in 2013, gives him a total package of three years and $25 million. That's $500,000 less than the Mets will pay Johan Santana in 2013 alone. The team's initial offer was two years, $16 million.
Tuesday, Dickey, dressed as an elf for a charity event, said he felt his demands were reasonable.
"I feel like we're asking for less than what's fair," Dickey said, tweets Mike Kerwick of The Record.
Let's just rehash for a second -- last season R.A. Dickey was 20-6 with a 2.73 ERA and won the Cy Young. In his three years as a Met, he's gone 39-28 with a 2.95 ERA. Santana? Last year he was 6-9 with a 4.85 ERA and is 46-34 with a 3.18 ERA in four years as a Met. To be fair, that's not a fair comparison, because Santana's deal was signed to an extension after a trade in February 2008, when the left-hander before his age-29 season and already had two Cy Young Awards under his belt, plus two other top-five finishes in the voting. It was also before injuries hampered him and it was the going rate at the time.
But what's the going rate this offseason? Jake Peavy of the White Sox signed a two-year extension for two years, $29 million. Peavy's 31 and was 11-12 with a 3.37 ERA for the White Sox last season and in four years in Chicago is 28-25 with a 3.95 ERA.
Free agent pitchers to sign this offseason:
Zack Greinke, Dodgers -- 6 years, $147 million. 2012: 15-5, 3.48 ERA
Jeremy Guthrie, Royals -- 3 years, $25 million. 2012: 8-12, 4.76 ERA
Joe Blanton, Angels -- 2 years, $15 million. 2012: 10-13, 4.71 ERA
Kevin Correia, Twins -- 2 years, $10 million. 2012: 12-11, 4.21 ERA
Brandon McCarthy, Diamondbacks -- 2 years, $15.5 million. 2012: 8-6, 3.24 ERA
Dan Haren, Nationals -- 1 year, $13 million. 2012: 12-13, 4.33 ERA
So, is Dickey worth less than Haren? Doubtful. The same as Jeremy Guthrie? Are you kidding me? Compared to those pitchers, not only has Dickey outperformed them all, he's also been healthy the entire time. He's not on the open market, so it's not apples to apples. It's still interesting to see where he'd fit. And he will be a free agent next season if the two sides can't agree to an extension. According to Heyman, Dickey wants a two-year extension worth $26 million, giving him $31 million overall -- looking at those other numbers, that's more than fair.
If the Mets don't work out an extension, it's unlikely he'll be a Met in 2014. Dickey said he'd be upset if a deal is worked out, because he wants to stay with the Mets.
"I feel a real connection to this place," Dickey said (via Kerwick). "But at the same time, you don't want to be taken advantage of."
There are three things working against Dickey here:
1. Knuckleball: The knuckleball is baseball's most unpredictable pitch. No matter how consistent Dickey's results are, it seems many in baseball will discount what he's doing because of the pitch he's using. Some people still believe it's a gimmick and probably don't trust it long term, even if Dickey's knuckleball is different than any other that's ever been thrown.
2. Age: This is the most obvious knock -- Dickey's 38, and he'd be 40 when the three-year extension is done. However, if you're going to assume the knuckleball is unpredictable and he can't keep up with his current pace, you have to at least admit knuckleballers are durable and age hurts their performance less than a so-called conventional pitcher. Tim Wakefield was an All-Star at 42 and Phil Niekro was 16-8 with a 3.09 ERA for the Yankees in 1984 at 45. Then there's Hoyt Wilhelm, who pitched until he was 49 and was an All-Star just weeks before his 47th birthday. If you're going to punish him for throwing the knuckleball, he should at least get the credit for what knuckleballers have traditionally done in the past -- and that's age slowly.
3. The Mets: Where to start? The Mets, under current ownership, are a mess. The team's financial situation is unclear at best and a train wreck at worst. While the truth might lie somewhere in the middle, it's difficult to say the team can't do much when it just signed David Wright to an eight-year extension worth $138 million. Can the team afford both? Apparently not if it's just willing to offer Dickey a Guthrie-type deal.
For more baseball news, rumors and analysis, follow @EyeOnBaseball on Twitter, subscribe to the RSS feed and "like" us on Facebook.
Arrieta is the top starting pitcher left on the market

The Angels are lowering the fence from 18 feet to 8 feet, so we should see a jump in home...

Mathis is one of the best at something that cannot be measured but is valued
J.D. Martinez is reportedly headed to Boston on a free-agent contract

Keep tabs on the top 50 free agents on the market right here

Arizona didn't waste much time turning to its fallback option following Martinez's deal with...