Mike Scioscia confirms Garrett Richards has a 'significant injury'
Angels manager Mike Scioscia confirmed Garrett Richards' left knee patellar injury is "significant."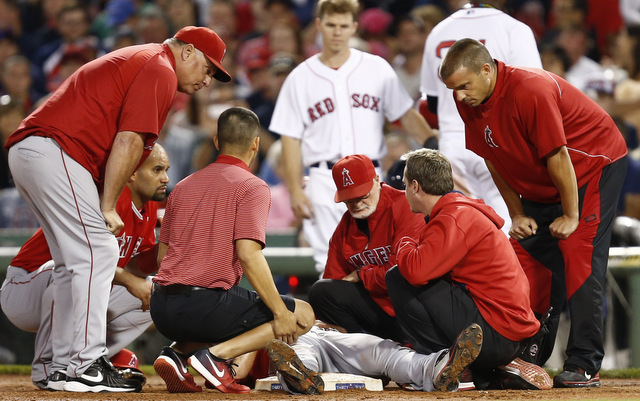 Related: Perry: Richards' injury won't bury the Angels
Angels ace Garrett Richards was carted off the Fenway Park field Wednesday night with what the team eventually announced as a left knee patellar injury. He is heading for tests Thursday to determine the extent of the damage, but manager Mike Scioscia confirmed to reporters it is a "significant injury."
Gordon Edes of ESPN Boston has more from Scioscia:
"Obviously he's very distraught," Scioscia said after the Angels' 8-3 win. "He knows that it's not good, and we'll get some direction from our medical staff."

Scioscia refused to speculate on whether Richards is lost for the rest of the season, but teammate Jered Weaver said a tearful Richards, before he was taken to Massachusetts General Hospital, was told in the trainers room that he might require surgery. A torn patellar tendon almost always requires surgery and involves a recovery of at least three to six months.

...

"Garrett's taking it hard," a somber Scioscia said. "This is a huge blow for him. The type year he was having, hopefully we're in a position where there won't be any long-term ramifications. That's what we're very hopeful there won't be. We'll see."
Tim Brown of Yahoo! Sports reports Richards has already returned to Los Angeles and is scheduled to have an MRI at 3pm ET. He suffered the injury when he stumbled while covering first base.
Richards, 26, is 13-4 with a 2.61 ERA in 26 starts and 168 2/3 innings this season. He will likely receive Cy Young votes after the season. Richards has emerged as the team's ace and losing him is an enormous blow.
The Angels are already without lefty Tyler Skaggs, who recently underwent Tommy John surgery. Veterans Jered Weaver and C.J. Wilson will have to lead the staff going forward.
The Nats will host the All-Star Game in 2018

The Orioles are looking to trade Machado heading into his walk year

The Cardinals have been linked for a while to the Baltimore star
Gallardo spent the first eight years of his career in Milwaukee

MLB revenues are at a record high right now, but teams aren't spending it on players

Chicago added Tyler Chatwood earlier this offseason but might not be done adding to the ro...