MLB's umpiring problem is an issue of competence and credibility
Twice in two days, baseball has issued statements saying umpires got calls wrong. More explanations are needed, and more accountability.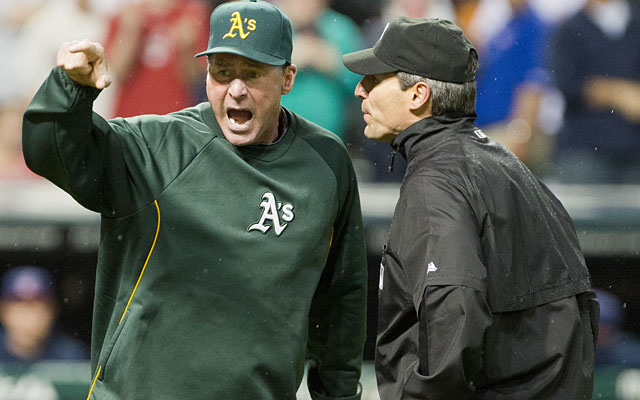 Imagine if the major-league umpires had gone on strike. Imagine if these were replacement umpires.
Imagine the reaction.
Now you see why baseball has a problem.
We always talk about how umpires are held to an impossible standard, how we demand perfection and complain loudly when we don't get it. But this isn't about perfection.
This is about competence. More than that, this is about credibility.
For a second straight day, MLB has admitted that its umpires got a call badly wrong. The real umpires, not replacements.
A day after the statement that said Angel Hernandez misread a replay in Cleveland, there was another statement Friday morning saying that the umpiring crew in Houston mis-applied a simple rule.

"The matter is being reviewed," MLB said Friday morning.
That's good, but it's not good enough.
Fieldin Culbreth, the crew chief in the Houston mess, has been suspended for two games, MLB announced Friday afternoon.
Better, but still not enough.
The umpires need to explain what happened, just as a manager or player or coach or general manager is asked to explain when he messes up. The umpires need to be held accountable, just as everyone else in the game is held accountable.
Thursday, a group of baseball people were discussing the Hernandez play, trying to understand how three umpires had watched those replays and determined that a home run by Adam Rosales of the A's wasn't a home run.
"What could he possibly have been looking at?" one of the people asked. "Or was it just that it was the ninth inning, and he didn't want extra innings?"
I don't believe that was it. But I don't have a good explanation, either, and when you allow the umpires to hide behind nonexplanations, you invite people to think the worst.
Hernandez spoke to one pool reporter, wouldn't allow his comments to be recorded, and offered little in terms of explanation. Culbreth, the crew chief for the Angels-Astros game in Houston Thursday night, did even worse, pretending that he couldn't comment because "all matters concerning protests are handled through the league office."
Sorry, not good enough. Not when we've just watched three veteran umpires, with nearly 50 years of experience between them, mess up a rule that nearly all of us know.
A friend in baseball was perusing the box scores Friday morning, and saw that Astros reliever Wesley Wright appeared in the game, but didn't face a batter. Immediately, he wondered, "Did Wright get hurt, or was he sick?"
Baseball has some complicated rules. This wasn't one of them.
When a new pitcher comes out of the bullpen, he has to face one batter, unless the umpire determines that he's injured or sick. Period. No exceptions.
Wright came out of the bullpen, and when the Angels sent up a pinch-hitter, Astros manager Bo Porter asked the umpires to allow him to change pitchers again.
Incredibly, they allowed him to do it, even after Angels manager Mike Scioscia pointed out to them that the rules don't allow it.
It's totally inexcusable for a major-league manager to get this one wrong, and what happened Thursday is going to stick with Porter for a long time. That's for Porter and the Astros to explain, and them to deal with.
But it's far worse when the umpires show that they don't know the rules, either. What happened in Houston is much worse for baseball than what happened in Cleveland, even though the Houston screw-up didn't cost anyone a win (the Angels won the game, anyway) and the Cleveland screw-up might have.
We'll never know if the A's would have won the game. The Rosales homer-that-wasn't would only have put the A's in a 4-4 tie with the Indians.
It was bad, but mistakes do happen, even bad mistakes on interpreting replays. In fact, the biggest mistake there was that Hernandez, a 20-year veteran but an umpire who has little respect within the game, was allowed to become a fill-in crew chief.
When there's an umpiring issue and the first reaction of many people in baseball is, "Oh, it's Angel, of course," that's a problem.
The umpires can't always be right. But it's not too much to ask that they can be trusted. It's not too much to ask that they know the rule book inside and out.
And it's not too much to ask that when there's a mistake, we get an honest and full explanation of what happened, from everyone involved.
It's not so much that we deserve it.
It's that their credibility, and the credibility of the game, demand it.
After acquiring Ian Kinsler and Zack Cozart in recent days, the Angels are trending upward

Cozart's coming off a big season as the Reds' shortstop

The veteran slugger spent the last eight seasons with Cleveland
The Padres may be poised for an active winter

Yes, Bryce Harper is going to make a lot of money next winter

Outfield prospect Clint Frazier might be part of the talks