Positional context should matter in Hall of Fame voting
Alan Trammell should be a Hall of Famer because positional context matters.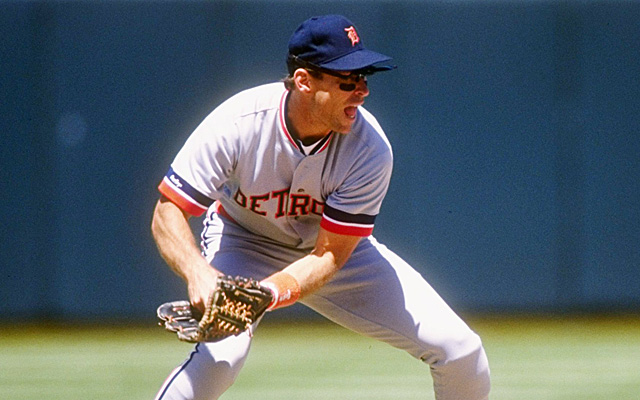 Related: The cases for and against Trammell in the Hall of Fame
Perhaps the greatest thing about the Baseball Hall of Fame is the passion it inspires in arguments. If people don't care, they won't argue. Vehemently arguing for or against players shows the passion this Hall of Fame inspires. Another excellent element is that this is all subjective, so there's no correct answer. You can't possibly be wrong, because it's an opinion vote.
On that front, my opinion is that positional context absolutely should matter for the Hall of Fame -- and because of that, Alan Trammell should be a Hall of Famer.
We often hear hollow nonsense like "he just doesn't feel like a Hall of Famer" in arguments. A better version would be the simple question: "Was he one of the greatest players of his generation?"
I'd prefer to add a few words to that.
Was he one of the greatest players at his position of his generation?
To that question, Trammell is a resounding yes.
In the DH era (1973 to present), only six players have spent at least 75 percent of their time at shortstop, accrued at least 1,500 hits and have an OPS+ of at least 100 (league average). That's it. The players are Cal Ripken, Derek Jeter, Alan Trammell, Barry Larkin, Miguel Tejada and Jose Reyes.
The pickings are so slim there despite only needing a league average OPS because shortstop is a premium and demanding defensive position. Thus, I believe it's wholly unfair to the required defense at shortstop -- and Trammell was an outstanding defender -- to stare at the career offensive numbers and discount a guy.
So when I'm figuring out whether or not I believe a guy is a Hall of Famer -- again, this is all subjective and there is no right or wrong answer -- I judge players against fellow players at his position.
Here are Trammell's ranks among all-time shortstops:
Hits: 16th
Doubles: 20th
Home runs: 16th
RBI: 19th
Runs: 21st
Steals: 38th
Walks: 18th
OPS+: 31st
There are 23 shortstops in the Hall of Fame and Jeter is absolutely headed that way, so we can safely say 24. Trammell seems in line offensively, but he was more than that.
Trammell also checks in 22nd among shortstops in career defensive WAR.
This all might seem a bit underwhelming, but most shortstops in front of him on either list were more one-dimensional. That is, hitters who weren't great fielders (such as Ernie Banks) or great fielders who weren't as adept with the bat (such as Luis Aparicio and his 82 OPS+).
Adding everything together, career WAR shows Trammell 11th among shortstops, behind (in order, with current Hall of Famers denoted by an asterisk) Honus Wagner*, Alex Rodriguez, Cal Ripken*, George Davis*, Robin Yount*, Ozzie Smith*, Bill Dahlen, Luke Appling*, Arky Vaughan* and Derek Jeter.
Now, WAR isn't the be-all, end-all. No one professes it to be. Ernie Banks and his 512 homers ranks behind Trammell due to the defensive and baserunning components. I would never suggest Trammell is better than Banks due to WAR.
I'm just saying pretty much everything we have at our disposal says Trammell was a top 20 all-time, all-around shortstop. There are a handful of current Hall of Fame shortstops who were rather obviously worse than Trammell (Phil Rizzuto, Rabbit Maranville, Joe Tinker and Aparicio, to name four).
If we pare things down to just eras, Trammell was overshadowed offensively by Ripken and defensively by Smith, but is actually right with Barry Larkin by most measures. Don't compare Trammell to players at other positions that are far more demanding offensively while being less demanding defensively. Every position is unique and among shortstops of his generation, there's room for one more. Trammell should be in.
And, well, they're probably right

Supposedly, MLB execs have discussed letting teams hit any three hitters they want in the...

Keep tabs on the top 50 free agents on the market right here
After the departures of Steven Souza and Corey Dickerson, the Rays add a right-handed bat

Rasmus essentially walked away from baseball during last season

Forrest Whitley is the Astros' top pitching prospect and set to work in Double-A this year