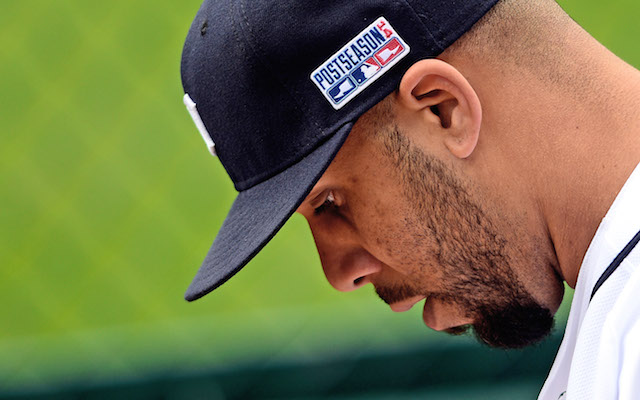 The Detroit Tigers have been swept by the Orioles in the ALDS, and that means their 2014 season is done. Let us now lay it to rest ... 
What went right
Most notably, the Tigers won 90 games, and they claimed the AL Central for the fourth straight year. As current perennial contenders go, the Tigers are among the best, as they haven't endured a losing season since 2008.
On an individual level, Miguel Cabrera was one of the most productive hitters around (146 OPS+, 52 doubles), and Victor Martinez was even better (.335/.409/.565, 32 homers against just 42 strikeouts). Ian Kinsler turned in a useful, well-rounded first season in Detroit, and J.D. Martinez enjoyed a tremendous breakout campaign.
As for pitching, Max Scherzer followed up his AL Cy Young efforts in 2013 with another strong season, and Rick Porcello again proved to be an asset in the rotation. The deadline addition of David Price gave the team another potential ace, and since Price is under team control for 2015, he provides a hedge against the likely free agent departure of Scherzer. Anibal Sanchez was useful when healthy. In the otherwise maligned bullpen, Al Alburquerque turned a strong season. 
What went wrong
By the standards of 90-win division champs, a lot went wrong. Justin Verlander's velocity continued to dip, and he's proved unable to transition, as this season he notched a career-worst ERA+ of 88 (and his K/BB ratio of 2.45 was his worst mark since 2008). Keep in mind he's signed through 2019 with a vesting option for 2020.
Speaking of long-term contracts that aren't looking too promising, there's Cabrera. As mentioned, Miggy enjoyed a very productive season in 2014, but his numbers were well shy of what he inflicted upon pitchers during his 2012-13 MVP run. Even though he's under contract through 2023 (with vesting options for 2024 and 2025), his decline phase seems to have begun.
Elsewhere, Joe Nathan was roundly disappointing as closer (4.81 ERA, 1.86 K/BB, career-high seven blown saves). The rotation as a whole failed to live up to the press clippings, as Detroit starters ranked just 10th in the AL in ERA, and the team defense was one of the very worst in baseball. After the season-ending leg injuries to Jose Iglesias and the free agent exit of Jhonny Peralta, Tigers shortstops combined to hit just .223/.286/.293. Andy Dirks missed the entire season after undergoing back surgery.
MVP:V-Mart. The batting line and his low K total are cited above. He also played in 151 games, led the AL in OBP and led the majors in OPS.
LVP: Verlander. Perhaps that's harsh, but consider that he made $20 million while giving up the most earned runs of any pitcher in the AL. Also a nod of recognition to Nathan. 
Free agents to be: RHP Joba Chamberlain, LHP Phil Coke, OF Torii Hunter, RHP Jim Johnson, DH Victor Martinez, RHP Max Scherzer
Gameplan heading into the offseason
Let Martinez walk so that you can get Cabrera's glove off the field by making him the full-time DH. Acquire a defensively capable first baseman. Hope that Iglesias gets and stays healthy. Make qualifying offer to Scherzer so as to ensure a compensatory draft pick. Add outfield depth (also consider moving the defensively challenged Castellanos to an outfield corner) and upgrade the back of the rotation. Since nothing else seems to work, restock the bullpen with young, in-house candidates and hope Bruce Rondon bounces back from Tommy John surgery. 
Ridiculously premature prediction for 2015
Winning season, contention but third place in the AL Central and no playoff berth. As good of a run as it's been for the Tigers, the downward slide has begun.