Shane Victorino, Jayson Werth spice up Nats-Phils rivalry
With a Sunday night gesture and a Monday morning comment, Shane Victorino and Jayson Werth have added intensity to an already intense rivalry.
First, here's Shane Victorino of the Phillies, moments after hitting a ninth-inning triple on Sunday night against the Nationals ...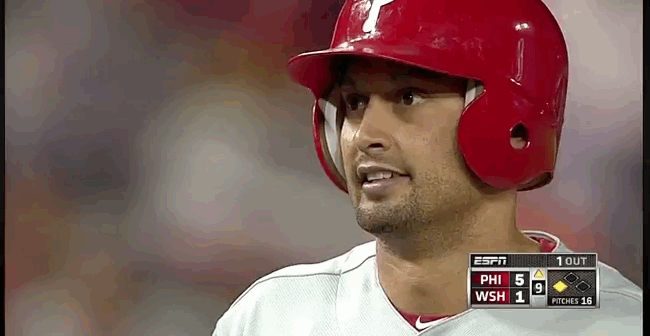 Reportedly, Victorino is directing the celebratory air-kiss toward a Nats fan who, all game long, had been heckling Victorino from behind the Philly batter's box. If nothing else, it's pretty funny to see a ballplayer -- a ballplayer who's no stranger to heckling of criminal extremes -- giving it right back to a fan. It's also one more layer to baseball's new "it" rivalry.

And then there's Jayson Werth, who, the day after suffering a broken wrist, had some pointed words regarding the visiting Philly fans who delighted in his injury. In an email to the Washington Post, Werth wrote:

"After walking off the field feeling nauseous knowing my wrist was broke and hearing Philly fans yelling 'You deserve it,' and, 'That's what u get,' I am motivated to get back quickly and see to it personally those people never walk down Broad Street in celebration again."
Worth noting:
These two teams next cross swords in Philly starting May 21
. Werth won't be around for it, but the mounting hostilities surely will.

Gallardo spent the first eight years of his career in Milwaukee

MLB revenues are at a record high right now, but teams aren't spending it on players

Chicago added Tyler Chatwood earlier this offseason but might not be done adding to the ro...
The Dodgers and Braves pulled off a whopper on Saturday

Sabathia will reportedly spend a 10th season in the Bronx

Fowler suffered a knee injury at Chicago's Guaranteed Rate Field