Singing, strumming and pitching, A.J. Griffin does things his own way
Only with the A's would you find a pitcher in the clubhouse, hours before his start, playing the guitar and singing -- in three languages.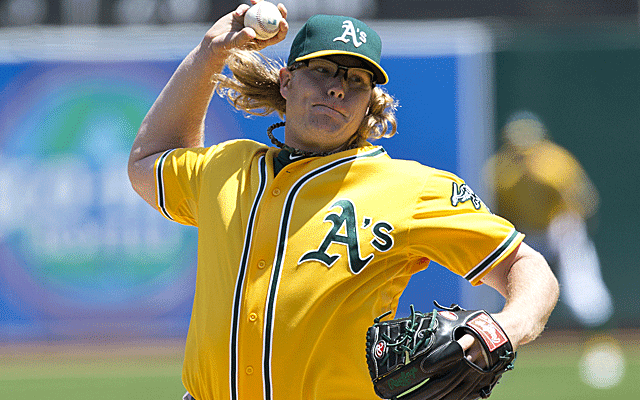 NEW YORK -- The A's are different, so you're not really surprised to walk into their clubhouse and see someone playing a guitar.
Until you figure out that he's that night's starting pitcher.
Understand, most starting pitchers are so serious on their day that you don't dare talk to them. And that doesn't just go for reporters. Teammates avoid them. Managers avoid them.
One clubhouse manager said he's been told by some starters, "I'm pitching tonight. I can't sign an autograph."
A.J. Griffin was sitting on a couch Friday afternoon, playing the guitar. And singing. In three languages. Then he was singing along as John Jaso was playing the guitar.
And then he was out on the mound, shutting out the Yankees for seven innings in the A's 2-0 win.
You see a lot of different things on the baseball beat. You see a lot of different people.
You don't see a lot of A.J. Griffins.
"He's a very confident, very comfortable person," teammate Dan Straily said. "I remember a couple of years ago [in the minor leagues], it was like a dance party in the clubhouse on the days he pitched. Hey, whatever he needs to do to get the job done."

So when Griffin goes 7-1 with a 3.06 ERA, as he did for the A's last year, no one's going to complain about how he goes about it. When he comes back with a 3.79 ERA through six starts this season, no one's complaining.
Not that they would, anyway. These are the A's, and yes, they're a little different. Always have been, ever since the "Billy Beane's frat house" days.
"The reins are pretty loose here," Griffin said. "It's a blessing I got drafted by the A's."
Griffin, a 25-year-old San Diego native, doesn't dispute the idea that he's a little different.
"When I was in the minor leagues, when I got brought up to teams, they'd say, 'What's up with this guy?'" he said.
He would dance through the clubhouse before his starts then.
"You're actually seeing the toned-down, G-rated version," said Sean Doolittle, who roomed with Griffin in the minors.
Meaning?
"There was a lot of dancing involved," Doolittle said.
"Yes, much more dancing," Griffin agreed.
He says it's all about clearing his mind before he pitches. He says that he knows he needs to be serious on the mound, so it helps him to stay away from being serious in the hours before he takes the mound.
His only worry, he says, is that teammates will see him strumming and singing (or even dancing) and think he doesn't care.
Obviously, he does. Obviously, the A's do.
But instead of caring about everything that doesn't matter, they seem to worry only about the things that do. Instead of trying to make everyone the same, they feel comfortable accepting those who want to be different.
A.J. Griffin is different, proudly so.
He'll give you a sentence in French or Spanish ("I tell him English is his worst language," one A's person jokes), and then he'll give you a quick critique of French music ("Their food is better," he says).
The A's accept it.
"I'm pretty sure it wouldn't fly anywhere else," Doolittle said.
No, only here. Only with the A's.
 It's a great thing, isn't it?
Then again, three trades in four days might be behind Jerry Dipoto's usual pace

Ohtani is arguably the best hitter and pitcher in Japan

The O's need rotation help, and Cobb is available for hire
The Red Sox and Cardinals are expected to make trade offers next

The free agent first baseman may be a fit in St. Louis

The front office changes in Atlanta continue