Spring primer: Kansas City Royals
The Royals recorded their 16th losing season in the 17 years, but there was signs of hope in 2011 as the team saw the debut of such young talent as Eric Hosmer, Mike Moustakas, Salvador Perez, Aaron Crow and Danny Duffy. Can the team take the next step in 2012?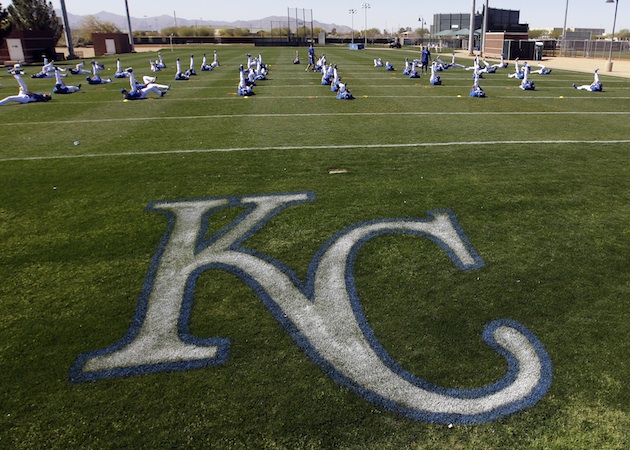 Last season the talent that so many insiders had been talking about for years started to pay dividends, as first baseman
Eric Hosmer
and third baseman
Mike Moustakas
made their big-league debuts and didn't disappoint. The Royals also saw the first of catcher
Salvador Perez
and pitchers
Danny Duffy
,
Aaron Crow
and
Tim Collins
. There's more talent on the farm and for the first time in more than a decade, there's not just optimism in Kansas City, but also good reason for it.
Major additions:
LHP
Jonathan Sanchez
, RHP
Jonathan Broxton
, INF Yuniesky Betancourt
Major departure:
OF
Melky Cabrera
Probable lineup
1.
Alex Gordon
LF
2.
Johnny Giavotella
2B
3. Eric Hosmer 1B
4.
Billy Butler
DH
5. Mike Moustakas 3B
6. Jeff Francouer RF
7. Salvador Perez C
8.
Lorenzo Cain
CF
9. Alcedes Escobar SS
Probable rotation
1.
Luke Hochevar
2. Jonathan Sanchez
3.
Bruce Chen
4. Aaron Crow
5.
Felipe Paulino
Back-end bullpen
Closer:
Joakim Soria
Set-up: Jonathan Broxton,
Greg Holland
,
Jose Mijares
Important bench players
INF Chris Getz, INF Yuniesky Betancourt
Prospect to watch
There's zero chance
Bubba Starling
will play in the big leagues this year, but there will be plenty of eyes on the fifth overall pick of last year's draft. Starling passed up a chance to play quarterback at Nebraska after the Royals offered him a $7.5 million bonus. Starling hasn't played an inning of pro baseball, but his exceptional athleticism will draw plenty of attention.
Fantasy sleeper:
Lorenzo Cain
"With good gap power and decent contact skills, Cain could toy with a .300 batting average. Though his minor league stolen base totals weren't gaudy, Royals manager Ned Yost likes to have his players run, so 25-30 steals are not out of the question. While Cain is strictly an AL-only option in Head-to-Head formats, he is a viable No. 5 outfielder for mixed Rotisserie leagues." -- Al Melchior [
Full Royals fantasy preview
]
Fantasy bust:
Jeff Francoeur
"2011 was a career year and entering his late 20s, one might be tempted to think that it was a breakout. However, Francoeur's improved batting average (.285) and run-production stats (77 runs, 87 RBI) were helped by a .330 batting average on balls in play (BABIP) -- a mark that doesn't square up for a player who pops out a lot and is a below-average line drive hitter. Even if he manages to be a 20-20 player again, Francoeur will have a hard time matching last season's production." -- Al Melchior [
Full Royals fantasy preview
]
Optimistic outlook
The Royals' return to glory comes a year or two early, as Sanchez pitches more like he did in 2010 than he did in 2011, Hochevar lives up to his potential, Crow makes the transition to starter and Danny Duffy shows the making of an ace. That pitching click, while Hosmer puts up MVP-type numbers, while Gordon and Francouer show 2011 was no fluke. While it doesn't take much to imagine the Royals leapfrogging the rest of the division, there's even a scenario that the Tigers stumble and Kansas City sees itself in the playoffs for the first time since 1985.
Pessimistic outlook
It's just another baseball season in Kansas City -- a spring filled with reason for hope, only to be disappointed by June. But at least there's the All-Star Game.
For more baseball news, rumors and analysis, follow @EyeOnBaseball on Twitter and "like" us on Facebook.
Several prominent Japanese-born Mariners and ex-Mariners have said they will help as well

Get your sports fans something that they'll wear all year

Get 15 percent off any order of more than $75 at CBS Sports Shop
No, you're not imagining things. This MLB offseason has been very slow compared to the last...

Francesa will retire from radio next month, so he'll have plenty of free time next summer

The Twins need help in the rotation, and they may look to the trade market to find arms