Starlin Castro removed from game after mental error
After allowing a run to score while holding the ball after an infield fly rule was applied, Cubs shortstop Starlin Castro was benched.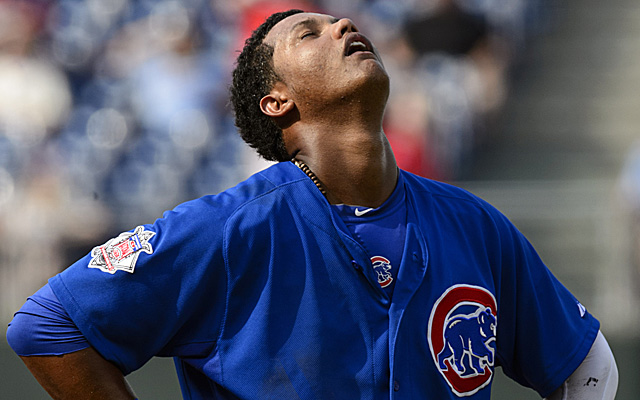 More MLB: Scoreboard | Standings | Probable Pitchers | Sortable Stats | Odds
The nightmare that has been the 2013 season continued Saturday for Cubs shortstop Starlin Castro, as he was benched mid-game by manager Dale Sveum.
With the bases loaded in the top of the fifth, Cardinals second baseman Matt Carpenter lifted a soft pop up into shallow left field behind third base. Castro made his was over to the ball and secured the catch. During the process, an infield fly call was made by the umpiring crew. After catching the ball, Castro's head dropped and he took a few steps slowly toward the left field line with the ball, not paying attention to any baserunners. And Jon Jay noticed, tagging up and scoring from third.
MLB.com has video of the play.
After the conclusion of the half-inning, the TV broadcast caught a shot of Castro entering the dugout, only to be met by Sveum. Sveum appeared to say very few words, but he looked rather stern and finished his words by signaling Castro to leave. And Castro did, heading down into the clubhouse.
MLB.com have video of the removal, too.
Cody Ransom replaced Castro in the lineup, but that's ancillary to the real matter at hand.
Castro, 23, is a two-time All-Star who led the NL in hits in 2011 at just 21 years old. This season, however, he's hitting just .244/.278/.345. He's walked 19 times and struck out 100. It's been a major regression, to say the least. Now, on top of that, he's under fire again for a mental lapse on defense.
How Castro responds to being benched is extremely important for the Cubs' rebuilding effort. They are eyeing the 2015-16 range to return to contention. Castro is signed through 2019 and is still considered a major part of the future core. If he handles this professionally, there's still plenty of hope for him to play well the rest of the year and make good on his big upside. Remember, he entered the season with a career slash line of .297/.336/.425 and had been steadily increasing his power production. And he's only 23. To give up on him now would be stupid.
If Castro becomes angry and begins to have a personal issue with Sveum and the Cubs, however, that's bad news for all parties.
It's worth noting that top Cubs prospect Javier Baez is currently destroying Double-A pitching and is a shortstop. It's long been thought one of the two would change positions, but there's always the outside chance plans change. I don't believe that will happen any time soon -- and it's a worst-case scenario, really -- but you never know. Castro's mental lapses on defense should have disappeared by now, given that Saturday marked his 566th career game.
UPDATE: Castro was extremely apologetic after the game, so it's great news for the Cubs:
#Cubs Starlin Castro apologized to teammates, T.Wood, coaches after the game for his mental gaffe in 5th

— Carrie Muskat (@CarrieMuskat) August 18, 2013
#Cubs Castro: "I knew the outs and everything, but I put my head down and made a mental mistake. I don't want to make any excuses for that"

— Carrie Muskat (@CarrieMuskat) August 18, 2013
More #Cubs Castro: "It's my mistake and that's why I paid for that, that's why I came out of the game."

— Carrie Muskat (@CarrieMuskat) August 18, 2013