Study: 1/3 of current MLB pitchers have had Tommy John surgery
Thanks to Will Carroll, the numbers are in, and it turns out a fairly staggering number of current MLB pitchers are veterans of Tommy John surgery.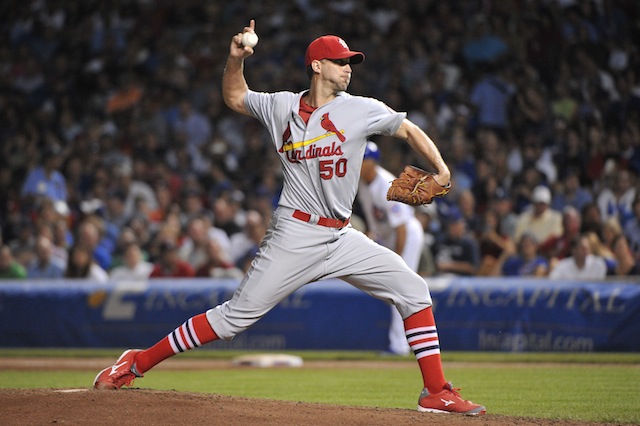 More MLB: Scoreboard | Standings | Probable Pitchers | Sortable Stats | Odds
Over at Bleacher Report, injury analyst Will Carroll has conducted an exhaustive and impressive study of current major-league pitchers and how many within their ranks have undergone Tommy John surgery. The results? Not exactly uplifting. Carroll writes:
One-third of current MLB pitchers have had Tommy John surgery. Of the about 360 who started the season, 124 share the all-too-familiar triangular scar.

How surprising is this number? It stunned me! In recent talks with baseball officials, none guessed more than the one-in-nine number I had often seen quoted over the last decade (and quoted myself). Worse, none of us had any idea when this change had happened or noticed the acceleration.
Anecdotally, it does seem that more and more pitchers are being prescribed reconstructive elbow surgery, and Carroll's numbers certainly back up the notion of a "TJ boom."
You need to read Carroll's entire piece, as he cites some interesting prior research and puts forth some possible explanations for what's going on. I'm no science-y scientist, but I sign on to the notion that overuse at the adolescent and pre-adolescent levels is in large part to blame for what's happening to these pitchers, whether at the time and or some years down the line.
Whatever the reasons, though, 124 -- as mentioned, one-third of current MLB pitchers -- is an alarming number.
Wright was arrested at his home Friday

The former Tigers teammates were voted into Cooperstown by the 16-person Modern Era Commit...

The Yankees still have room for a good-sized signing even after Saturday's trade with Miam...
St. Louis gets some much needed help for their bullpen

Keep tabs on the top 50 free agents right here

Morrow thrived with the Dodgers last season