Team DR wins again, and the redemption tour is almost complete
Four years ago, the Dominican Republic players treated the World Baseball Classic as more of a joke than most American fans. And it showed. This time around, the Dominican players have embraced the tournament. And it shows. Now, with the help of a lot of talent and one lucky plantain, Team DR has advanced to Tuesday night's WBC championship game.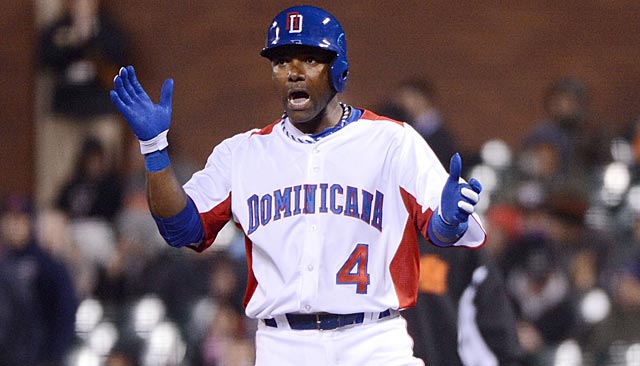 SAN FRANCISCO -- If they charter a plane this time, no one will blame them.

If they party all night, an entire nation will join in.

First, Team Dominican Republic needs one more win. One more win, and their redemption tour will be complete.

One more win, and these Dominican players can hope all will be forgiven.

"Hopefully, after we win, these guys will be heroes for the rest of their lives," Team DR general manager Moises Alou said late Monday, after the Dominicans advanced to Tuesday night's World Baseball Classic championship game against Puerto Rico with a 4-1 victory against the Netherlands.
More on WBC
Related links

Four years ago, the Dominican players treated the WBC as more of a joke than most American fans do. After they lost twice to the Netherlands and were eliminated in the first round, stories circulated of how they chartered a plane to fly from Puerto Rico to Santo Domingo to go clubbing the night before a game.

The fans at home, who care very much about this tournament, were not amused.

Four years later, everything has changed. Four years later, the Dominican players have embraced the WBC every bit as much as their rabid fan base has.

They're winning more than anyone, threatening to become the first team to go through an entire WBC without losing a game. They're enjoying it more than anyone.

This time, the Dominicans are turning every game into a party, and everyone is amused.

Or didn't you hear about Fernando Rodney and the magic of the plantain?

Rodney is a natural comedian, as anyone who has been around him can testify. So it was hardly a shock that he was the Dominican player who showed up Monday with a plantain, the fruit that Dominicans associate most with their country (several years ago, when Alex Rodriguez was trying to prove his heritage, he told a Santo Domingo newspaper that he was "as Dominican as a plantain").

Rodney's story is that his family back home in Samana sent him the plantain, which he unveiled during pregame introductions. He kept it with him in the Team DR dugout. And, of course, he credited it with inspiring the four-run fifth inning that allowed the Dominicans to overcome an early 1-0 Dutch lead.

"Platano said if you keep me close, you'll get the win," Rodney said. "The plantain gave me luck."

Sure, it did. The plantain, and his 95-mph fastball and Bugs Bunny changeup.

Let's not forget that this DR team is ridiculously talented. The lineup features five major-league All-Stars. The bullpen, anchored by Rodney as closer, is so strong that it has now gone 18 2/3 innings since last allowing a run.

Rodney, Pedro Strop, Octavio Dotel, Santiago Casilla and Kelvin Herrera have combined for 24 shutout innings in the WBC, holding opponents to a .125 batting average.

But the 2009 Dominican team was talented, too. In fact, eight key players from this team were also on that team.

That team was an epic failure, as Alou well knows. He played on that team.

He also played on the DR team in 2006, in the first WBC. That team advanced to the semifinals before losing to Cuba.

"I played [in 2006], but I knew I wasn't in top shape," he said. "Everybody said we needed to come back in better shape [in 2009]. It didn't happen."

This time, it did.

Alou rolled off the names of all the Dominican stars who played winter ball, just to make sure they'd be ready for the WBC. He spoke of the dedication of star Robinson Cano, who he said has given an inspirational message before each game (and has also hit .500 with six extra-base hits and six RBI in seven games).

He said that a few Dominican stars had declined invitations, a few others couldn't come because they were recovering from injuries (Jose Bautista and Adrian Beltre, to name two), and, in some cases major-league teams stood in the way.

"But we have so many good players in our country that whenever a guy was stopped by his team or a guy said no, there was a good replacement," Alou said.

The commitment from Alou, from the players and from manager Tony Pena was genuine. The team has three shortstops, but Hanley Ramirez agreed to play third base, and Erick Aybar understood that he would spend some games on the bench (including Monday's), while Jose Reyes started at short.

Alou said that one player's wife had a miscarriage this week, and that another had a baby last week. Neither player, he said, asked to leave the team to go home.

The difference from 2009 is striking. The harsh words that the Dominican players heard from their fans seemed to sink in. This time, the players are as invested in this tournament as their fans always have been.

"It's a lot of responsibility," Rodney said.

They've embraced the tournament and also what the tournament allows them to do. Not everyone appreciates the emotion that Team DR shows ("Some of it's close to clowning," Reds manager Dusty Baker said a few days back), but this is how these players learned to love the game.

"Here, you think you're playing winter ball," Cano said. "You play your way."

"Spicy baseball," Alou calls it.

The Dominican fans love it. And with one more win, you can be sure they'll love this team.

"I hope so," Alou said. "There was so much negative stuff the last time. The fans, they take it personally."

But that also means that if this team wins, the fans will party as much as any fans anywhere.

"We might charter a plane [to go join the party]," Alou said.

This time, they would be more than welcome.
Gallardo spent the first eight years of his career in Milwaukee

MLB revenues are at a record high right now, but teams aren't spending it on players

Chicago added Tyler Chatwood earlier this offseason but might not be done adding to the ro...
The Dodgers and Braves pulled off a whopper on Saturday

Sabathia will reportedly spend a 10th season in the Bronx

Fowler suffered a knee injury at Chicago's Guaranteed Rate Field