The Bobblehead Project: Izzy Alcantara karate-kicks the catcher
Let us now recall Izzy Alcantara's most unique way of charging the mound and make a Bobblehead Project entry out of it.
More MLB: Scoreboard | Standings | Probable Pitchers | Sortable Stats | Odds
It's Thursday and in these parts that means it's time for another Bobblehead Project entry. Today, though, brings us a bobblehead that is less celebration than it is solemn reminder that in baseball there are accepted ways of doing things -- even when that thing is charging the mound with the intent of keel-hauling the opposing pitcher.
Back in 2001, Red Sox minor-leaguer Izzy Alcantara took offense to some inside pitching from Scranton/Wilkes-Barre's Blas Cedeno and decided  -- with not insubstantial levels of malice aforethought -- to charge the mound. Before he charged the mound, though, he decided to give a taste of street justice to catcher Jeremy Salazar. And away we go ...
That's right: He kicked the catcher. And you can't do that, according to both the rules and prevailing standards of gentlemanly behavior. Here's the relevant action-news footage ...
For his efforts, Mr. Alcantara was suspended six games and dropped from the Triple-A International League All-Star roster. Some 12 years later, his assault was commemorated in bobblehead form.
As always, big thanks to our artist Jarod Valentin for his continued amazing work. Thanks to said amazing work, he has earned the right not to be kicked in the grill by Izzy Alcantara.
Bobblehead Gallery (click on thumbnail) ...
Bobblehead Gallery (click on thumbnail) ...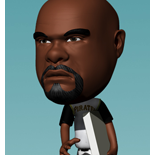 Dioner Navarro still hopes to return someday

Christian Yelich's agent says his client's relationship with Marlins is 'irretrievably bro...

The free-agent market has been slow and one player is bracing for an even longer wait
The Mets didn't want to trade a young outfielder for an older one

Josh Harrison doesn't sound pleased Gerrit Cole and Andrew McCutchen have been traded away

The team's media contracts expire following the 2019 season