More MLB: Scoreboard | Standings | Probable Pitchers | Sortable Stats | Odds
The Bobblehead Project is back, and this week's installment features a save to rival anything Mariano Rivera has ever done.
It's Game 5 of the 2002 World Series between the Angels and Giants -- seventh inning, Kenny Lofton at the dish, J.T. Snow and David Bell on the bases. Lofton smacks a triple, and 3-year-old Darren Baker, son of Giants manager Dusty Baker and the team's bat boy, waddles out to retrieve Lofton's lumber, per his duties.
Unfortunately, young Darren, in doing so, wandered into the path of those hasty base-runners. Here's how it all unfolded ...
It takes a village to raise a child, but it takes a quick-thinking first baseman -- J.T. Snow in this instance -- to keep him from getting trampled.
So, without further ado, here's our bobblehead of Mr. Snow's saving the oblivious bacon of 3-year-old Darren Baker ...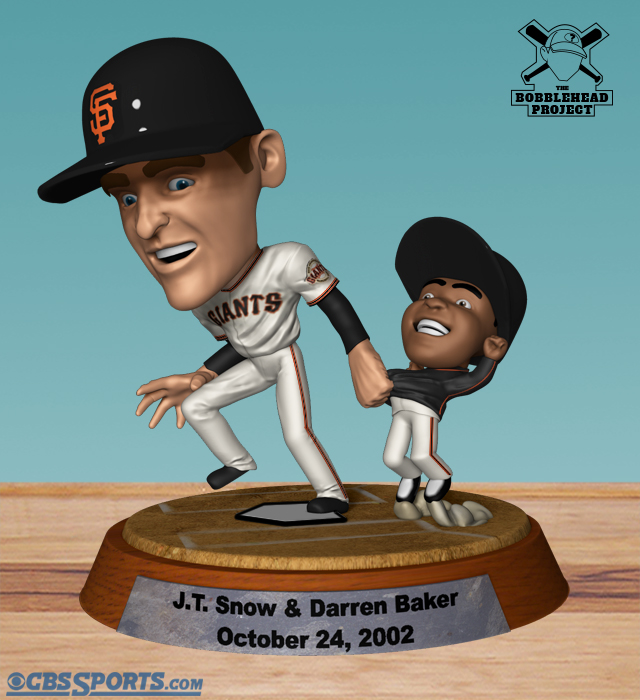 Aside: Not long after this happened, MLB instituted a minimum age of 14 for all bat boys/girls. Not a rule but should be a rule: A bat boy/girl can be any age as long as J.T. Snow's in the house.
As always, our artist, Jarod Valentin, is the star of this show.
Bobblehead Gallery (click on thumbnail) ...