The Lineup: Bel-trey! Texas 3B hits 3 homers
Adrian Beltre hit three home runs, including two in one inning, joining Albert Pujols, George Brett, Reggie Jackson and Babe Ruth in the exclusive club of player with three-homer games in the playoffs and the regular season. In Philadelphia, Cole Hamels and Johnny Cueto face off in Thursday's best pitching matchup.
Before we get started, we have a special announcement from our corporate overlords:
Sports fan? Join the conversation tomorrow as @rogerclemens appears on #CBSThisMorning by using the hashtag #ClemensThisMorning

— CBS This Morning (@CBSThisMorning) August 22, 2012
So, if you're up early, you can use the Tweeters to ask Roger Clemens about his comeback.
And now back to your regularly scheduled programing...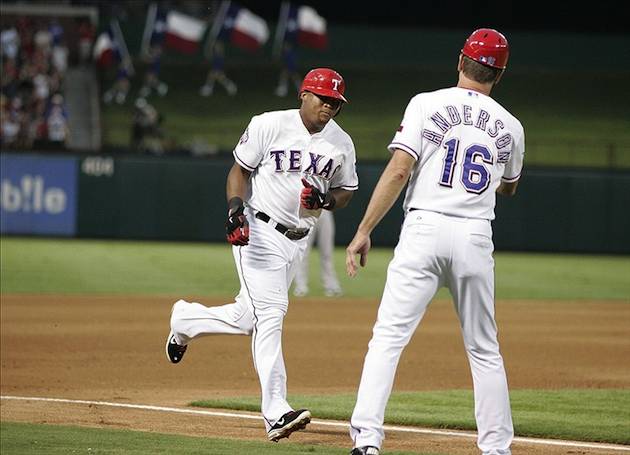 Adrian Beltre became just the fifth player to have a three-homer game in the postseason and the regular season. (US Presswire)
While Bartolo Colon 's suspension was the big news, there's potential for other problems, as several players left games with injuries, including Albert Pujols (calf), Matt Weiters (shoulder), Dexter Fowler (ankle) and Ian Desmond (knee). Another, Buster Posey (hamstring), wasn't even in the lineup. As for those who did play, the National League saw the Atlanta Braves avoid a sweep in Washington Nationals . Meanwhile the Padres swept the Pittsburgh Pirates , taking the season series 5-1 and slipping the Pirates into third place in the National League Central behind the Reds and the St. Louis Cardinals . Out west in the late game, San Francisco Giants completed its sweep in Los Angeles Dodgers , making the lead 2 1/2 games in the NL West. And that's not all… 
Full Wednesday scoreboard with box scores and recaps for all games






3 UP
Adrian Beltre , Rangers: The Texas Rangers third baseman fell short of a four-homer game, but who is going to complain about a three-homer game in a 12-3 victory? Beltre hit three homers in his first three at-bats of the game, including two in the nine-run fourth inning. It was Beltre's second-career three-homer game. He hit three homers in Game 4 of last year's ALDS. He joins Albert Pujols, George Brett, Reggie Jackson and Babe Ruth as the only players with three-homer games in the postseason and the regular season.
Tyler Skaggs and Andrew Werner: The two rookie pitchers both picked up victories in their major league debuts. Arizona Diamondbacks 's Skaggs allowed two runs on three hits in 6 2/3 innings against the Miami Marlins . He did walk five, but still looked good enough that the team said he'll stick with them for the time being, and probably through the end of the season. San Diego Padres 's Werner gave up two runs on four hits in six innings. Like Skaggs, he walked more than he'd probably like (four), but nerves have gotten the most of many pitchers making their debut.
Bronson Arroyo , Reds: Before Wednesday, Arroyo was 1-7 with a 7.28 ERA in his career against the Phillies and 0-2 with an 18.00 ERA at Citizen's Bank Park. His overall numbers aren't much prettier this morning, but they're better following his eight-inning, three-hit, two-run performance on Wednesday. Pitching into the ninth, Arroyo retired the first 14 he faced and 22 of 23 and needed just 86 pitches to get into the ninth. His win was his first against the Phillies since 2000, when he was with the Pirates.
3 DOWN
John Ferrell, Blue Jays: Toronto Blue Jays 's manager asked 45-year-old Omar Vizquel to steal a base with two outs in the ninth in a one-run game. The ending is predictable. Although Vizquel was 3 for 3 on stolen base attempts before Wednesday and has 404 swipes in his career, he's still 45. Ferrell was banking on Vizquel being able to take advantage of Jose Valverde 's slow motion to the plate. However, Alex Avila threw a dart to second to get him, ending the game with Rajai Davis at the plate.
Bud Norris , Houston Astros : It's not that Norris was bad on Wednesday, it's just that he wasn't good enough. Norris allowed three runs in six innings, but his team scored just two. The right-hander has now dropped his last 10 decisions. He's 0-10 with a 6.78 ERA over his last 14 starts.
Clay Buchholz , Boston Red Sox : If there's one thing the Red Sox have been able to count on recently and that was Buchholz. Heading into Wednesday's start against the Angels, the right-hander had just one loss in his last 16 home starts and was 8-2 with a 2.69 ERA over his last 15 starts. In his last six starts, he'd given up just eight runs. He gave up nearly that many on Wednesday, allowing seven runs on 12 hits in 5 1/3. With the loss, the Red Sox are now six games below .500 -- the latest they've been at that mark since 1997.





Best matchup: Cincinnati Reds 's Johnny Cueto leads the National League with a 2.44 ERA and with a win on Thursday, he could take over the big league lead with 17 wins. It won't be easy because he'll be facing Philadelphia Phillies 's Cole Hamels , who is 14-6 with a 2.94 ERA. Cincinnati has won two of the first three games of the series and have a chance to win their first series at Citizens Bank Park since August of 2006. 7:05 p.m. ET
Early start: The Tampa Bay Rays and A's will start a rare three-game series beginning on a Thursday. Since the Republican National Convention will invade Tampa next week, the two teams moved up the start of their series a day, giving them Sunday off to get out of town following Saturday afternoon's game. 7:10 p.m.
No rest for the weary: After three games with first-place Washington, the Braves have to head west for a four-game series against the first-place Giants. The Braves snapped a four-game losing streak with a win on Wednesday and they will at least miss Matt Cain . Barry Zito starts against Tommy Hanson in the first game of the series. 10:15 p.m. ET





• Bad deals: What are the 10 worst free agent contracts in history? [Sports Illustrated]
• No MVP: Anthony Castrovince of MLB.com looks at 10 great players who never won an MVP, including Al Kaline, Eddie Matthews, Mel Ott and Derek Jeter .
• Getting the call: Baseball Prospectus looks at nine memorable September call-ups. Mike Ferrin provides my favorite one, Gregg Jefferies. In 1988, I lived in southeastern Virginia, so I'd seen plenty of Jefferies with the Tidewater Tides and the hype was unreal. He had a good career, but was never the player so many expected him to be.
• Breaking down Rizzo: Anthony Rizzo is a different player in 2012 than he was in 2011 -- and BaseballAnalytics.org shows the difference.
• Revisiting the Beras decision: Ben Badler of Baseball America follows up on the Jairo Beras suspension by Major League Baseball. Beras was suspended a year for providing a false birth date to MLB.
• Everyone to blame: So, whose fault is the 2012 Astros' season? Well, just about everyone. [BeyondTheBoxscore.com]
• Oh you Mrs. McCarthy: Not only is Brandon McCarthy 's wife easy on the eyes, she's also funny:
Hey @mlb, extenze is offering a two week free trial that I want to get @bmccarthy32... That's cool with the PED rules, right?

— Amanda McCarthy (@Mrs_McCarthy32) August 22, 2012
For more baseball news, rumors and analysis, follow @EyeOnBaseball on Twitter, subscribe to the RSS feed and "like" us on Facebook.