The Lineup: Bombs away Saturday
The bats have been awakened. After some offensive lulls the first few days of the season, Saturday's slate gave us 23 home runs in the seven day games alone. Before the clock hit 7 p.m. ET, five players had two home run games.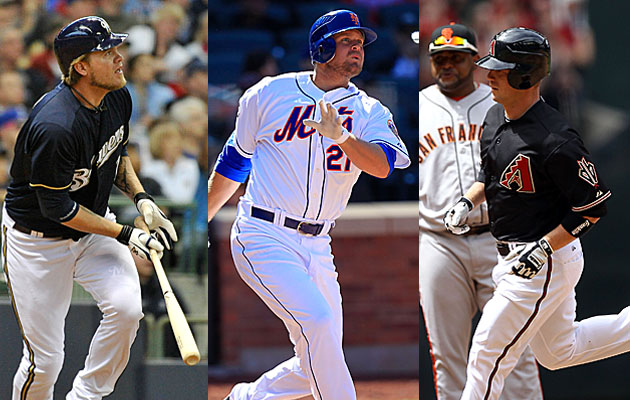 The bats have been awakened. After some offensive lulls the first few days of the season, Saturday's slate gave us 23 home runs in the seven day games alone. Before the clock hit 7 p.m. ET, five players had two-homer games.
Miguel Cabrera
and
Prince Fielder
aren't exactly surprising there, so let's give some love to the other three.
Full Saturday scoreboard

3 UPLucas Duda, Mets.
Hello, new Citi Field dimensions. Duda took the
Braves
deep twice en route to a
2-run Mets' win
. Don't look now, but those far-too-maligned Mets are 2-0.
Aaron Hill, Diamondbacks.
The D-Backs have jumped out to a two-game lead over what figures to be their biggest threat in the NL West: The
Giants
. Saturday,
it was a 5-4 victory
in which Hill had two homers and three RBI.
Corey Hart, Brewers.
Last season, the Brewers opened 0-4. This season, that won't be happening, as they evened their mark at 1-1 with a
6-0 win
over the
Cardinals
.
Zack Greinke
was obviously the main reason for the victory, but Hart's two homers accounted for the first, third and fourth Brewers' runs.
3 DOWNThe Minnesota Twins.
In two games, the Twins' offense has made
Jake Arrieta
and
Tommy Hunter
look like the 2001 D-Backs'
Randy Johnson
and Curt Schilling. The O's duo combined for 14 innings with zero earned runs, allowing just eight hits and three walks. But offense isn't the only issue for the Twins. Saturday,
in an 8-2 loss
, they committed two errors. And starting pitcher
Francisco Liriano
was awful, coughing up eight hits and five earned runs in just four innings. It's only two games into the marathon, but the Twins look among the worst teams in baseball again.
Kerry Wood/Carlos Marmol, Cubs.
Had the Cubs' back-end duo done its job so far this season, the Cubs would be 2-0. Instead, they are 0-2, with Wood and Marmol having a pair of blown saves and responsible for both losses. Saturday, Wood allowed three hits and three earned runs in just 2/3 of an inning. He left with a one-run lead, though he also left runners on first and third for Marmol in the eighth inning. Marmol didn't even record an out. He coughed up a double, a single and two walks. Before the eighth inning was over, the
Nationals
had turned a 4-2 deficit into a 7-4 lead.
That would be the final score as well
.
Mat Latos, Reds.
It was a rough Cincy debut for the Reds' big offseason acquisition. He lasted only 4 2/3 innings, giving up seven hits and four earned runs
in an 8-3 loss
to the
Marlins
. It's worth noting, however, that the Marlins have a potentially potent offense and it had been dormant for the first two games of the season. So this one could be chalked up to an offense simpy being "due." I wouldn't worry about Latos just yet.

Royal victory?
Can the
Kansas City Royals
go into Anaheim and take two of three from the
<span data-shortcode=
Angels" data-canon="Los Angeles Dodgers" data-type="SPORTS_OBJECT_TEAM" id="shortcode0">? They'll have their shot Sunday, with
Jonathan Sanchez
making his Royals debut, squaring off against
Ervin Santana
of the Angels. The Royals are definitely a better ballclub this season, but many believed they were one year away from being a legitimate contender. Taking an opening series on the road from an elite team would give the young Royals a huge confidence boost.
3:35 p.m. ETBattle of Pennsylvania.
The
Pirates
got
a walk-off infield single Saturday night
when
Alex Presley
beat out a grounder to plate the winning run in extra innings. So they've escaped opening the season against
Roy Halladay
and
Cliff Lee
with a split. Sunday, it's
Vance Worley
taking the hill for the
Phillies
, while
James McDonald
toes the slab for the Pirates. Can the Pirates gain early bragging rights in the state of Pennsylvania?
1:35 p.m. ETNicasio's return.
Hey, let me give a reason to non-
Rockies
/non-
Astros
fans to watch those two play:
Juan Nicasio
is making his first regular-season start since breaking his neck last season. The 25-year-old pitcher was struck with a line drive and had to leave the game with broken vertebrae in his neck last August 5. He'll square off Sunday against
Bud Norris
and the Astros.
2:05 p.m. ET
Full Sunday schedule
•
Cheap Shot.
This is the most cowardly and pathetic act I've ever seen on a baseball field, committed by the left fielder for Yavapai Community College (against a baserunner for Scottsdale Community College). Below is the video. Please note that it's taken from the crowd and there's some yelling involved that may or may not contain some language. It's hard to tell with some inaudible parts and lots going on. Simply: If you are offended by bad language and will dissect every second of the audio, maybe you should just pass on watching this. But there's nothing blatant, other than the cowardly left fielder's blind side.
No background is needed, because that can't be defended. What a joke.
(Hat-tip: Big League Stew)
•
Replacing Yu.
Here's a good read from the New York Times online
about Japan's search for the next ace, obviously referencing the departure of superstar
Yu Darvish
for Major League Baseball.
•
Buck and sabermetrics.
Orioles
manager Buck Showalter mentioned UZR (ultimate zone rating, Fangraphs.com's defensive measuring tool) and wOBA (weighted on-base average) during his pre-game media session Saturday. In fact, this offseason the Orioles front office gave a presentation on sabermetrics to the coaching staff. (via
MASNsports.com
)
•
Clutch Rays.
According to Elias Sports Bureau, the Rays are the first team since the 1971-72
Oakland
A's to win the last game of a season and then the first game of the next season in walk-off fashion.
•
Moyer's longevity.
An in-game graphic during the Rockies-Astros broadcast noted that 49-year-old pitcher
Jamie Moyer
has faced 8.9 percent of the hitters in Major League Baseball history. That's just insanity.
•
Fantasy baseball note:
It would appear White Sox manager Robin Ventura has decided upon a closer, and it's
Hector Santiago
. The 24-year-old lefty worked a spotless ninth to record the save Saturday night in
Chicago's 4-3 victory
over the
Rangers
.
For more baseball news, rumors and analysis, follow @EyeOnBaseball on Twitter, subscribe to the RSS feed and "like" us on Facebook.
Charlie Morton will start either Game 3 or 4

Granderson, Verlander, Beltran and more are looking to reach the top of the MLB world

Houston's top relievers have been shaky this postseason
Our experts have a unanimous World Series pick

Otani's rare ability to hit and pitch will need to be accounted for in realms beyond real...

Kenny White has won 8 of his last 10 MLB Over-Under picks and has a strong play for Game 1