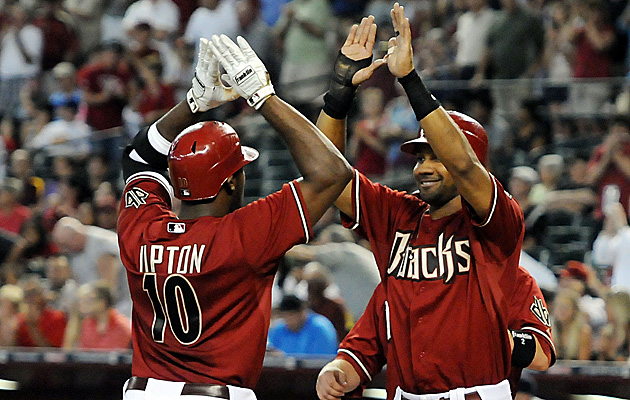 We were kind of hijacked by PineTarGate, but there were still 15 games Wednesday night. Let's get to it.
Full Wednesday scoreboard with recaps and box scores for every game








3 UP

Diamondbacks' offense: D-Backs starting pitcher Trevor Cahill got the win after allowing nine hits and six earned runs in six innings. So ... let's check out the overwhelming support he was provided by his teammates: Six singles, four doubles, six home runs (including one of the inside-the-park variety), 14 runs, two walks and only three men left on base. Cliff Lee weeps.

Stephen Strasburg, Nationals: It's interesting how all the comments about the Nats "rushing" Strasburg back from Tommy John surgery for a few innings late last season have disappeared. Where did all those medical experts go? Strasburg went out and stopped the Nationals' four-game losing streak Wednesday night with a solid, seven-inning effort. Notable here, other than breaking that losing streak, was Strasburg striking out 10. He now leads the majors with 110 strikeouts in just 84 innings. And he's 9-1 with a 2.46 ERA.

Jake Westbrook, Cardinals: The Cardinals have been struggling for a while. Still, after building up a 20-11 start, they had some leeway to play with in order to stay above .500. And they just keep finding ways to do so. They have now hit .500 exactly three times. Each time, they won the next game. This time out, Westbrook threw a complete game with zero earned runs (one total run, so no shutty) against the red-hot Tigers, securing a 3-1 victory.

3 DOWN

Rockies' finish: The Rockies' broadcast summed it up pretty well right after this thing ended: "And the Rockies are inventing ways to lose." This time around, they took a ninth-inning lead and sent closer Rafael Betancourt to the hill to nail down the save. He got two outs and then the demise began. Ty Wigginton singled before a Hunter Pence double tied the game. After an intentional walk, Shane Victorino reached on an infield single that may have been playable if not for an errant throw -- though replays showed Victorino may have beat a good throw anyway. Then, with the bases loaded, two outs and a tie game, Placido Polanco had a walkoff "reached on an error." Marco Scutaro's throw to first base was high, but first baseman Todd Helton wasn't in great position to catch the ball and couldn't find the bag. After the game, Helton told reporters he thought the ball would get through the infield and he was late to the bag, calling it an "inexcusable" error on his part (via Troy Renck).

Phil Hughes, Yankees: In giving up four home runs, Hughes tried to take the AL "lead," if not for Jason Vargas of the Mariners allowing five to the aforementioned Diamondbacks. Both had coughed up 15 gopher balls this season and the AL lead was 18 entering Wednesday. In Hughes' case, he gave up six earned runs in just 4 1/3 innings and the Yankees lost a series for the first time in June.

Bronson Arroyo, Reds: Speaking of long balls, Arroyo gave up an astonishing 46 last season, to "lead" the majors. He still trails Joe Blanton and teammate Mat Latos this season in the NL, but -- after allowing two homers to the Indians Wednesday night -- Arroyo has coughed up two homers in each of his last three starts and 13 bombs in his last 10 starts overall. On top of that, with Wednesday's loss -- in which Arroyo allowed eight hits and five earned runs in just four innings -- the Reds have been swept by the Indians.








Rerun? The Marlins were 5-23 in June last season. The skid cost manager Edwin Rodriguez his job and the Marlins any shot of contending in 2011. This time around, Ozzie Guillen is surely safe, but the Marlins can ill-afford the same type of month during the first season in their shiny, new yard. After getting crushed Wednesday night in Boston, the Marlins are now 4-13 in June this season. They could certainly use a win Thursday night, when Carlos Zambrano (4-5, 3.92) starts against Daisuke Matsuzaka (0-2, 5.73) and the Red Sox in Boston. 7:10 p.m. ET

Pine Tar Bowl, Take 3: The controversy started Tuesday night and carried over into Wednesday with "weird wuss" being thrown out there. Both the Rays and Nats have won a game in the series, so we head to the rubber match. The Rays send Matt Moore (4-5, 4.16) to the hill while the Nationals counter with Gio Gonzalez (8-3, 2.52). Note that Moore has a 2.42 ERA and 1.00 WHIP with 31 strikeouts in 26 innings over his last four starts. And Gonzalez has been pretty great for nearly the entire season. So expect a low-scoring affair here. 7:05 p.m. ET

The Return of Turner: Jacob Turner is a 21-year-old top-20 overall prospect. When trade rumors surfaced in the offseason regarding the Tigers looking for any kind of a major-league upgrade, Turner's name was always bounced around as the one opposing clubs wanted. Thursday, he'll take the hill for the big-league Tigers. The best part? He's going to be pitching in St. Louis, where he grew up as a Cardinals fan. Kyle Lohse (6-2, 2.98) will be on the hill for the Cards in this rubber matchup. 1:05 p.m. ET
Thursday's probable pitchers








• MLB Network to Canada? Canadians, let me assure you that this is great news. Rogers Communications is working on a deal to bring MLB Network to Canada (theglobeandmail.com). MLB Network is far superior to, um, that other place where you can watch baseball highlights. And MLB Network is only baseball, so you don't have to weed through coverage of the NFL in mid-June when looking for baseball highlights.

• "Big-leagued?" Rays third baseman Evan Longoria is in Triple-A on a rehab assignment. He reportedly blew off reporters Monday night in Rochester and Jim Mandelaro of the Democrat and Chronicle takes him to task with "Longoria needs attitude adjustment."

• Back to the Future: Remember back in 1998 when 22 MLB teams wore -- at least once -- a turn-forward-the-clock uniform? The anti-retro unis, if you will. And most of them were horrifying. Getting Blanked takes a look back, with photographic evidence.

• Jordany hearts Jose: Young Mets infielder Jordany Valdespin has a certain energy and zeal for the game Mets fans may have noticed in the past -- in a good friend of Valdespin's. "That's my boy," Valdespin told nytimes.com when asked about Jose Reyes, with whom Valdespin reportedly texts "almost daily."

• Bombs away: Since the start of the day-by-day database on Baseball-Reference.com, Wednesday afternoon's Yankees-Braves game marked only the seventh time each starting pitcher in a game allowed at least four home runs in the same game. The most interesting part: It was the second time it happened this season, after not happening since 2003.

For more baseball news, rumors and analysis, follow @EyeOnBaseball on Twitter, subscribe to the RSS feed and "like" us on Facebook.