Tigers handle losing streak well, Young situation not as well
The Tigers have a very good team, and they were right to respond calmly to this week's five-game losing streak. They seemed to respond just as calmly to Delmon Young's arrest for assault and alleged hate speech, and that response felt a little bit too calm.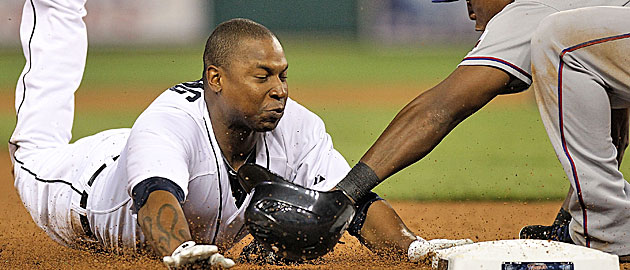 While the Tigers have handled a recent slump well, Young's slide is a different story. (Getty Images)
NEW YORK -- The
Tigers
played it calm when they lost five straight games this week, and it was the perfect response.
This is a very good team that had a fairly tough week. Those things happen. No need to panic.
The Tigers are also playing it calm on
Delmon Young
, and I'm not nearly so sure that it's the right response.
Young
went on the restricted list Saturday,
but the Tigers termed it not as discipline but simply as what they had to do. Baseball's new basic agreement provides for any player involved in an alcohol-related incident to get professional evaluation, and Young will be evaluated for alcohol and anger management issues on Monday.
And then?
"If he's cleared to play by the doctors, he will play," Tigers president and general manager Dave Dombrowski said Saturday afternoon.
In other words, no further discipline -- no real disciplinary action at all -- if the team has any say over it.
Dombrowski said Young is "extremely remorseful" and "extremely apologetic" about his drunken incident outside the Tigers' hotel in the early hours of Friday morning.
"He knows that there's no excuse for what he did," Dombrowski said.
No excuse, but the Tigers are ready to put him right back in their lineup. No excuse, but I get the idea that if the Tigers had gotten their way, Young might have been back in the lineup Sunday.
"What, do you think he should be released?" one Tigers person asked me Saturday.
I didn't say yes, but I didn't say no.
Players don't need to be great guys. The greatest Tiger of all time, Ty Cobb, was by all accounts one of the worst guys ever.
But players also represent their teams, in uniform and out of uniform.
Do the Tigers want to be represented by a guy capable of drunkenly hurling anti-Semitic epithets at (non-Jewish, as it turns out) tourists on a Manhattan street at 2:30 in the morning?
Dombrowski said that he still doesn't know all the details. None of us do, but the fact that Young told the team that there's "no excuse" for what he did tells you that even he is admitting that he did something wrong.
Releasing him now may well be too strong a reaction (although I'm hearing from some Tiger fans who wish they would do exactly that).
But is it too much to ask for the team to publicly say that his actions and words -- or even alleged actions and words -- are unacceptable for someone who plays for the Tigers?
When I asked Dombrowski if he had a problem with what Young was accused of doing and saying, he answered, "I'm not going to get into supposeds. I want to see what happens."
If Dombrowski felt any outrage at what Young allegedly did and said, he didn't say it, and the tone of his voice didn't show it. Disappointment, yes, but no outrage.
I get that the Tigers are limited in what they can do, that disciplinary measures for players are subject to negotiations with their strong union.
Even the evaluation and the employee assistance system is new, bargained into the CBA in response to all the alcohol incidents involving baseball players in recent years. Under the old CBA, there was almost no recourse for teams when players got into similar trouble.
The new program at least ensured that Young was out of the lineup this weekend at Yankee Stadium. The response to Young in
New York
would have been ugly, and understandably so.
If the independent doctor who evaluates Young on Monday decides that he needs treatment, perhaps the Tigers' decision will again be made for them.
But what if he is cleared, if the doctor decides that there is no underlying issue that requires treatment that would keep him away from the team?
Can it really be so simple as putting him right back in the lineup as soon as possible?
Maybe it is. The Tigers allowed
Miguel Cabrera
to play in the final games of the 2009 season, even after Cabrera had an alcohol-related incident that included allegations of domestic abuse.
This time it's hate speech, and again the Tigers' inclination is to let the player play.
I'm not sure what the right response is.
But I know this one doesn't feel right.
Fowler suffered a knee injury at Chicago's Guaranteed Rate Field

The lefty starter is coming off a terrible season

After acquiring Ian Kinsler and Zack Cozart in recent days, the Angels are trending upward
Cozart's coming off a big season as the Reds' shortstop

The veteran slugger spent the last eight seasons with Cleveland

The Padres may be poised for an active winter