Tough luck outing for Jake Peavy lands him in dubious company
Jake Peavy allowed five earned runs in less than two innings of work, joining a dubious club in terms of World Series performances for starting pitchers.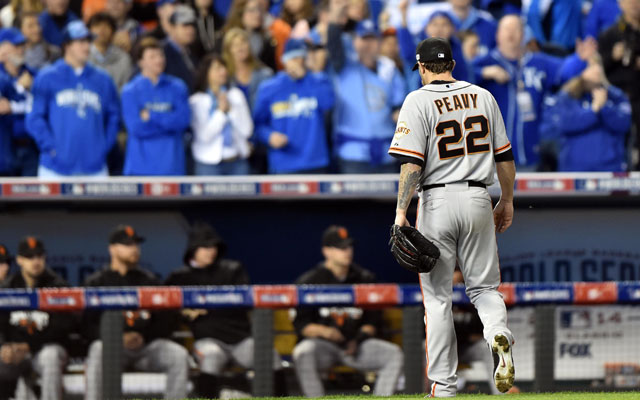 KANSAS CITY, Mo. -- The Royals just won Game 6 over the Giants to even things up and head this World Series to a seventh and final game. Much of the reason is the start by Giants hurler Jake Peavy.
Peavy's final line: 1 1/3 IP, 6 H, 5 ER, 1 BB, 2 K.
If this makes sense, it wasn't nearly as ugly as it looked. Mike Moustakas' double was right down the line. Just fair by inches. There was also Norichika Aoki's grounder to first with the infield drawn in, where Brandon Belt initially looked to go home, but Salvador Perez turned back to third. Belt then tried to tag Alcides Escobar and missed him -- due in part to Escobar's well-timed slide -- loading the bases.
Peavy was then removed and all three runners left on base scored off Yusmeiro Petit.
"I thought he had pretty good stuff tonight," manager Bruce Bochy said. "I know the numbers don't indicate that. If he had a little luck, he probably gets out of that inning. They just hit the ball where we couldn't get to it."
"Hey, it happens. They put the ball in play and they did a good job of that."
So, like I said, Peavy probably wasn't as bad as the holy-cow numbers of 27.00 (ERA for the game) and 4.20 (WHIP for the game) and it was definitely a quick hook from Bochy, though I'd argue it was rightfully a quick hook.
"It's almost easier to swallow sometimes when you don't make pitches you want to make and get hit around -- give up doubles in the gap and stuff like that," a disappointed Peavy said after the game. "I watched every pitch and went through it, I can say that we threw the ball."
Still, even if providing him a few allowances, overall it was a dreadful result. In fact, it was the 64th time in World Series history (baseball-reference.com play index) a starter couldn't make it through two innings.
The last time it happened was in Game 5 of the 2003 World Series, when David Wells threw just one inning. Of course, he hadn't allowed a run and got hurt. So let's pare our search to include pitchers chased before the end of the second inning with at least four earned runs allowed.
That list is much shorter, at just 26 now, including Peavy (play index). The last time was Russ Ortiz in Game 2 of the 2002 World Series and that's the only other time it has happened since 1989. I guess Peavy could take solace in seeing some great pitchers on there (Three Finger Brown and Don Newcombe, among others), but this isn't the kind of company one would like to keep.
And, again, due in part to the outing, the Giants now face elimination in the postseason for the first time since that wild-card game. And remember, they led big for most of that one. So this isn't a familiar position for the 2014 Giants.
CBS Sports HQ Daily Newsletter
Get the best highlights and stories - yeah, just the good stuff handpicked by our team to start your day.
Please check the opt-in box to acknowledge that you would like to subscribe.
Thanks for signing up!
Keep an eye on your inbox for the latest sports news.
Sorry!
There was an error processing your subscription.
Marisnick, for his part, took the plunking in stride

Sabathia's beef with the Rays dates back to last season

Here is everything you need to know about the day in baseball
Frank Viola will go down as the first victim of the automated strike zone

Also, watch SportsLine on CBS Sports HQ live at 6 p.m. ET for all today's best bets

Calf tightness forced Trout to leave Sunday's game