Trip home shows Carlos Beltran that his academy made a difference
The Carlos Beltran Baseball Academy has been a success, and Beltran enjoyed Monday's ceremony for the first graduating class.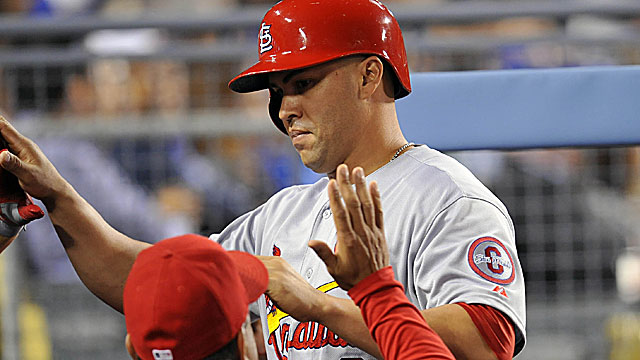 NEW YORK -- The letters came to Carlos Beltran, 12 of them.
Twelve letters from 12 sets of parents, thanking him for starting the Carlos Beltran Baseball Academy back home in Puerto Rico, telling him what the academy had meant to their sons.
The kids were in the academy's first graduating class, part of the ceremony that Beltran flew in to attend on the Cardinals' Monday off day between games in Cincinnati and New York. The parents told Beltran that their sons had planned to drop out of school, but that the chance to play baseball at the academy convinced them to continue and graduate.
All 12, Beltran said Tuesday, were headed to college to play baseball.
"What would have happened if [the academy] wasn't there?" Beltran asked. "To be able to make an impact, that made me feel good. It made me feel like I'm doing the right thing."
It seems pretty clear that Beltran has been doing the right thing. The Cardinals believe it, so much so that they provided the plane for him to fly to Puerto Rico for Monday's graduation. Beltran left after the Sunday night game against the Reds and got to New York at 10 p.m. Monday.
"It was hard, but it was worth it," he said.
The idea for the academy is similar to the one John Young had when he started baseball's Reviving Baseball in Inner Cities (RBI) program: use baseball to get kids to value education, and along the way help develop young players.
Kids try out to get to Beltran's academy, where there are 145 students in all and 44 in Monday's first graduating class. Education is in English, with the idea that graduates will want to continue educations and baseball careers at American universities and/or in professional baseball. Two players from the academy were selected in last week's draft.
Beltran donated $4 million to found the academy. He talks with obvious pride about how the academy graduates will be far better prepared than Beltran himself was when he was drafted by the Royals in 1995.
Some kids, they need motivation," Beltran said. "These kids have a passion for baseball. We tell them, 'You have a talent, that's fine, but [education] is important. Education will stay with you for life.'
"The most important thing is they're going to be good people in life. When I see that, it's worth it."
Hard to argue with that.
Neither Josh Donaldson nor Brian Dozier have talked about a new contract extension

Francisco leads the Dominican Winter League with seven home runs

Thome deserves enshrinement and here's why the case against him does not hold up
The Twins have already fortified the bullpen with Addison Reed, and now they want to address...

The Orioles likely want pitching, and the Indians have plenty of it

Halladay died in a November plane crash off the coast of Florida