Umpire Fieldin Culbreth fully accountable for Thursday mistake
After being slapped with a two-game suspension for his crew's mistake on Thursday night, umpire Fieldin Culbreth has accepted full responsibility for the error.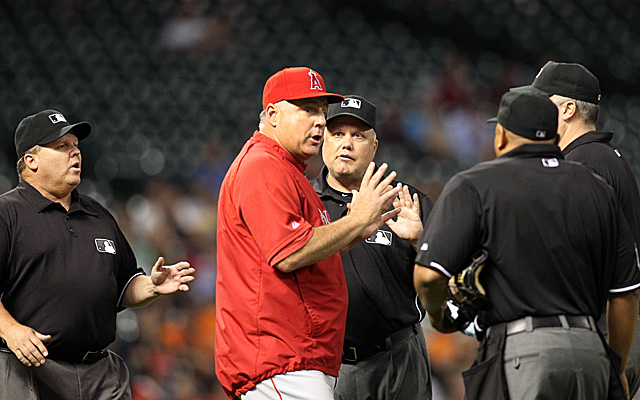 More MLB: Scoreboard | Standings | Probable Pitchers | Sortable Stats | Odds
In light of his crew's egregious error on Thursday night in Houston, umpire Fieldin Culbreth was suspended for two games by Major League Baseball.
Friday, Culbreth's crew was at Tampa Bay. After the Rays-Padres game, Culbreth spoke to reporters. And he was man enough to admit his mistake.
He said his crew got "confused" on the rule during all the player changing. And here's his accountability, all via tampabay.com:
"I look at it that baseball has high standards for their umpires and I have high standards for myself and I didn't meet those standards last night, so I am absolutely okay with everything.''

"I look at it that the players and the managers, they go out and play the game and it is our job, whether they are knowingly or unknowingly getting outside the boundaries to get them back in, and I fell short of keeping them inside those lines. And that falls on me.''

"I'm taking all the responsibility.''
Look, what Culbreth's crew let happen Thursday night was a violation of the MLB rulebook that they are supposed to have memorized inside and out. It's unacceptable to make a mistake like that at the highest level and probably rather embarrassing. But here's the rub: Many of us have done things in our lives that are unacceptable and a bit embarrassing.
What separates the good from the bad in these cases is the ability to admit error, be accountable and take one's medicine. Don't shift blame. Don't duck the questions. Just come out and say, "I screwed up." Jim Joyce did as much when he botched a call that cost Armando Galarraga a perfect game in Detroit.
And now, Culbreth did that Friday. He said he's taking his punishment and is admitting that he deserves it. And he also took responsibility for his entire crew, as he's the chief.
That's a real man.
Your move, Angel Hernandez.
Get 15 percent off any order of more than $75 at CBS Sports Shop

Get your sports fans something that they'll wear all year

No, you're not imagining things. This MLB offseason has been very slow compared to the last...
Francesa will retire from radio next month, so he'll have plenty of free time next summer

The Twins need help in the rotation, and they may look to the trade market to find arms

Here are the bullet-points of what went down Tuesday regarding MLB and the Braves' punishm...