2012 NBA Playoffs Preview: Indiana Pacers vs. Orlando Magic
Eye on Basketball presents the 2012 NBA playoffs first round series previews. In this edition, the Indiana Pacers versus the Orlando Magic.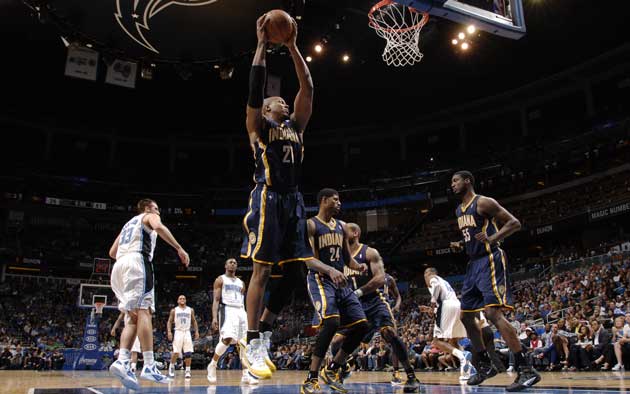 Dwight Howard in the picture spells trouble for the Magic against the Pacers. (Getty Images)
Eye on Basketball presents previews of the first round of the 2012 NBA Playoffs. In this edition, the Eastern Conference's No. 3 seed Indiana Pacers (42-24) vs. the No. 6 seed Orlando Magic (37-29).

Biggest Strength:
Indiana Pacers: The Pacers are the NBA's unsung story this season, posting a better winning percentage than big-market behemoths like the Los Angeles Lakers, Los Angeles Clippers, Boston Celtics, New York Knicks and Dallas Mavericks in virtual anonymity. Their 42-24 record wasn't a fluke; rather, it was a product of a shrewdly-constructed roster that has better "fit" from one through 10 than just about anyone outside of the Oklahoma City Thunder and Chicago Bulls. The Pacers are top-10 in both offensive and defensive efficiency with a roster that blends veterans and youngsters and has most of the necessary bases covered: All-Star talent, size, athleticism, scoring, depth, hustle and a team-first approach. The Pacers simply win as a team.
Orlando Magic: Unfortunately, Orlando's biggest strength flew the coop to Los Angeles for back surgery. Without All-Star center Dwight Howard, the Magic are a shell of their former selves. The Magic's best remaining strength, though, is clearly its three-point shooting. Orlando led the NBA in 3-point makes and attempts. In fact, the Magic (670) hit 118 more triples than the second-place San Antonio Spurs (552).  Breakout forward Ryan Anderson led the bombs away brigade but at least six other Magic players aren't afraid to hoist. The three-ball can be a great equalizer in the playoffs. That's surely what Orlando is wishing for.
Biggest Weakness:
Indiana Pacers: The point guard position has been Indiana's sore thumb by process of elimination. Center Roy Hibbert was an All-Star, the frontcourt includes a pair of talented scorers/rebounders in Danny Granger and David West and Paul George seems poised to blow up as a two-way star. Darren Collison has been a bit of a disappointment and George Hill has been asked to step in. In this match-up, it probably won't matter all that much, seeing as how Magic point guard Jameer Nelson hasn't exactly had a career year.
Orlando Magic: Duh. The massive, gaping hole that Dwight Howard left when his season ended due to back surgery. The Magic traded away the capable Marcin Gortat during the 2010-2011 season to help build around Howard. The stubby, immature Glen Davis and untested Daniel Orton will do what they can to fill the void. Good luck with that.
X-Factor:
Indiana Pacers: Paul George averaged 12.1 points, 5.6 rebounds, 2.4 assists and 1.6 steals in less than 30 minutes per game this season. Despite participating in this year's Slam Dunk Contest, he's not yet a household name. That could change during this year's playoffs, as his freakish length, athleticism and talent could put him on the national map in a big way once the postseason lights are on.
Orlando Magic: Orlando simply needs someone to step up and play totally out of his mind. Ryan Anderson is their most reliable remaining player so the X-factor label probably goes to either Jason Richardson or Hedo Turkoglu, two guys who can score in bunches but are also more than capable of fading at a moment's notice.
Match-Up Advantage:
Indiana Pacers: Roy Hibbert, one of the NBA's few traditional, back-to-the-basket 7-footers, going against Orlando's midgets is the obvious call. Hibbert averaged 12.8 points, 8.8 rebounds and 2.0 blocks per game. He could do some serious damage in the block shot category if he can stay out of foul trouble.
Orlando Magic: There aren't a ton of favorable match-ups for Orlando. You would usually take Anderson against the versatile, efficient Anderson against just about anyone but he will have his hands full with George and Granger. Richardson could potentially pose some problems against Indiana's smaller guards but Pacers coach Frank Vogel will surely find it easier to match-up against the Magic than Stan Van Gundy will against the Pacers.
Will Win If...
The Indiana Pacers will win if they play at least C+ basketball. Their talent, size and depth -- plus Howard's absence -- should make sure of that.
The Orlando Magic will win in the unlikely event that Indiana is somehow totally overwhelmed by the pressure of being a first round favorite and if they are able to go three-point crazy.
Series Prediction:

Pacers in 6 | Read more NBA expert predictions
LaVar Ball formed a pop up shop in New York to sell Big Baller Brand merchandise. The results...

The Cavaliers players took a stand against bullying on social media

The Rockets are gunning for their 10th consecutive win
Victor Oladipo just wants to live his life and enjoy his breakout season with his new team

Keep it right here for all of the news, notes, scores, and highlights from around the Asso...

LeBron has a player option for next season, and is expected to opt out and become a free a...