2013 NBA All-Star uniforms revealed
Jerseys that will be worn by NBA All-Stars are based on the aviation culture that is such a big part of life In Houston.
The NBA unveiled the 2013 All-Star jerseys and they are -- not bad. Featuring an aeronautic theme based on Houston's culture with the standard red-and-blue colors -- here, let's let the NBA's press release tell you about them.
Designed by adidas, the uniforms take inspiration from Houston's rich aeronautical history and the speed of the jet planes that dot its skies. The uniforms' eye-catching impact camo pattern evokes the world's fastest fleet of aircraft with the classic silhouette of a basketball net.

"The NBA All-Star Game is an exciting time to unite adidas' line of performance and style products to celebrate the court-to-street style that runs through basketball culture around the world," said Lawrence Norman, adidas Vice President, Global Basketball. "2013 marks adidas' sixth season designing NBA All-Star uniforms and every year we look forward to introducing performance innovations that help the best basketball players in the world lift off and take their games to the next level in front of a global audience."

The adidas 2013 NBA All-Star uniforms feature specially-engineered mesh to provide maximum mobility and breathability. The West (red) and East (royal blue) uniforms also feature the adidas iconic three-stripe design flanking the side of both the jersey and shorts. The uniform lettering and numbers are inspired by the stenciled style on jet planes.

Players will take to the court in black-and-white aviator-style NBA All-Star warm-ups featuring metal zippers made with a similar anodized finish used on airplanes. Each player's jacket will be customized to represent individual career accomplishments such as NBA All-Star Game appearances and All-Star MVP awards, NBA titles, in addition to regular season awards and Scoring Championships.
Here's a look: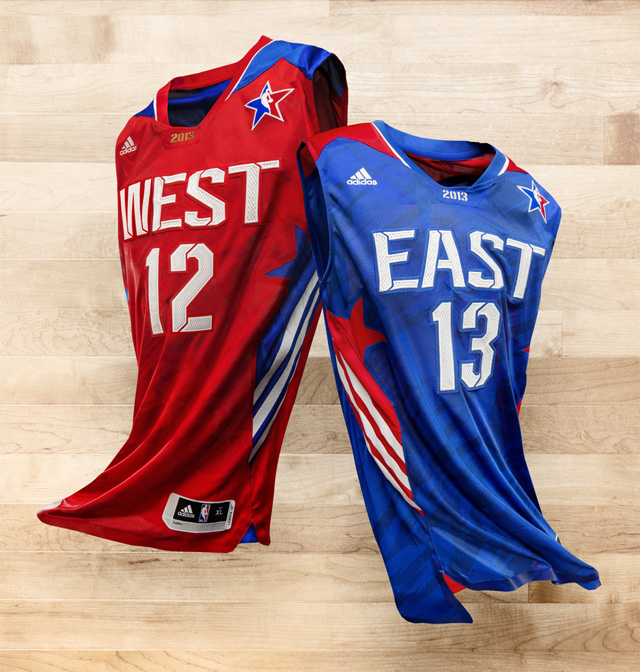 I dig 'em, but then, I tend to be pretty forgiving with these things. What are your thoughts? 
The investigation detailed a corrosive workplace environment

Also, when -- or rather, will -- the Warriors flip the switch?

The versatile forward has one glaring weakness, but Toronto can see it turning into a stre...
The investigation detailed a hostile workplace environment

Cousins suffered a torn Achilles tendon on Jan. 26, and will miss the rest of the season

Ingram has become one of the team's go-to players with Lonzo Ball sidelined with an injury