2014 NBA Draft: Clippers get a B for picking C.J. Wilcox at No. 28
With the 28th pick in the 2014 NBA Draft, the Los Angeles Clippers selected C.J. Wilcox out of Washington.
More 2014 NBA Draft: Draft Tracker | Draft Trade Tracker | Mock Drafts
The Los Angeles Clippers selected Washington guard C.J. Wilcox with the No. 28 pick in the 2014 NBA Draft.
The Clippers were reportedly looking to deal this pick for a veteran wing with great athleticism, but they've managed to select a young wing with athleticism. He also has one of the best 3-point shots in this draft class. He measures out well as a shooting guard and he tested very well as an athlete. He played four years at Washington and is already 23 years old. But he should be able to play right away under Doc Rivers if given time.
Could this signal a trade of other players on the Clippers' roster? They have Matt Barnes, Reggie Bullock, Jamal Crawford, Willie Green, and Jared Dudley under contract for next year. They also could re-sign Danny Granger who declined his player option.
CBSSports.com's Matt Moore likes them getting a shooter with this pick.
Clippers: B: Clippers wanted a shooter. If a better big was available here, that would be one thing, but there wasn't one. Good fit.

— Matt Moore CBS (@MattMooreCBS) June 27, 2014
The 6-5, 195-pound Wilcox averaged 18.3 points and 3.7 rebounds per game in his senior season of 2013-14 for UW, which finished 17-15.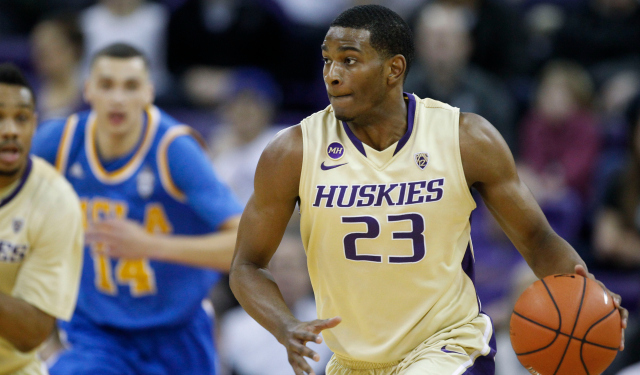 Some teams want to fight the Warriors, others want to 'fight' for the right to draft Michael...

Oklahoma City has reportedly offered the MVP a five-year extension worth over $200 million

The big man was a big part of the Warriors' championship run last season
The Cavs jokes were out in full force after Golden State reportedly agreed to sign Antonius...

New York seems to be at the top of Irving's list of preferred destinations

Is it just a normal workout, or is LeBron continuing his recruiting efforts?