A Lakers' postseason without Kobe Bryant was a strange sight
The Los Angeles Lakers just completed their first postseason without Kobe Bryant in a long time. What a weird thing to see.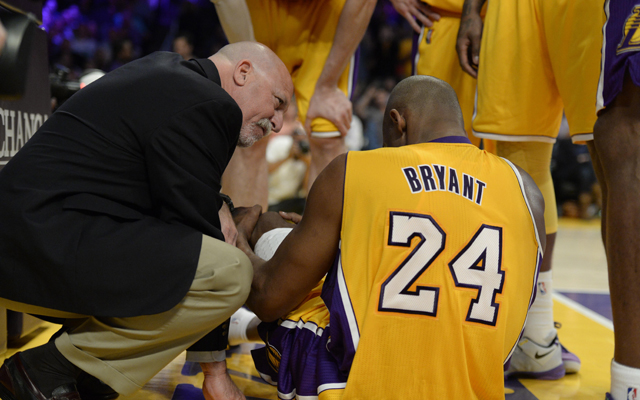 It feels like the last time the Los Angeles Lakers played a playoff series without Kobe Bryant, Magic Johnson was on the team. 
Wait: The last time the Lakers played a playoff series without Bryant, Magic was on the team. In January 1996, Magic came back from his HIV-induced retirement from the game of basketball in 1991 and helped the Lakers over the last three months of the season. The Lakers won 53 games and locked themselves into a 4-5 first-round matchup with the Houston Rockets. The Lakers ended up losing the series 3-1. 
Two months later, the Lakers traded Vlade Divac to the Charlotte Hornets for some skinny kid that came straight out of high school to be the 13th pick in the 1996 NBA Draft. Since that time, the Lakers had played 223 playoff games in 15 of the last 16 postseasons before these 2013 playoffs. 
In their four games against the San Antonio Spurs, the Lakers had to deal with postseason life without Kobe Bryant for the first time in 17 years. Bryant's torn Achilles kept him from trying to keep life into a Lakers' season that never really got started (or it got started about nine different times when the team tried to hit an imaginary reset button). They battled injuries, changed coaches, argued with each other, and still managed to make the seven seed in the Western Conference.
What we're used to seeing from the Los Angeles Lakers is success and star-driven success at that. Sure, we've seen plenty of big shots from Robert Horry and Derek Fisher over the years. We saw Trevor Ariza have a big postseason once. Rick Fox used to regularly make big contributions. But for the most part, we've seen Shaquille O'Neal overpower and Kobe Bryant shred their opponents. 
Bryant's foothold in playoff heroics has weakened over the years, but he's always been around. He's laced up his signature sneakers, donned the 8 or 24 jerseys, and gone out there to bring highlights to the all-time playoff reels. He's a staple of the postseason, either drawing your ire or your admiration -- maybe both at times. We've waited for him to isolate, take a pull-up jumper in big moments, and either confirm or deny your expectations with him.
Instead of seeing him in the Lakers' starting lineup, we saw him on Twitter and we saw him crutch over to the Lakers' bench. But we never got to see him on the court. Jodie Meeks was out there before an ankle injury. Steve Blake was out there before a hamstring injury. We saw Steve Nash before he had to sit down because an epidural wasn't enough relief for him to play.
We even saw the vaunted Darius Morris-Andrew Goudelock backcourt that made a few Lakers fans wonder if Smush Parker had any plans on game night. There was always a giant hole on the court in their four pathetic games against the Spurs, and it wasn't just in the team's defense. It was a void of drama and expertise that always seemed to fuel our viewership in some distinct way.
A Lakers' playoff series without Kobe Bryant was weird. It was like seeing the Louvre without the Mona Lisa or a Fast & Furious movie without Vin Diesel. It was just strange to see a postseason without someone who has been such a gigantic part of the postseason from the time he was airballing big shots against the Utah Jazz to winning five titles to having the torch taken from them in 2012 by the Oklahoma City Thunder.
It's also something we're going to have to start getting used to. When Bryant comes back from that torn Achilles some time next season, we don't know what he'll be as a player. We don't know if he'll pick up where he left off or if he'll struggle to find a quick enough first step to allow him to still get room for his incredible skill set. He might have one more year or two more years or whatever his body and mind will allow him to commit to. 
However, we're at the end of his time in the NBA, which means we have to start focusing on new staples of the playoff season. It's not a hard thing to do, necessarily. 
It's just an unusual sight to see.
Another day, another social media beef for Embiid

We have all the latest scores, highlights and news from Wednesday's NBA games

Thomas spent a day with a 10-year-old girl whose family is also new to Cleveland
Barkley did not hold back with his opinion of the Big Baller Brand patriarch

LaVar Ball also made it clear he thinks his sons are being placed in 'a great situation'

The Thunder are just 12-14 on the season, despite the addition of Paul George and Carmelo...