Celtics and Clippers reach agreement for Doc Rivers
The Celtics and Clippers have reached an agreement that would send Doc Rivers to Los Angeles in exchange for a future first-round pick.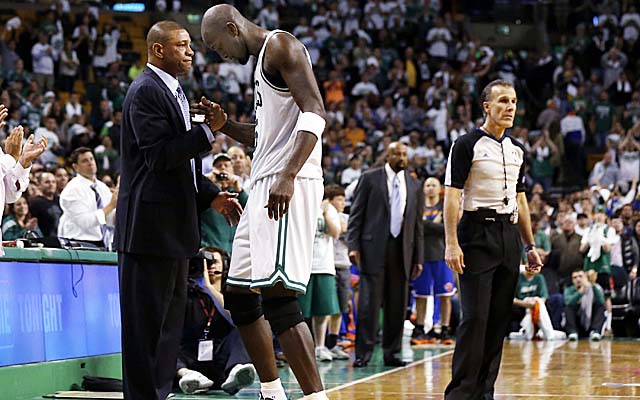 Ken Berger of CBSSports.com reports the Clippers and Celtics have  reached an agreement to release coach Doc Rivers from his contract with the Celtics and allow him to sign with Los Angeles in exchange for a 2015 first-round draft pick. 
The Clippers have also agreed to pick up the three-years and $21 million left on his current contract. 
Berger reports that the league will allow the deal to send the pick to Boston in exchange for releasing Rivers, but will not allow any subsequent trade that involves Kevin Garnett. The league would view any such trade as disallowable under the current CBA which does not allow for players to be exchanged in any deal involving coaches. 
The league had made it clear they would not budge even if the two teams split the deal into two components, with one the aforementioned deal and the separate a player-packed deal in exchange for Garnett, with some of the assets intended as compensation for Rivers as well as Garnett in a packag deal. 
So it would appear, for the moment, that Garnett is stranded on the Celtics while Doc Rivers paddles to contention with the Clippers. The deal is believed to ensure that Chris Paul re-signs with the Clippers in July as a free agent in a five-year max deal.
The deal comes after over a week of sustained negotiations between the two teams with multiple instances of one team or the other walking away from a deal. In the end, Rivers didn't want to stay, and Celtics GM Danny Ainge wasn't going to hold him to it. 
Rivers and Danny Ainge had scheduled a press conference for last Friday afternoon that was canceled at the last minute and rescheduled for Monday. Depending on what happens over the next few hours, that press conference could be about something entirely different. 
Right before Wiggins hit his shot, Carmelo Anthony hit a 3 to put the Thunder in front

The Suns firing Earl Watson three games into season is second-quickest firing in NBA histo...

Bledsoe tweeted, "I Dont wanna be here"
Giannis had his hand on McCollum's hip when he poked the ball away

Teodosic had to leave the Clippers' game Saturday night against the Suns

Irving said recently that he does not regret the profane outburst