Celtics offered Rajon Rondo contract extension
Boston point guard turns down offer but team shows interest in long-term stability with mercurial former All-Star.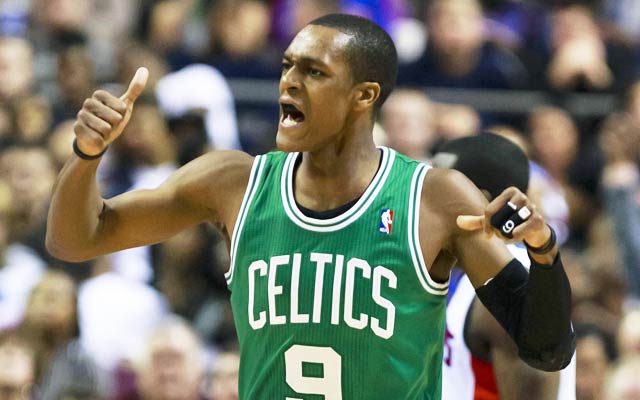 Boston Celtics GM Danny Ainge told Boston radio this week that the team has offered point guard Rajon Rondo an extension offer, which the guard declined. 
But with Rondo being named captain this season, and with Danny Ainge remaining adamant that the Celtics, who host the Oklahoma City Thunder on Friday night, want to keep their four-time All-Star despite persistent rumors he'll be traded, Rondo is considered the player around which the Celtics will build their future more than ever.

And that rhetoric again made the rounds Thursday when Ainge, the president of basketball operations, revealed the team discussed a contract extension with Rondo but was unable to get a deal done.

While Ainge said they indeed view Rondo as a "huge part" of the team and its future, he believes the aforementioned labels can also be misleading.

"Nobody is 'the future of the franchise,' " Ainge told the Globe. "A franchise is bigger than any one individual. But we love him. That's what [the extension offer] explains."

Ainge initially disclosed the extension talks during his weekly appearance with 98.5 The Sports Hub, the team's flagship radio station.
via Ainge: Celtics made Rondo contract offer - Sports - The Boston Globe.
It's no big deal that Rondo turned it down. He's going to wait and see what he can get in free agency which could be a max offer if he can return to his pre-ACL-tear form. Plus, there's no harm in waiting till the summer of 2015 to see how the Celtics manage their team and if they can return to contender status. 
It's more notable that the team, which is involved bi-weekly in trade talks for the mercurial former All-Star, offered an extension to a player who has just barely returned from major surgery. This doesn't mean the trade talks aren't legit, just that they recognize Rondo's valuable. They're not open to moving Rondo because he has no value, they're open to moving Rondo because of what they could conceivably get back. 
Either way, don't expect Rondo to get locked up long-term by Boston until at least 2015. His free agency will be a storyline next season. 
Based on Gentry's tongue-in-cheek price, Boston is highly unlikely to acquire the big man

Larry Hartstein is 22-11 in ATS picks for or against the Timberwolves and has a play for T...

First they were fragile, now they're dealing with 'rotation' challenges
You could say the Brazilian big man marches to the beat of his own drum

Rivers says Ariza called him to hash everything out following the heated skirmish between both...

Larry Hartstein has his finger on the pulse of Philly basketball and locked in his pick