Court Vision: Playoff lessons from Saturday's Game 7s
Here's what we learned from Saturday's Hawks vs. Pacers, Grizzlies vs. Thunder, and Clippers vs. Warriors Game 7's.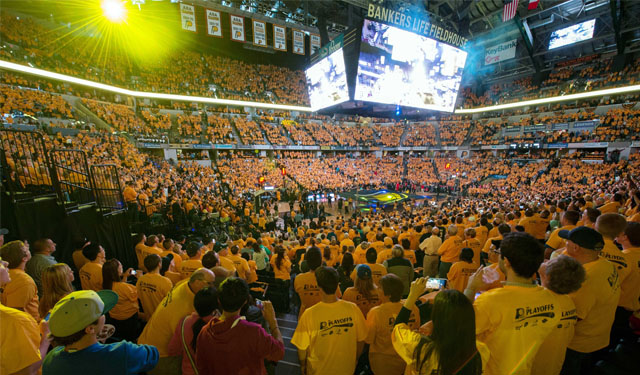 More postseason coverage: Playoff schedule, results | Latest news, notes
Here's what we learned on Saturday, May 3, in the NBA playoffs with Game 7's between the Indiana Pacers and Atlanta Hawks, Oklahoma City Thunder and Memphis Grizzlies, and Los Angeles Clippers and Golden State Warriors.
• Another crazy game between the two teams. The Warriors really didn't play that well, but they got great contributions from guys like Draymond Green (24 points) and Jordan Crawford. Crawford AKA Steezus went nuts in the 2nd half, hitting huge shots and drawing fouls. Green just kept knocking down threes after shooting 14.5 percent for the series. 
• But in the end, the Clippers were better. It took about six games and 43 minutes for it to become apparent, but it happened. Blake Griffin and DeAndre Jordan made athletic plays, Lob City broke loose, and the Clippers essentially dunked their way into the second round. But what set that up was Chris Paul's brilliance. Paul took over in the second half, checking Curry full-court and then splitting double-teams constantly. It was a vintage "Point God" performance. 
•  J.J. Redick played just the kind of game that he was brought in to play. 
•  The two teams traded four-point plays, because, these playoffs. 
• Great night to debate Draymond Green. 24 points, made huge defensive plays, looked like he was a huge plus for them. He finished minus-seven, which, fine, that stat lies sometimes But he was also bulldozed and overwhelmed defensively late vs. Griffin and Jordan. His inability to box out against an admittedly much-bigger opponent in Jordan sunk the Warriors' comeback chances. 
• Steph Curry hit some crazy shots. But the problem with that is like what happened in the Clippers third-to-last possession. Down four out of a timeout, Curry took a running, leaning, three-point floater. It missed all but the backboard, and that was that. 
•  Curry did finish with nine assists and just two turnovers, though. 
• The Clippers trailed for much of the game as their defense was once again a problem. They survived the Warriors but hey had better improve before taking on the Thunder in a few days. 
Pacers 92, Hawks 80: Pacers win 4-3
• The Indiana Pacers wanted the 1-seed all season long, ever since they lost Game 7 of the ECF last season in Miami, so they could have all Game 7s on their home floor. I'm not sure they were thinking of a first-round series against the 8-seed, 38-win Hawks missing their best player, but it ended up working out that way nonetheless. The Pacers played great defense in the second and fourth quarters, giving up a total of 30 points over those two periods. 
• Paul George looked like a superstar in Game 7, which is how many of us touted him this season. His problems dribbling the ball and finding good shots didn't seem to exist past the first few minutes in Game 7, as he went on a big scoring run and finished with 30 points (11-of-23 shooting) and 11 rebounds. Almost all of his damage came in the middle of the floor as he made myriad midrange shots.
• Indy also got a pretty incredible effort out of Roy Hibbert. His 13 points, seven rebounds and five blocks aren't going to remind you of Hakeem Olajuwon in 1995, but considering he entered Game 7 with totals of 24 points, 19 rebounds, and four blocks in the series, it was a big step toward getting his confidence back. His touch around the basket was much better and he held his position pretty well on offense.
• Not in Ian Mahinmi's house, Jeff Teague.
• The Hawks lived off of outside shooting and making the Pacers uncomfortable in this series, but they couldn't knock anything down in Game 7 when they needed it the most. They shot 30.4 percent for the game, which is the second worst field goal percentage in a Game 7 in the past 28 years. Atlanta shot 20 percent in the second quarter and 26.1 percent in the fourth. 
• Lance Stephenson had a lot of fun out there. He finished with 19 points, 14 rebounds and five assists, including this one:
• The Atlanta Hawks set the record for most 3-pointers attempted in a playoff series with 230 after attempting a single-game playoff record 44 in Game 7. They made 34.3 percent.
• The Pacers will play Game 1 of the Eastern Conference semifinals vs. the Washington Wizards on Monday night.
Thunder 120, Grizzlies 109: Thunder win series 4-3
• We learned the Memphis Grizzlies without Zach Randolph, Quincy Pondexter, and one of Mike Conley's hamstrings are still a good team with a ton of heart, but they can't run with a fully healthy Oklahoma City Thunder team. The Grizzlies put up a great first quarter, but the lack of depth due to the injuries was just too much for them to overcome. It was a great fight and a fantastic season, but it was tainted a bit by Randolph not being able to give it a go in the final game.
• Kevin Durant was ridiculous in this game. After the frustrating five-game start to the series, he bounced back with big, efficient efforts in Game 6 and Game 7. Tonight, Durant poured in 33 points on 12-of-18 shooting and added eight rebounds in the prcoess. He shot from everywhere and did his best job yet of getting free for good shots and getting into open space where the Grizzlies didn't have him covered. This was superb scoring.
• Russell Westbrook was suffocating in all facets of the game. He was everywhere. His final line of 27 points, 16 assists, 10 rebounds, and seven turnovers tells you everything you need to know about his night. He did everything and he did it at 100 miles per hour in the process. There was some Bad Russ in this game but the majority of it was Destructive Russ. 
• This block by Russ was a lot of fun:
• And this 3-pointer by Russ was an incredible game heat check for him:
• I'm not sure you can say enough about the effort from Mike Conely, Marc Gasol, Tony Allen, and Courtney Lee in this game. There was no reason for them to be in the game, and yet they made the Thunder beat them. They never beat themselves. 
• The Thunder shot 60.9 percent in this game. In a Game 7. They also had 20 turnovers that gave the Grizzlies 31 points. 
• At some point in the contest, this .gif was posted on Twitter of Caron Butler answering an imaginary phone. 
That led to @bennettberry making this side-by-side picture:
This is why you should pay attention to Twitter when watching the NBA.
• The Thunder will face the Clippers on Monday.
The Lakers legend details why the NBA popularity will continue to rise

SportsLine's Mike McClure, a DFS pro with more than $1M in winnings, gives optimal lineup...

If the Thunder forward doesn't know the reason, he has a very short memory
The 76ers star doesn't see a bright future for Jon Snow

Valanciunas played professionally in Lithuania before joining the Toronto Raptors

SportsLine's advanced computer model simulated Tuesday's Cavaliers-Hawks game 10,000 times