Damian Lillard: A relative unknown with 'franchise player' expectations
Portland Trail Blazers guard Damian Lillard impressed during the 2012 Las Vegas Summer League, earning co-MVP honors.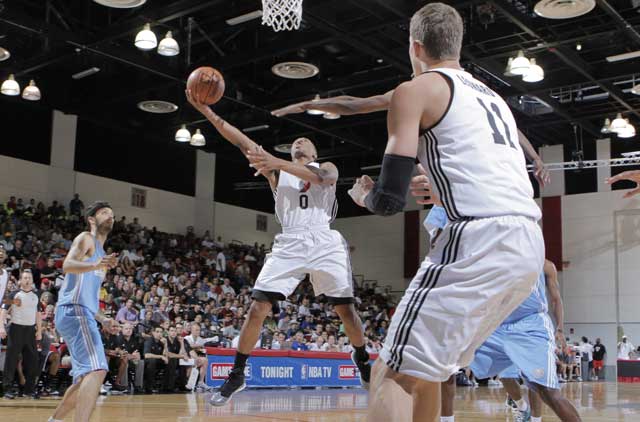 Damian Lillard was at the top of his class during the 2012 Las Vegas Summer League.

(Getty Images)
LAS VEGAS -- Damian Lillard is an NBA paradox, a relative unknown on the national stage during a 4-year college career who will enter his first fall training camp with the greatest of expectations.
"We found our franchise point guard," Portland Trail Blazers GM Neil Olshey said of Lillard, a 21-year-old from Weber State, shortly after selecting him with the No. 6 pick in June's NBA Draft.
Lillard's leap from "Have you ever heard of...?" to potentially being the face of a rebuilding franchise lacks a clear recent precedent. A survey of the league's current franchise point guards bears little similarity to Lillard's background. Chris Paul and Kyrie Irving came out of the blue blood ACC. Deron Williams played in an NCAA title game while at Illinois. Derrick Rose played for John Calipari (enough said). The enigmatic Rajon Rondo went to Kentucky and Russell Westbrook, often cited an off-the-radar recruit, wound up attending a little program known as UCLA.
More on Trail Blazers
Related links
Other than Steve Nash -- who attended Santa Clara before becoming a first-round pick, a perennial All-Star and 2-time MVP -- Lillard steps into the "franchise player" label with precious little recent history for comfort. 
Not that he would notice or care. This week, Lillard took home co-MVP honors at the 2012 Las Vegas Summer League, averaging a Summer League-best 26.5 points while adding 5.3 assists and 4.0 rebounds in four games. Blazers owner and billionaire Microsoft co-founder Paul Allen, said to be infatuated with Lillard's game, took in his point guard's Vegas debut from a courtside seat. Lillard finished with 25 points, four rebounds, four assists and said afterward that he had no idea Allen had been there.
"When I play, I don't see a lot of stuff outside the game," he said.
There are no distractions, there is no ego and there is no self-doubt in Lillard, who has made it clear that he doesn't think much about his unusual path to the pro game, other than to use the doubters and skeptics as fuel for his fire.
His game reflects that no-nonsense, all-ball focus and personality. His feel for positioning, his command of an offense, his ability to react to different defensive looks and to apply consistent pressure directly and indirectly are an uncommon combination for a player his age.
"He just plays with a sound mind," Blazers Summer League coach Kaleb Canales said. "He's our care-taker offensively."
Granted, the Summer League competition was not a true test. Lillard faced off against 19-year-old New Orleans Hornets lottery pick Austin Rivers, a one-and-done out of Duke, but otherwise did not see any sure-fire NBA guards. Frankly, he abused the competition that he did see, getting into the paint at will, deftly drawing contact at the rim, finishing with both hands going to the basket, and knocking down the NBA 3-pointer. Most comfortable in the pick-and-roll, Lillard regularly found fellow rookie Meyers Leonard, a 7-foot center from Illinois, on well-placed lobs while also locating open shooters when defenses began to throw hard double-teams at him as the week wore on. He pushed the pace at times but did most of his damage using high screens like a surgeon, meticulously making defenses pay for being slow, out of position or not respecting his shooting ability.
Lillard makes observers double-take because he appears to strongly favor his left-hand despite being right-handed. He prefers driving to his left, especially if defenses show him that way, and he's fully capable of passing or attempting a tear drop with his off-hand.
"Since I've been younger, my dad made me and my brother play Horse with the left hand just to develop our left hand," Lillard said. "In college i did a lot of workouts, everything I did with my right I wanted to do with my left. Passing, ball-handling, floaters, sometimes mid-range shooting with my left hand. It's just playing in my favor now."
It's that dual dexterity -- in conjunction with Lillard's body control -- that left Blazers director of college scouting Chad Buchanan excited this week.
"He's got big hands, good command of the ball," Buchanan said. "He's able to pick the ball up off the dribble and make a pass, which is tough to do. He's very good with either hand, he can finish with either hand, he has good body control. He does a very good job of getting to the rim and slowing down, getting ready to brace for a hit, reading the angles. How quickly do I have to get it out of my hands? Is there a drop pass, a lob pass? He goes fast to get to a spot and then slows down to make the decision from there, which is a great trait to have."
The complete package seems to be there on offense, and Canales and his staff worked throughout Summer League to drill Lillard on "game-winning habits" on the defensive end. Tape from his time at Weber State doesn't always paint that part of his game in the best light. Portland wants him defending on the ball much more aggressively, working regularly to fight over screens and concentrating on his off-ball positioning.
As with any rookie, even a Lottery pick, there's real work to be done. But the excitement among management is real enough that both Olshey and Buchanan feel comfortable offering Chauncey Billups as a "best case scenario" comparison.
"I compare him a lot to Chauncey Billups," Olshey said during a press conference. "He's got a real quiet presence, a command presence, guys respect him. He's got an incredible work ethic, he's a leader, he's an elite shooter, he makes great decisions with the ball. He's the kind of point guard players love to play with because he's a team-first guy not a me-first guy."
"I think there are some similarities between those two guys and their temperament," Buchanan said this week. "Good pick and roll players. Not elite athletes but good enough athletes."
Good enough, indeed. Lillard had the highlight of the Summer League, dunking over Atlanta Hawks big man Keith Benson, in a play that made the Cox Pavilion gym erupt and later found its way to SportsCenter's Top 10.
"I got one of my shots blocked when I didn't explode to the rim so it was only necessary," Lillard explained. "I had to raise up. I probably caught them off guard, but I've done it plenty of times. Once I took off, I knew what I was doing as soon as I picked the ball up."
And it might be that point -- that Lillard knows what he is doing -- that makes him the most valuable, big-picture, to the Blazers. He arrives as a potential savior exactly when Portland needs one most, fresh off a season that Allen said was one of the toughest of his two-decade tenure, a year that saw franchise guard Brandon Roy retire, supposed franchise center Greg Oden released, long-time coach Nate McMillan fired, president Larry Miller walk off the job to return to Nike, and an interminable GM search finally end with Olshey's hiring.
Lillard also enters a team with huge positional and leadership vacuums to fill. Last year's starting point guard Raymond Felton played well below par and was sign-and-traded to the New York Knicks for scraps last week. The roster is in the midst of being re-worked under Olshey, and its two best players, All-Star power forward LaMarcus Aldridge and small forward Nicolas Batum, have both shown a preference for passive leadership. Neither was able to steady the ship during reports of a locker room mutiny last season and neither, obviously, has the on-court responsibilities that go with the point guard position.
Blazers management stressed that there will likely be "speed bumps" during Lillard's rookie year, but they also didn't back away from the idea that he's ready to take the car keys from Day One. In truth, there's no alternative. The "franchise point guard" expectation reflect Portland's hopes for his game but also the organization's need. Roy carried the Blazers effortlessly through three All-Star seasons before the condition of his knees deteriorated to the point that he could only play reserve minutes on a regular basis. Oden's selection in 2007 sent the city into a tizzy but he simply couldn't stay healthy enough to deliver on his Hall of Fame promise. 
That past history falls as an unavoidable burden to Lillard, who seems better equipped to handle it than most. After all, he's made it this far, beating long odds, and when he plays, he doesn't see things outside the game.
Las Vegas Summer League Standouts & Surprises
Memphis Grizzlies G Josh Selby: The 2012 second-round pick shared co-MVP honors with Lillard after torching the competition throughout the week. The explosive, undersized shooting guard's signature performance came when he scored 35 points against the Washington Wizards and he was a crowd favorite for his fearless attitude and quick trigger. He will join an ultra-intriguing Grizzlies backcourt that includes Mike Conley, Tony Allen and 2012 first-round pick Tony Wroten, who showed flashes of brilliant passing and elite athleticism all week.
Houston Rockets F Royce White: An intimidating frontline presence who boasts a soft-touch passing ability rarely seen for a player of his size, White averaged 8.4 points, 7.2 rebounds and 3.6 assists on a Rockets squad that was the most entertaining to watch all week. A potential match-up nightmare thanks to his strange combination of bulk, vision and versatility, he should see real court time this season.
Washington Wizards G Bradley Beal: For a one-and-done player, Beal impressed with his maturity, consistency and steadiness. Perhaps he could have exerted more influence over Washington's games but he played within himself and scored in a variety of ways, notching double figures in all five of Washington's games. The Florida guard has NBA size, handle, quickness and showed some range too. He has the chance to be a special player if the consistency of his jump shot continues to develop.
Milwaukee Bucks F John Henson: The UNC product stood out from the rookie big man crowd for his mobility and feel. Known mostly for his shot-blocking and length, Henson got plenty of touches and shots in this scene and 20+ points twice. While his rebounding numbers were up and down, he stepped out to hit from range and showed nice footwork on defense. He may get bullied at the NBA level but he wasn't in Las Vegas.
Golden State Warriors F Harrison Barnes: On paper, Barnes to the Warriors seemed like a great fit positionally and he didn't disappoint in a sensational debut, scoring 23 points on 8-for-13 shooting in a blowout win over the Lakers. His shooting touch didn't last the entire week but he did score in double figures every game. Conventional wisdom is that his game is better suited for the pros than college and nothing that happened in Las Vegas contradicted that. The wing pairing with 2011 Lottery pick Klay Thompson, who looked exceptional during the two games he played, has serious long-term potential.
Houston Rockets F Donatas Motiejunas: The entire Rockets team (Jeremy Lamb, Terrence Jones, etc.) could make this list, but the 2011 first-round pick deserves some love because he was a forgotten man after he stayed abroad last season. He's improved greatly and added strength since he made the international showcase tour as a youngster and his skill level and footwork looked very advanced, especially compared to the competition in this setting. He averaged 16.3 points and 7.8 rebounds. 
Milwaukee Bucks F Tobias Harris: Harris was a bit player during his rookie season but his big body was often too much to handle for the wing defenders in Las Vegas. He scored 18+ in each of Milwaukee's five games and played above the rim at times. 
Charlotte Bobcats F Michael Kidd-Gilchrist: The biggest lament from this year's Summer League was that the 2012 Draft's No. 2 pick played just one game. He looked like a teenaged man among boys in scoring 18 points and grabbing 8 rebounds against the Kings, but he sat out the rest of the week because of a sore knee. Maybe the most likeable person in this year's Draft class, Kidd-Gilchrist would have pushed hard for MVP honors had he been on the court. Bobcats fans, for once, are in good hands.
Leonard's relationship with Spurs also reportedly strained because of how injury has been...

San Antonio hasn't missed the playoffs in 20 years, but the road is rocky this season

Last year's MVP finalist has missed all but nine games this season
The design for the patch is still being worked on

The explosive forward and upcoming free agent is having a career year

Cuban said on Dr. J's podcast that losing is Dallas' 'best option'