Daryl Morey says he called Cuban asking for a Nowitzki trade
Daryl Morey got worried he was about to miss out on Dwight Howard. So he called Mark Cuban asking to trade for Dirk Nowitzki.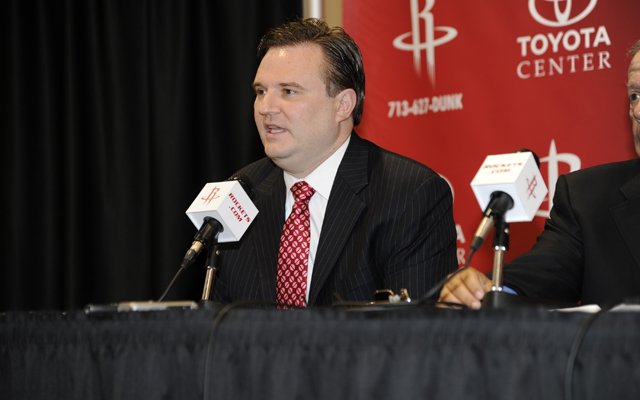 The chase to land a superstar player can make a general manager do crazy things.
And when the Warriors pulled off an improbable summer manuever to sign Andre Iguodala, it sent Rockets general manager into a panic. He was worried that the Warriors had just made a big enough move to convince Dwight Howard to sign in Golden State.
So Morey started working the phones for another superstar to add, and ended up calling Mark Cuban in desperation to ask about Dirk Nowitzki. Morey recounted the story at the Sloan Sports Analytics Conference, via Pro Basketball Talk:
[Morey] thought that Howard would be persuaded to choose the Warriors based on their addition of another All-Star talent, and so he went running to the phones to try to acquire another star of his own — without knowing that Howard had already made his decision to join the Rockets.

"This is where my emotion takes over," Morey said. "I go into a complete panic. I really did. I thought it was down to us, Dallas, L.A."

So Morey called Mark Cuban to try and poach his franchise superstar.

"I was like, 'Well, you're not getting Dwight Howard. Can you trade us Dirk Nowitzki?'" Morey said. "It was a bad moment for me."

A really bad moment, considering that Howard had already informed Dallas that he was signing elsewhere, even though Morey hadn't been made aware of his decision just yet.

"Mark thought I was taunting him," Morey said.
Boy, it would've been nice to have heard how that phone call went. Did Cuban burst into laughter? Did he immediately say "Are you offering James Harden to me here?" Or did Cuban just feel so insulted that he went to Morey's house to leave a bag of flaming poop on his doorstep? 
Nowitzki is obviously just about as untouchable a player as there's ever been, especially from Cuban's standpoint. Cuban has talked about Dirk being the heart and soul of the organization, and unless the big German requested a move on his own, the Mavs aren't dealing him. 
This isn't exactly a new story, as Cuban talked about it back in November, saying he felt like he was being messed with and that Morey was rubbing his win of Howard in his face.
"Definitely. And I don't blame them," Cuban said in November. "That's fine. But payback is a bitch."
But as Morey tells the story, it was more a move out of potential desperation. Either way, it's fun.
Indiana hasn't hosted the NBA's star-studded event since 1985

Is the hype fair, or are these three men really above their peers as the NBA's best sideline...

SportsLine simulated Wednesday's Pacers vs. Thunder game 10,000 times
An Alabama native, Barkley campaigned for Jones leading up to Tuesday's election

Kerr knew just what to say after Jones pulled off an upset in Alabama

The future of the league was on display on Tuesday night