Doc Rivers is abandoning the Celtics and that shouldn't be OK
Doc Rivers signed a five-year, $35 million contract in 2011 to coach the Celtics. He's only fulfilling two of those years as he's jetting to the Los Angeles to sign up with a contender. How is this OK?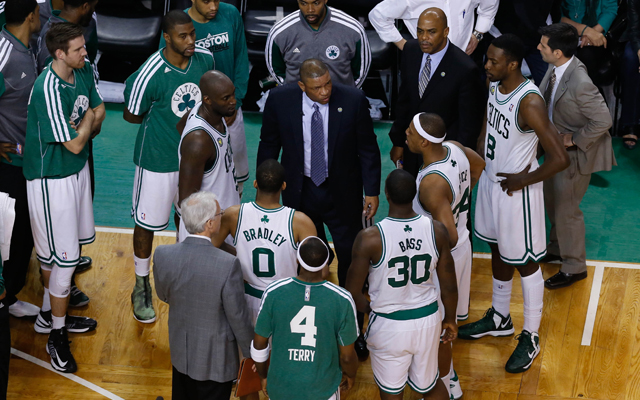 If this were happening in 1990, we'd probably have some kind of word for it. Like "The Docalypse." Or "Running Rivers." Maybe "Dr. Changelove: Or He Learned to Stop Caring and Leave the Celtics." OK, I think that last one was a reach. 
But Doc Rivers isn't a player anymore; he's a coach. And for some unknown reason, that makes this all acceptable. 
I don't claim to know all the inner details of the situation with Rivers and the Celtics, and by all appearances Danny Ainge and the organization seem more than fine with releasing the 51-year-old coach to go to the Clippers in exchange for a future first round pick. 
But let's face the facts: Rivers has essentially forced his way out of Boston in the same way Dwight Howard did in Orlando or Carmelo Anthony in Denver or Deron Williams in Utah or Chris Paul in New Orleans. Rivers made his intentions and wishes clear and while the call was ultimately with Ainge and owner Wyc Grousbeck, the team had to eventually cave to its coach. Why would Rivers want to leave Boston, a place he's been for a decade and won a championship while becoming one of the most beloved figures in town? The only apparent reason or explanation is that he doesn't want to endure a rebuilding phase with the Celtics. 
Why is that OK? Times get tough and Rivers wants to bolt? We just watched Gregg Popovich, the longest tenured coach in professional sports, come within an eyelash of winning a title in three different decades. The Spurs' window is dangerously close to closing -- can you picture him holding Peter Holt's feet to the fire and trying to force his way to Oklahoma City or something?
Look at it this way: Rivers signed a five-year extension in 2011 worth $35 million, making him the highest paid coach in the NBA. At that time, Paul Pierce was 33. Kevin Garnett and Ray Allen were 35. The writing wasn't just on the wall, it was in bold, italics and underlined. The days of Boston's Big Three were obviously numbered and eventually the Celtics were going to have to transition.
Rivers knew this in 2011 when he signed on for five more years. He knew the day would come when he'd have to endure some roster changes, when the team wasn't quite good enough with its existing pieces to contend. Yet, he signed it and took the money anyway knowing full well what the Celtics' future was. 
Check this quote from Rivers when he signed that extension in 2011 when asked about the possibility of having to rebuild:
"Well, I don't think anyone's looking forward to that, but I'm willing to do that," he said. "I had a group that has been very loyal to me. I think it would have been very easy for me to just run and go somewhere else and chase something else.
"Who says that we still can't [reload] with free agency and adding the right pieces? While our Big Three are getting older, we have to add the right supporting cast to them. In that transition, hopefully we can still chase what we want. It would have been easier to do it the other way; I just don't think it's the right thing to do. Coaches talk about loyalty and team all the time. I just thought it was time to show it. And that's what I did."
Um. 
But as the future became present last season with the Celtics fighting for their playoff lives going 41-40, with dealing with a torn ACL to Rondo, with being eliminated in five games by the Knicks in the opening round, Rivers wanted none of it. The grass is greener on the other side of the coast, and with visions of running Lob City and coaching a contender, Rivers looked for an escape hatch. 
Coaches talk about loyalty and team all the time. I just thought it was time to show it. And that's what I did.
Impossible to read that quote and not cringe. Doc Rivers, maybe the most likable coach in all of sports, sounds like a liar. 
One more:
"I look at the Utah situation and Jerry Sloan. And I look at the situation in San Antonio," Rivers said in 2011. "Danny and I were talking -- those are the two more stable franchises, because they've had the same coach and the same GM and the same ownership. They've been able to draft well, scout well, pick the right players for the system because they've known the system. When we talked about it, that's what we want to do."
Willing to rebuild? Proving loyalty with a long-term deal? Wanting to have Spurs-like stability? Nope, nope and nope. When it came down to it, Rivers was ready to run.
And it's not like the Celtics are about to be talent barren. Rondo will be back next season, Jeff Green has shown flashes and Avery Bradley is a terrific young talent. They play in a big market with owners built to spend, and with intriguing free agents and draft picks available, climbing back to the mountain top isn't an impossibility for them. 
Now, in a lot of ways, the Celtics are coming away in a very good position from this. They're dumping a coach that's owed an absurd $21 million over the next three seasons and they're getting a future asset in return. It's not hard to see the benefit Ainge and the Celtics saw in letting Rivers go. Instead of paying a coach $7 million -- who doesn't want to be there -- to oversee a lottery team, the Celtics save money and get an asset in return. It's a great deal for them. 
Still, doesn't it just kind of feel... wrong? Rivers installed a culture in Boston built on words like "brotherhood" and "family" and "togetherness." Nobody preached a message of "you're with us or against us" more than Rivers' Celtics. But behind the scenes Ainge was shopping Garnett and Pierce and Allen and even Rondo at every deadline. He traded Kendrick Perkins. And now Rivers is ready to bail as soon as a tough road lay ahead. All that ubuntu talk was just crap, evidently.
Again, what happened behind closed doors, I'm not privy to know. Did Rivers hold the Celtics hostage by threatening to retire if he wasn't "traded"? Was he more than happy to return but felt like he was doing the organization a solid by pulling them a pick in exchange for him? Don't know.
All I know is that Rivers has been the face of the Celtics for a decade, building a relationship with his players that really no other coach has. No locker room trusted their coach more, no team has talked more about pride and love and loyalty than the Celtics. Yet, Rivers is gone and the guy that said "I bleed green, I die green" was going with him if the NBA had allowed it. Garnett said at the All-Star break that if it was "up to me, then I'm going to retire a Celtic." Funny story is, it is up to him because he has a no-trade clause. Again, he was going to waive that if David Stern had let him. 
Look, I know professional sports include a lot of misdirection, spin and flat out lies. Being naive is the dumbest thing you can do. But still, that doesn't make it OK. Just because it happens doesn't mean it's a valid excuse for it to. 
Ray Allen was labeled a traitor and booed by Celtic fans for taking less money to sign up with the Heat (worked out for him, huh?). Shouldn't Rivers get the same treatment? 
The MVP has better things to do with his time, but the former NFL receiver isn't taking 'no'...

Randolph was arrested last week in Los Angeles on felony marijuana charges

Bagley wants to be in the 2018 NBA Draft and should be the No. 1 overall pick
Durant helped build the court in Manhattan as part of his community outreach program

Prince will be a special assistant to Memphis GM Chris Wallace

He speaks out at a LeBron James Family Foundation event; he tweeted about Charlottesville on...