Eddy Curry likely to start for the Mavericks opening night
Not only has Eddy Curry landed a new NBA job, but it's a starting job. Ladies and gentleman, the state of your 2012-13 Dallas Mavericks!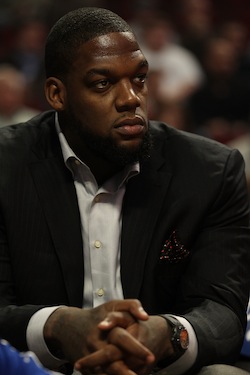 Eddy Curry could start against Dwight Howard.
(Getty Images)
Not only has Eddy Curry landed a new NBA job, but it's appearing to currently be a starting job.
Ladies and gentleman, the state of your 2012-13 Dallas Mavericks!
With starter Chris Kaman sidelined for Tuesday's opening night game against the Lakers, Eddy Curry will likely be getting the start against Dwight Howard.
The Mavs claimed Curry off waivers Thursday and started him at center Friday in their last preseason game, where he had 11 points, seven rebounds and three blocks in 25 minutes.
Curry found himself with the Mavs after getting cut by the Spurs just a week ago. But with Delonte West finding himself in hot water again and thereby being cut, Curry has not only made the final 15-man roster, but a starting job.
Rick Carlisle wouldn't confirm to reporters whether or not Curry would start, but without really anyone else available, it seems likely.
"He's learning a lot in a short period of time, on the one hand," Carlisle told reporters. "On the other hand, he's a big guy who plays with a lot of force in the paint when he gets the ball. That's something anybody can use. His opportunity is going to continue here."
Curry, 29, was taken fourth overall by the Bulls in 2001 and has always possessed the talent to validate his high selection, but has battled motivation and health issues throughout his career. He's battled weight problems and conditioning after blowing out his knee with the Knicks.
But he has not only another a chance with Dallas, but a great chance. Over the past four seasons, Curry has appeared in only 24 regular season games. He's battled weight and conditioning issues after a knee injury, so it's a pretty big jump to not only go from making a team to starting.
And for it to come against Dwight Howard to boot. So that should be fun.
San Antonio's track record speaks for itself, but they've made a few puzzling moves this o...

The Kings top pick thinks your burgers are trash, California

Popovich added that Trump is 'unfit intellectually, emotionally, and psychologically' to be...
Larry Hartstein turned in a massive profit to close last season and locked in a pick for R...

Too many stars and not enough spots on the upcoming season's All-NBA teams

It appears Philadelphia will continue to be extremely cautious with its potential franchise...