Grade the Trade: Cavaliers move into position for LeBron James?
Three-way trade analysis of Cavs-Nets-Celtics deal that will send Jarrett Jack to Brooklyn.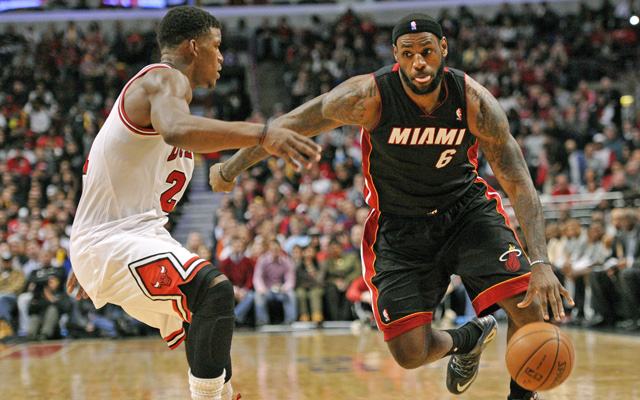 Doyel: LeBron owes Cleveland answer | Cavs pursuing Allen? | Latest FA news notes
Grading the three-way trade between the Cavaliers, Nets, and Celtics involving Marcus Thornton, Jarrett Jack, and Tyler Zeller. 
Cleveland Cavaliers acquire: Cap space to try and sign LeBron James
Yeah, yeah, they got draft rights to three dudes you've never heard of. And there might be a second-round pick in there. But this was a cap-clearing move for LeBron James. That's it. The Cavs are moving into strike position. They've got an estimated $24 million in cap space after this move, meaning they could sign James to the max $20.1 million and still have room to add a veteran. Like Ray Allen, as it has been reported. 
The Cavs are saying this isn't LeBron-or-Bust. But trading a pick, even protected, along with a veteran rotation guy is a dangerous move. The backup plan is reportedly Trevor Ariza. And that's, you know, kind of a downgrade. It's a huge risk. 
But this is putting their cards on the table time. They've gotten themselves in the conversation for James, they've put the young roster together to promote sustainability. They've cleared the cap space and can add a veteran to help James with the idea of joining a young roster. It's a massive gamble, but one that they've at least positioned themselves to make. 
If you're going all-in, you want to go in with a huge bet. The Cavs have done so.
Grade: If they get Lebron, A+. If they don't get LeBron: D-
Brooklyn Nets acquire: Jarrett Jack, Sergey Karasev. 
The Nets moved Marcus Thornton's $8 million expiring contract for Jarrett Jack who has two years guaranteed at $6.3 million per, with a third-year guaranteed at only $500,000, per Sham Sports. So they are somehow cutting some salary for next year while still adding longterm payroll. Even when they cut costs, they gain costs. That's the most Nets thing ever. 
They have targeted Jack for a while. Thornton gave them some life last year but was a non-factor in the playoffs and with Shaun Livingston signing with Golden State, it puts them in a serious bind for a backup point guard. Jack gives them what they are looking for, a veteran who can shoot who they can play next to Williams in a combo-guard set.
Jack is 30, and still has some good years in him, but struggled last year. He was ball-dominant with the Warriors in 2013. So how's that going to work with the Nets and Deron Williams? 
Karasev didn't show much last year, but is supposed to be a shooter with some length and athleticism. He's an OK addition to a Euro-heavy roster. 
Grade: C+, it's fine, but not exactly a home run. 
Boston Celtics acquire: Marcus Thornton, Tyler Zeller, Cavaliers protected 1st round pick (Top-10 protected until 2019, unprotected thereafter per Yahoo Sports).
Hey, the Celtics have what has been reported to be nine first round picks over the next four years. So that's a great way to rebuild, right? With so many picks, young talent in Marcus Smart, James Young, Jared Sullinger, and maybe Olynyk? That works, right? 
Except that's not what they're going for. 
This is about Kevin Love. 
The Celtics have come up short in their pursuit of Love and are now trying to get a better package together. With Thornton's expiring along with Brandon Bass, the Celtics have $15 million in expirings with those two alone, plus Jeff Green with a player option for 2015 at $9.2 million he's likely to opt out of, Vitor Faverani is unguaranteed after this year at $2 million, Joel Anthony is an expiring at $3 million, and Keith Bogans is non-guaranteed expiring at $5 million. 
They can throw enough expiring contracts to clean the slate for the Wolves, give them four draft picks without breaking a sweat, and provide them Marcus Smart. 
Now that is a deal that should get Minnesota to perk their little Wolves ears up. 
If not, the deal's still fine. Thornton can score, and fill a role off the bench. Zeller is a good young prospect for trade value or to compete with Kelly Olnyk for starter minutes. That frontcourt is still a disaster outside of Jared Sullinger, but Zeller gives them a quality rotation guy. 
If the worst thing to come out of the summer is that the Celtics fully engage in a rebuild, trading Rajon Rondo for still more assets, they're going to be in a great position. They have a potential star of the future in Smart, good young players in Sullinger, Young, and Zeller, and a boatload of expiring contracts. This is a no-lose for them. 
Grade: If they get Love: A+, if they don't get Love: B+
McCollum hurled a clever insult at the French forward

Hosts Bill Reiter and Reid Forgrave are joined by Blazers guard CJ McCollum

Check back throughout the night for the latest updates from Monday's NBA games
Garnett has worked with Maker and says he is reminded of himself

It might be a good time to place a bet on the Boston Celtics

SportsLine's Mike McClure, a DFS pro with more than $1M in winnings, gives optimal lineup...