Heat-Celtics Game 4 Preview: Series hits fork in the road
Previewing Game 4 between the Miami Heat and the Boston Celtics in the Eastern Conference finals.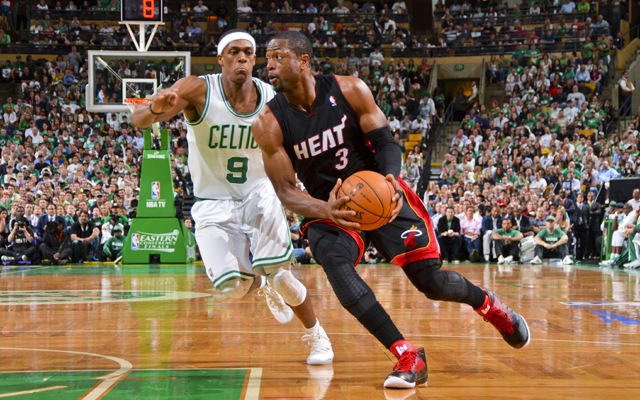 Dwyane Wade and the Miami Heat look to get the first road win of the Eastern Conference finals in Game 4. 

(Getty Images)
Previewing Game 4 between the Miami Heat and the Boston Celtics in the Eastern Conference finals. 


1. Where We're At:
 The Miami Heat lead the series 2-1 after the Boston Celtics took Game 3 at TD Garden on Friday night. Game 4 represents a fork for this series. Miami, more explosive and more athletic, will look to split on the road with an opportunity to close out Boston on Tuesday at AmericanAirlines Arena. Boston, playing better basketball than Miami on both ends in Games 2 and 3, will look to hold serve at home and push this deeper than the 2011 Eastern Conference semifinals, which the Heat wrapped up in 5 games. 
2. The Big Number:
 0. The officiating in this series has already drawn plenty of discussion and criticism during this series and free throw attempts have swung wildly back and forth. In Game 2,
LeBron James
attempted 24 free throws, the second most of his career. In Game 3, Dwyane Wade attempted 0, the first time that's happened in a playoff game since his rookie season. Boston, especially coach Doc Rivers, has worked the officiating angle much harder than Miami. Heat forward Shane Battier shrugged off the topic on Saturday -- attributing the swing to "the law of averages" -- and Heat coach Erik Spoelstra hasn't pushed the issue at all. Instead, Miami has preached continued aggressiveness off the dribble since Game 3, with Wade saying he will look to make adjustments to get higher percentage shots against Boston's trapping defense. 
3. Key Adjustment:
 The Heat struggled to contain Celtics forward
Kevin Garnett
in Game 3. Garnett came out amped up from before the opening tip and finished with a team-high 24 points and 11 rebounds in his best performance so far in the series. Garnett shot 10 for 16 for the game but did virtually all of his work in the paint, attempting just one long jump shot and shooting 8 for 11 at the rim. Spoelstra ripped his team's defensive effort, but the Heat wouldn't reveal how they planned to adjust to counteract Garnett's length. James left open the possibility that he would guard Garnett again while Battier said that Miami as a team needed to make Garnett work harder for his positioning and his catches.
4. The Big Story:
 Can Boston's offense show up big for a third game in a row? The Celtics
topped 100 points
in both Game 2 and Game 3, the first time they've cracked triple digits in back-to-back games during the playoffs. In Game 3, Boston got balanced scoring from Garnett,
Rajon Rondo
and
Paul Pierce
, plus nice contributions from two unlikely bench sources:
Marquis Daniels
and
Keyon Dooling
. In other words, a lot broke right in Game 3. Game 2, of course, was simply a matter of Rondo putting up a performance for the ages. Miami has preached defense, defense, defense since Friday. One major factor: Boston, which ranked in the bottom six for turnover rate during the regular season, has done an excellent job taking care of the ball in this series, committing 12 in Game 1, eight in Game 2 and nine in Game 3. Miami thrives on running out in transition off of steals but, to this point, hasn't had that many opportunities to do so, especially since Game 1.
5. The Facts:
8:30 p.m. ET tipoff on Sunday at TD Garden.
Ray Allen
 (ankle) is expected to play after chatter earlier in the series that he might need some time off.
Chris Bosh
 (abdominal injury) is in Boston and went through a walkthrough at shootaround but will not play.
We've got you covered for all the scores and highlights from Sunday's NBA games

The Cavs superstar compared Kaepernick to Martin Luther King Jr. and Muhammad Ali

The Warriors coach isn't surprised that the president and LaVar Ball are in a war of words
Kyle Kuzma is tired of how his teammate Lonzo Ball is being treated

The Warriors used a huge third quarter to come back from a 23-point deficit to get the win

Three takeaways from Golden State's 24-point rally past the Sixers