Heat's Dwyane Wade dropping weight to take on bigger responsibility
Miami Heat star Dwyane Wade is on a new, tough diet to help him drop weight as he prepares for bigger role with the team.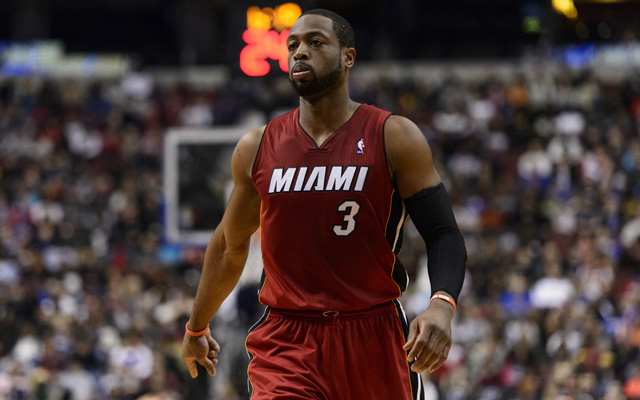 More Offseason Analysis: Coaching changes, news | Free Agency | Draft
With LeBron James leaving the Miami Heat for the Cleveland Cavaliers, the Heat are going to have to rely on Chris Bosh and Dwyane Wade much more than they have in the previous couple of seasons. Bosh received a new five-year, $118 million contract and seems ready to remind people he used to be a go-to scorer in this league. As for Wade, he's apparently taking his diminished reputation and increasing responsibility quite seriously.
Ethan Skolnick of Bleacher Report has quotes from Wade about how his diet has been vegetable heavy and "one of the hardest things" Wade has ever done. Wade is allegedly lighter right now than he was heading into the 2013 training camp. He's also using the doubt about him handling a bigger load on offense as an energizer for his workouts.
Dwyane Wade says his diet has been "1 of hardest things I've ever done." Especially the vegetables. Lighter now than at '13 training camp

— Ethan J. Skolnick (@EthanJSkolnick) August 1, 2014
Dwyane Wade on the doubt that he can still handle a bigger load: "I need it. I need it." Sees it as an energizing challenge.

— Ethan J. Skolnick (@EthanJSkolnick) August 1, 2014
Many people believed Wade was heavier than he should have been last season. He played in just 54 games in the regular season, had strong showings in the first three rounds of the playoffs, and then seemed to have nothing on either end of the floor against the San Antonio Spurs in the NBA Finals. He averaged 19.0 points on 54.5 percent shooting (career best) in the regular season, but his defense suffered quite a bit.
For this season, Wade will have to be able to be a top scorer on offense while providing much more consistency on defense than we saw last season. Coming in lighter and keeping the weight off could also help alleviate some of the stress and pressure on his knees, which have needed treatments throughout the last two NBA Finals runs.
(H/T - ProBasketballTalk)
Our advanced computer model simulated Saturday's Thunder-Cavs game 10,000 times

The Jazz are reportedly looking into trading Rodney Hood before the Feb. 8 NBA Trade Deadl...

The Cavaliers are ready to reset everything if they have to. Their interest in Lou Williams...
It sounds like the Cavaliers are going to be active before the NBA trade deadline on Feb....

We've got all the scores, highlights and news for Friday night

George Hill, who is unhappy in Sacramento, could be a solution to Cleveland's backcourt si...