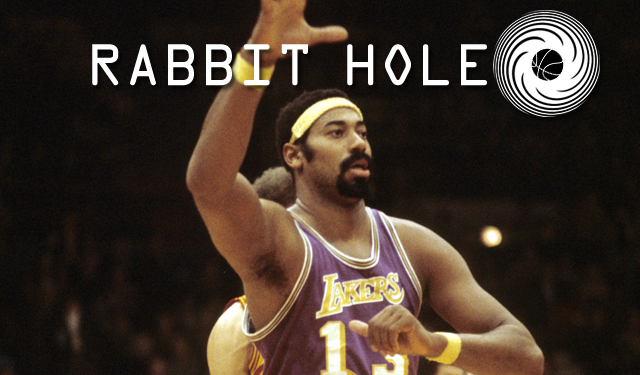 Sometimes the journey down the rabbit hole doesn't have to take you anywhere different than your starting position. It's rare this becomes the case because the nature of the internet is so tangential that it's easy break off to other subjects. That's probably why it's called the "Information Super Highway" and not the "Information Dimly Lit Back Alley." However, some subjects are so large in stature and so fascinating on their own that you can spend your entire journey focused on them. 
For this week's journey down the rabbit hole, we're looking at Wilt Chamberlain. Shall we?
First Stop: Wilt Chamberlain on Tall Tales
The internet can be a great place for meeting people that open your eyes up to incredible things you didn't even know existed. I'm not talking about Catfish. I'm talking about how Ben Swanson, a.k.a @CardboardGerald, managed to put me on to these Blank on Blank interviews earlier this week when he tweeted out a fantastic interview with Wilt Chamberlain. What the Blank on Blank videos do is take these older Q&A sessions and add pictures or even animation to them. In the video below, Chamberlain openly discusses his awkwardness as a child because of his height and his success with women.
There are some really interesting interviews in the "Blank on Blank" archive page on YouTube. You have Tupac Shakur from 1994 discussing life and death (kind of eerie), Larry King from 2001 on getting seduced (seriously), and my personal favorite of Muhammad Ali from 1966 discussing going to the planet Mars to defeat their best fighter. There are some really great ones in there but those are probably my four favorites.
And that's just going to lead us to some awesome Wilt Chamberlain highlights. We're all good with this, yes?
Seeing individual Wilt stuff is just unreal
When you start searching for some cool Wilt Chamberlain stuff on YouTube, there are some pretty great treasure troves hiding in plain sight. An account called "Wilt Chamberlain Archive" has compiled some fascinating individual looks at players from the 60's and 70's, mostly centered around Chamberlain. Let's take a look at some of these individual video clips that showcase some of his dominance.
It's pretty well known that Chamberlain was bigger and taller than just about everybody. He even towered over his greatest competition, Bill Russell, when it came to physical stature. He utilized that size by not just being bigger than everybody, but knowing how to capitalize on that with certain moves. In this video below, it shows a devastating "tomahawk" post move that probably would be unconventional today but could catch a defender off-guard in the right situation.
The height was incredible and the power of Wilt was immeasurable. But his wingspan and reach were things you could actually pinpoint. It didn't matter if you had an exact measurement; you probably just knew your reach wouldn't match up to his. In the video below, they seem to measure Chamberlain's wingspan at 7'8" and then we get to see it at use when he dunks over the front of the rim while jumping straight up from under the backboard.
We know the physical attributes of him now but that doesn't really account for the athletic ability he possessed. His days as a track athlete are well documented all over the place but seeing him combine the leaping ability with his insane reach are best left localized in a video like the one below.
I know the Muhammad Ali video I linked to above was about him saying he was going to Mars to fight a "green" boxer from that planet. But if Wilt Chamberlain stepped into the ring against Ali, would anybody even bat an eye at the thought of the big man as an alien? He just doesn't seem human.
He dominated an era of basketball that included Bill Russell, Bob Pettit, Walt Bellamy, Kareem Abdul-Jabbar, and many other significant big men in NBA history. It was primarily dominance from an individual standpoint but maybe that's all that was important to him? Maybe that was the goal? Regardless of where that debate goes, we can see some clips here of him going at Kareem for a few dunks and scores.
The amazing thing about him is we haven't even begun to dig into his career. Sure, there are the unbeatable records of his to talk about but there are so many stories and videos to share that we should just concentrate on that. We can save his 50-point per game season and showdowns with Bill Russell for another time.
We need more Wilt than that and more Wilt we shall have
If you want to go deep into some Chamberlain game film and see what kind of impact he had on games, even at the end of his career, there's a 15-minute video of all of his highlights and plays from the final game of his career. It happened in 1973 during Game 5 of the NBA Finals. He finished with 23 points (9-of-16 from the field), 21 rebounds, 3 assists, 3 steals, and 2 blocks.
It's kind of cool to watch the highlights of this game while hearing Bill Russell provide the color commentary on the broadcast. Nobody would have known his game better than Russell and therefore couldn't have provided as much insight into what the thought process was during these moments. It's also fun to be able to really get a feel for their competitive nature with each other while still seeing the friendship they fostered during their playing days.
Here's a little taste of a sit-down interview with those two giants and Bob Costas. 
You can actually watch the entire interview in two spots on YouTube. It's from a show/video they did called "Giants of the Game" with Ahmad Rashad and Bob Costas. They give a good back-story and some testimonials from their contemporaries in the first eight minutes of the first video. The actual interview begins around the 8:20 mark. And then you can watch part two of the video here. There probably isn't a better way to spend 22 minutes after you're done here than by watching those videos. 
It's fascinating watching the mutual respect. Russell seems to know to massage the ego of Wilt, mentioning how beating the best (Wilt) to get to his 11 rings is what made them special. He has no problem throwing in that Chamberlain scored 62 points on him once. He's happy to give the personal glory to his friend while still knowing he has the comfort of the victories with the teams.
Those Celtics teams weren't going to lose all that often to Chamberlain because they had more talent, better coaching, and a superstar that understood sacrificing personal glory for team gain was the correct goal for him to have. For Wilt, it was probably different, which is actually just fine on many levels. It's an interesting study in what's important for those to feel great.
There was a segment on NPR a few years ago about Red Auerbach and the many basketball luminaries he stayed in touch with over his decades affecting the game. In the post that accompanied the segment, they have an excerpt from his book Let Me Tell You a Story: A Lifetime in the Game:
"Did I ever tell you about Chamberlain?" The old man leans back in his chair, a smile creasing his face at the memory. Someone sitting at the round table has said something about Wilt Chamberlain and, as always, memories and stories flood back to him.

"Chamberlain," he says, once the table has gone silent, "was the most unbelievable physical specimen ever. There wasn't anything he couldn't do on the basketball court. One year he scored fifty points a game. Another year he led the league in assists. He was so strong it was frightening."

He pauses. "But there was one thing he couldn't do. He couldn't beat us. Just couldn't do it. Russell wore him out, running up and down the court, and you" - he points across the table at one of his listeners - "you drove him crazy. Remember how we ran that pick-and-roll play, where Russell would feed you the ball and Chamberlain had to switch? He'd always get there just as you released the shot, and you, you sonofabitch, you'd say in that high-pitched voice of yours, 'Too late.' And you made the shot every time."

The man he is pointing at is Sam Jones, who, like Bill Russell, is in basketball's Hall of Fame. Jones is cracking up at the story, at the memory, and at the shrill imitation of his taunting of Chamberlain.
The stories about Chamberlain off the court are just as interesting as the ones about him on the court (no, not talking about his "conquests"). One story I came across while traveling down the rabbit hole this week was how he loved to up the ante with doing dangerous stunts. I guess when you're built like nothing else seen on this planet at the time, it's easy to feel invincible if you're Wilt Chamberlain. 
From an article about stories from Wilt's sister, we find out that he apparently loved to jump off of roofs into pools. While that's not that unusual for a young person to do, I think the more incredible part of the story is whom he got to jump with him off the roof and into the pool.
She played alongside him, jax, hide-and-seek and other games in the street, long before she listened to him play basketball on the radio. Just remembering the "very dangerous things" she watched her brother do made her cover her eyes all over again.

"He would jump off the roof on top of the garage, or jump from one barn across to another," Barbara said. "He had no fear. When we lived in California, he had the highest apartment in the building he built. He would jump off that building and go into the pool. My mom would do it with him and she had to be 60 at the time."
Aside from the drugs part, this is essentially a Chamberlain family get-together back in the day:
Let's finish up with some of my favorite Wilt Chamberlain videos
I didn't embed a lot of Wilt Chamberlain videos in which we saw his greatest highlights because somehow the person he was seems more intriguing than the player he was on the court. Considering he's one of the greatest players of all time and one of the most unique players of all time in any sport, that's pretty impressive. Above all, Wilt was a showman and that came across in no matter what he was doing.
He could sell you anything, even something he physically couldn't use. Here's this classic Chamberlain ad for Volkswagen:
He couldn't fit into the VW Beetle but somehow he was able to fit into the VW Rabbit (OH HEY! RABBIT! RABBIT HOLE! SYNERGY!):
From those car commercials, it's going to get a bit weird because that's what advertising and Wilt Chamberlain seem to accomplish together. Like this ad for BVD underwear that features him, Milton Berle, Mario Andretti, and Lorenzo Lamas. I don't expect any of you under the age of 23 to know these people but they were once incredible stars and Lorenzo Lamas!
The TWA business class commercial from the early 1970's gives us multiple Wilts, which if you brought them to today's game might be able to fix the New York Knicks right now. Might I should emphasize. 
What happens when you combine Frankenstein, Wilt Chamberlain, perhaps some Dr. Jekyll and Mr. Hyde, and a basketball home game of sorts? Greatness in advertising; that's what happens.
We also have... well... let's just move on...
Wilt Chamberlain and Conan the Destroyer
We certainly can't forget that Wilt was once the co-star in Conan The Destroyer. Seeing him on the court next to other giants of the game is one sight to see but seeing him next to 5'6" acting superstars makes him look like even more of an optical illusion. They even have him riding a horse, which is weird to think about for some reason.
Fighting Grace Jones is one thing but trying to take down Arnold Schwarzenegger is entirely different. This is truly a cartoonish fight as the cinematography of trying to fit these two men on the same screen must have been a nightmare.
So that's where Mike Tyson learned that move from...