James Harden recovers from flu, will play Wednesday night
James Harden will play Wednesday night after recovering from illness.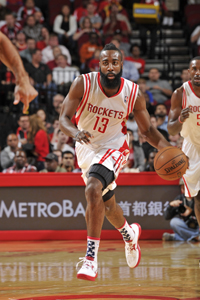 Harden will play Wednesday.
(Getty Images)
James Harden has been struggling with the same flu that has been circling through the NBA locker rooms the past two weeks. He missed the second half of the Rockets' game on Tuesday. 
But Harden said Wednesday he's feeling better and is good to go against Chicago.
It's crucial for the Rockets to have Harden, who is the best thing the team has going. Jeremy Lin has struggled offensively, and with Carlos Delfino questionable, they need Harden to spread the floor. And create. And score at the rim. And draw fouls. You get the picture.
Harden is averaging 24.2 points, 4.3 rebounds, 4.7 assists this season, shooting 43 percent from the field, as teams have started to scheme to attack him specifically. We'll see if some Vitamin C frees him up against one of the best defenses in the league in Chicago.
Adam Silver said his piece with the schedule out; we address that and what the slate looks...

The Hawks and Sharecare reportedly agreed to terms on a five-year deal

A look at the context of the schedule and who plays who when, and how far they travel during...
Durant took on rapper Lil Dicky and actually might have lost

A report that James would once again be leaving Cleveland made the rounds on Wednesday

Known for his 'take that for data' rant, the Grizzlies coach touched on a number of important...