Jason Kidd-Lawrence Frank fallout included expletive-riddled rant
Jason Kidd's expletive-riddled rant to Lawrence Frank could have been the final straw in the battle for control over the Brooklyn Nets.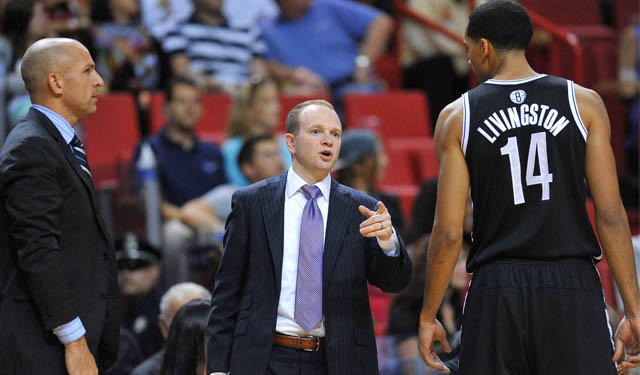 We're starting to get more details out of the fallout between Jason Kidd and Lawrence Frank that led to the Brooklyn Nets' associate coach being reassigned to filing daily reports for the coaching staff. According to David Aldridge of NBA.com, Kidd hasn't been fully comfortable with the outgoing nature of Frank as his assistant coach in the early part of the season. The common relationship between head coach and assistant coach has been met with Kidd trying to regain complete control of the team.
That was part of the reason for his reassignment of Frank. He apparently wanted people to know that this is his team. He let Frank know that in November with an expletive-filled rant that may have been the breaking point in the relationship.
Kidd tried, gradually at first, to start putting his own imprint on the team. He would be, a member of the organization said last week, direct and honest with players in film sessions, going over things one-on-one with players -- "that's a bad shot, and here's why. That's losing basketball, and here's why," the source said. He tried to point out that he did know a couple of things about defense based on his career as a player (whether he specifically mentioned his four first-team all-NBA defensive team selections is unknown), and that he had ideas that were different from Frank's.

But Frank "wouldn't stop talking," the second coaching source countered.

And several outlets have reported Frank was angered that Kidd chose assistant Joe Prunty instead of him to coach the team in his absence while Kidd served his DUI suspension at the start of the regular season.

The denouement came in the now well-reported blowup Kidd had with Frank, where Kidd, according to a source, told Frank: "Sit the (bleep) down! I'm the coach of this (13-letter word) team! When you're on the bench, don't (bleeping) move!"

Frank did as he was told. Other coaches playing the Nets thought he was ill, he was so quiet during recent games.
I can't imagine Kidd didn't know about the typical head coach-lead assistant dynamic that so many teams seem to employ. Sure, there are plenty of coaches out there that seem to control the entire game, but assistant coaches often speak up from the bench to call out assignments, adjustments, and general scouting items they went over before the game. If Frank was establishing too much of the conversation for Kidd's liking, then you would think a congenial conversation would have been the logical step.
If that happened and Frank didn't relent, then Kidd's blow-up makes a lot of sense. If Kidd's blow-up came without a general warning, you have to wonder how much control Kidd feels he has with this team during their injury-riddled slow start. The pressure getting to Kidd early and often so far wouldn't be a bad thing. It would be natural to feel that when you had such high expectations come crashing down immediately along with injured players. 
It will be interesting to see where the buyout/settlement sends this story next.
Trail Blazers guards Damian Lillard and C.J. McCollum have been pushing for Anthony to join...

Anthony reportedly gave the Knicks an expanded list of teams he'd waive his no-trade clause...

The Suns will also receive a second-round pick in the deal
Kerr noted Warriors are deeper than the NBA championship team of last season

The Dubs will make a decision as a team on visiting the White House, but Steph would vote...

Wolves are an up-and-coming NBA squad, but this region knows heartache too well