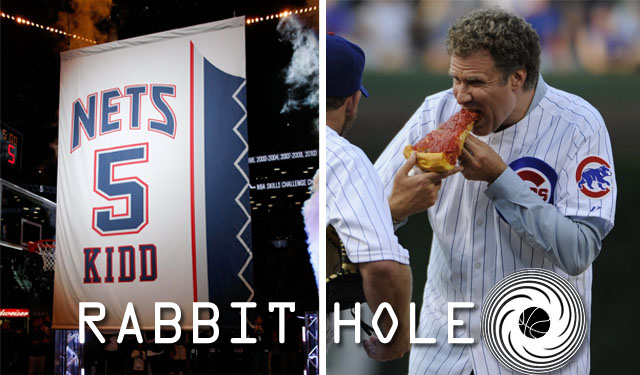 There's nothing like a good ole fashioned jersey retirement to open up the floodgates of the NBA rabbit hole. With this being Friday and all, having those floodgates open to wash away an hour or four in your workday to get you to the weekend isn't such a bad idea. We can go from honoring a player's entire accomplishments to singling out those early moments of their career that showed such promise and greatness to celebrity feuds. Who knows where we'll end up after that point?
Let's find out, shall we? Journey down the rabbit hole with me this week:
First stop: Jason Kidd gets his number retired
Jason Kidd had a phenomenal playing career and is a surefire Hall of Famer. There really can't be any debate over that for one of the greatest point guards we've ever seen. The post playing career accolades will pile up for Kidd and have already started with the Brooklyn Nets retiring his No. 5 jersey. His time with the Nets helped him turn one of the afterthoughts (or even laughingstocks) of the NBA into a title contender for a few years while he was leading the team. The Nets made back-to-back NBA Finals in 2002 and 2003 but lost out in both series to historic big men in Shaquille O'Neal and Tim Duncan.
Thursday night during a preseason game against the Miami Heat, Kidd was patrolling the sidelines as the coach for the Nets. The organization honored him with a jersey retirement ceremony in front of the home crowd. Devin Kharpertian of The Brooklyn Game wrote about how ironic it was that the Nets were honoring the face of the franchise from an era in which the current state of the organization is trying to forget in so many ways:
The Knicks outsold the Nets in ticket sales every season in New Jersey from 1986, even during the ugliest Knicks Marbury years and the finest Kidd-led Nets seasons. I bought NBA playoffs tickets to every Nets home game against the Cleveland Cavaliers the morning of the game for $10. They were the Showtime that no one showed up for. Kidd even joked about it in his pregame presser, noting "We had some big crowds in Jersey. Opening night 4,000, 5,000, we were rocking."

Kidd stands as the Nets' final tribute and connection to their days in New Jersey, the one mark not ugly enough to get scrubbed off the team's shiny new shield. But he's also been involved with the franchise throughout this weird transition from nowhere New Jersey to flashy brownstone Brooklyn. He's a reminder of a time the team's desperately tried to forget. Not the two NBA Finals runs, mind you, but the entire 35-year failed experiment that was professional basketball in New Jersey.
It's weird to think that those Nets teams that made back-to-back NBA Finals were probably more popular nationwide than they were locally in New Jersey. Or perhaps it was just a region that wasn't prepared or willing to pay to go see a basketball team that was historically a disappointment and would just rather watch the games on TV. Whatever the reason was for their lack of local support that eventually helped them move to Brooklyn, people seemed to want to believe in those Kidd-led teams because of all the high-flyers he helped look better.
Jason Kidd has all kinds of mixtapes
Looking back on those Nets teams, they were kind of a mess. Richard Jefferson and Kenyon Martin were the key stars around Kidd's brilliance, but while those guys were solid players they were not worthy of being the secondary or tertiary options on a contending team. We had Kerry Kittles and Keith Van Horn there at times. The legendary Dikembe Mutombo-Todd MacCulloch changing of the guard at the center position during those years.
However, Kidd made them work because he was just so good at leading and setting up his team for success. When looking for his Nets highlights on YouTube, I came across this video that is really well done but also looks kind of like a crazy ex put together a YouTube video of a relationship, put it to the song of "Collide" by Howie Day, and held an iPad over their head blaring the video while standing outside someone's window. It's one of the best athlete-team breakup videos you'll ever find:
See what I mean? It's exceptionally done but a little creepy at the same time. There's another really good mix of a lot of his highlights from the various teams he was on, but the song choice (a great one) isn't something I can post on here. What I can post on here is a video of his rookie year highlights when he was on the Dallas Mavericks for the first time and creating one of the most exciting young nuclei in the game. 
The beauty of the early version of Jason Kidd was he would occasionally throw the fancy pass and amaze us with that, but often he was throwing passes where you just didn't know how he saw the angle. He made the extraordinary look basic, probably because to him that type of play was pretty ordinary.
He even made crossing up guys like Ron Harper and Scottie Pippen look easy as a youngster in the league. Those young Mavericks teams were so exciting that I'm not sure many people in 1994-95 would have picked against them becoming a powerhouse. The trio of Jim Jackson, Jamal Mashburn and Jason Kidd were supposed to take over the league at some point. Here's a highlight video of that 94-95 Mavericks team:
My favorite moment of that video might be the Popeye Jones celebration near the end:
Look at how many celebrations he botches in that one .gif. He has maybe the worst chest bump of the 90s with George McCloud, then his high-five with Scott Brooks connects primarily with Brooks' wrist, and he finishes it off by pretty much missing Jason Kidd's hands on the subsequent high-fives. None of this is good and Clarence Weatherspoon is disgusted.
The Jason Kidd-Toni Braxton-Jim Jackson Love Triangle Offense
Those Mavericks teams didn't take over the world though. All they did was flirt with it, let the world buy them a drink, and then it just decided to go home, heat up some leftover lasagna, and read a Danielle Steel novel that didn't really sell all that well. They won 36 games (up from 13 the previous year) in Kidd's rookie season and never came close to reaching or surpassing that total again.
The star duo of Kidd and Jackson became separated due to Kidd saying that his teammate was selfish on the court, but rumors of happenings off the court are believed to be the real answer for why this team split up so quickly. From an old article on Page 2:
Jason and Jim -- part of the "Three J's" (Jamal Mashburn was the third) who were supposed to rebuild the Mavericks in the mid-1990s, feuded almost the whole time they were together in Dallas -- 2 1/2 seasons. The cause of the rift? Well, Kidd accused Jackson of selfishness, on the court.

But saucier things happened (or didn't happen) off the court. The story goes that singer Toni Braxton stopped by the Mavs' hotel in Atlanta to pick up her date for the evening -- Kidd -- but left with Jackson instead. And then milked the ensuing publicity for all it was worth, telling a reporter who asked about the situation, "I've at least heard of them [but] as far as dating, whether it's true or not, I can never kiss and tell."

Kidd demanded a trade -- either him or Jackson -- and the Mavs dealt him to the Suns. Jackson exited just a few months later . But both denied Braxton caused the rift. "I don't know how many times we have to say it," Jackson said. "He says it, I say it, it's never happened. It's ridiculous."

"I've never met her," Kidd said long after. "But those type of things hurt a young team. We didn't know how to handle it."
You remember Toni Braxton, right? I'm not talking about reality TV show Toni Braxton; I mean when Toni Braxton was someone everybody fawned over for the right reasons. Now she's busy having fights between family members staged in the hopes of making spin-off shows more entertaining and competitive with Honey Boo-Boo. This is the Toni Braxton most of us remember:
Doesn't a game of Twister whilst wearing silk pajamas sound like the best time? Also, that video is incredibly depressing. I get that it's supposed to be a love story and she misses him because he got into that accident, but maybe don't lead off with a motorcycle accident in the first 20 seconds. Why was that car hitting the E-brake to move sideways, anyway? It's like they predicted how kids would kill time on Grand Theft Auto in the future. 
Popeye Jones' incredible shots and more incredible shots
It's hard to think of those Mavericks teams without thinking about Popeye Jones. As you saw above, Popeye stands out in a sea full of Mashburn, Jackson, and Kidd highlights. Jones was a bruising player that wasn't afraid to get a little dirt under his fingernails. But he also had one rare moment of unbelievable touch and accuracy that sticks with me to this day.
That's beautiful, Popeye. It reminds me of an incredible highlight that a young Isaiah Rider once did that changed my young life.
No, this double poster dunk by Isaiah Rider when he was at UNLV isn't it. This is the one I'm talking about:
As a Minnesota Timberwolves fan that grew up in Sacramento, I didn't get many chances to see the team I loved. I picked that team as a kid because I thought wolves were cool (they are!) and when they came into town to play the Kings, I'd occasionally get to see them. This unreal shot by J.R. Rider gave me hope of a future of Wolves' success. And look how that turned out! Wait...
I wonder if Christian Laettner has a mix on YouTube. That would be weird
Seeing Christian Laettner standing around in that highlight reminded me that Christian Laettner was the consolation prize for the Wolves back in 1992 when Shaquille O'Neal went No. 1 to the Orlando Magic, Alonzo Mourning went No. 2 to the Charlotte Hornets, and the Wolves were left picking third in that draft. Laettner was the obvious pick there at the time but never quite gave us the memories we were hoping for. I checked to see if he had any mixtapes on YouTube and of course he does:
You know, he really didn't have that bad of a career; he just didn't match the college hype and production that made him a legend at Duke. His rookie season in the NBA he averaged 18.6 points, 8.7 rebounds, 2.8 assists, 1.3 steals, 1.0 block, and made 47.4 percent of his shots. If a rookie did that today, we'd freak out about his Hall of Fame likelihood.
Did you know Christian Laettner is on Twitter? He takes amazing pictures of Bill Walton sometimes. 
As much as seeing Christian Laettner should remind me of "The Shot," I can't help but think of Chris Farley's version of the shot in an ESPN commercial back in the day.
Chris Farley was a legend and someone we should continue to remember
The genius of Chris Farley on SNL was both subtle and it hit you in the face at the same time. He was one of the most incredible cast members the show has ever seen and that's saying something considering their long history of phenomenal comedians. I don't really need to explain why he was great; the majority of us remember that he was. But I do want to drop in some of my favorite clips of his that were subtle and yet hilarious to me.
Chris Farley as Carnie Wilson of Wilson Phillips:
Chris Farley as one of the Gap girls:
I WANT HOLYFIELD:
Chris Farley as Dom DeLuise:
There is this highly under-viewed dress rehearsal sketch from a Weekend Update segment that never actually made the air but it kills me:
My favorite morning show sketches, starring Will Ferrell
One of Chris Farley's best attributes in the comedic realm was being able to go from zero to anger at the blink of an eye. It would catch the audience off-guard and bring a moment of shock to everybody before you started laughing. In his last SNL appearance before he died, Farley was a part of the "Morning Latte" sketch in which he has a hilarious interaction as a morning show producer with Cheri Oteri (the host).
(WARNING: NSFW language use toward the end of this sketch)
The SNL spoofs on morning shows were always fantastic but this one with Will Ferrell, David Allen Grier, and Nancy Walls that has the broken teleprompter is by far my favorite one:
The order of the hand will rule!